2020年記事一覧
The interview series continues! This time we've spoken with Mr A, a first-year student in the Faculty of Education.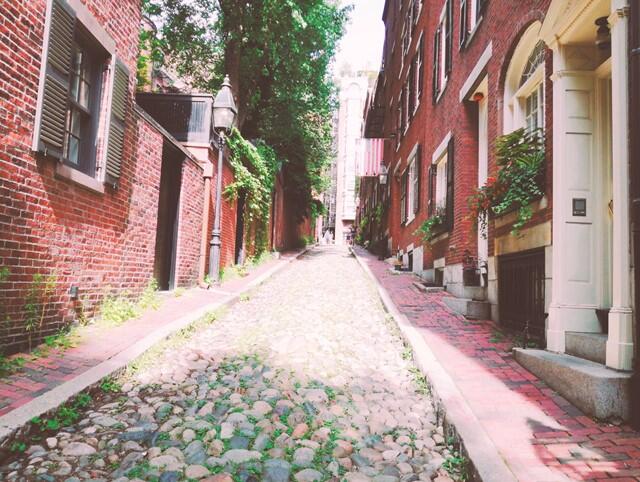 A memory from Beacon Hill Street, one of Boston's oldest neighborhoods


Tell us something about yourself.

I like playing volleyball and listening to music. I used to listen to anime songs, but my interest shifted toward classical and brass band music.
Why did your musical taste change?

In junior high school, I joined the brass band and played the tuba. We played [the Barry Manilow song] Copacabana.
Why are you interested in improving your English?
My dream is to become an English teacher. Starting this year, elementary school students have begun learning English in the 3rd grade. I know that some of them are not interested in English. I want to help them. I hope that ALL students will come to like English.

Tell us about an experience you've had in SEP.
What I've enjoyed the most is learning about Sustainable Development Goals (SDGs). Of those goals, I've focused on quality of education.
Because of Coronavirus, many students are taking online lessons in Japan, but many students in the world can't do so.
I recently gave a presentation in English about the situation and what we can do to help students who cannot take online lessons.
What is your message to next year's SEP students?
I have to say one thing to next year's students: In conversation, fluency is important. Saying no words stops the flow of the conversation. You should say anything to keep the conversation going. Don't be afraid of making mistakes. Enjoy using English.
We've just talked with Ms S, a first-year student in the Faculty of Humanities, Law and Economics.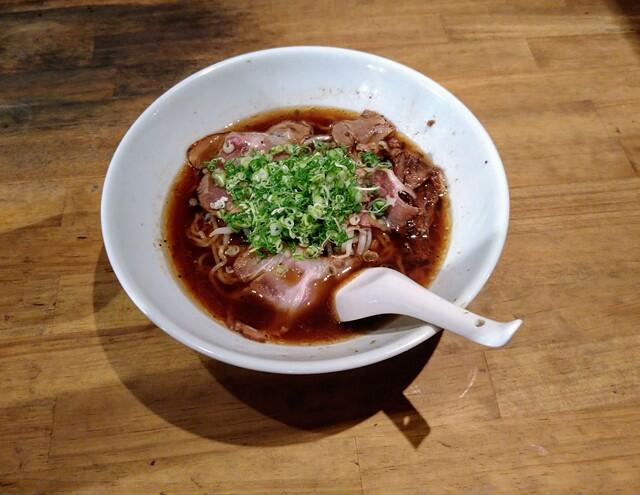 This ramen was special to me.


Tell us about yourself.

I like animals, especially cats! I used to practice kendo and later sado (tea ceremony). I'm interested in civil law, though I haven't decided my path for the future.
Why did you choose this photo for the blog?
Ramen is my favorite food, so I chose this picture.
I often eat ramen, but this ramen was special to me.
I went to Okage Yokocho in Ise City in September with my mother.
It was [our first trip in] a long time, so we enjoyed it.
You joined SEP in the spring. Tell us about your experience.

At first I was nervous! I feel more relaxed now. Students and teachers were kind and patient listening to my words. I thought the important thing is putting what I want to say into English, even if it's not smooth.

I am happy when I remember new English words and become able to read difficult books and articles.
Is there a particular point that you remember?
Writing e-mail in English. In my presentation class, I used Google Docs for the first time and I had many questions. I wrote e-mail in English to the teacher and got a clear reply. I've written more e-mails in English since then and now I'm more comfortable.

What would you like to tell next year's students?
It is happy and special to get the qualification to join SEP, so you should join. It's been an important experience for me. Challenge yourself and improve your English skill.
We had a chance to sit down for a talk with Mr O, a first-year student from the Faculty of Bioresources who is in the Special English Program (SEP).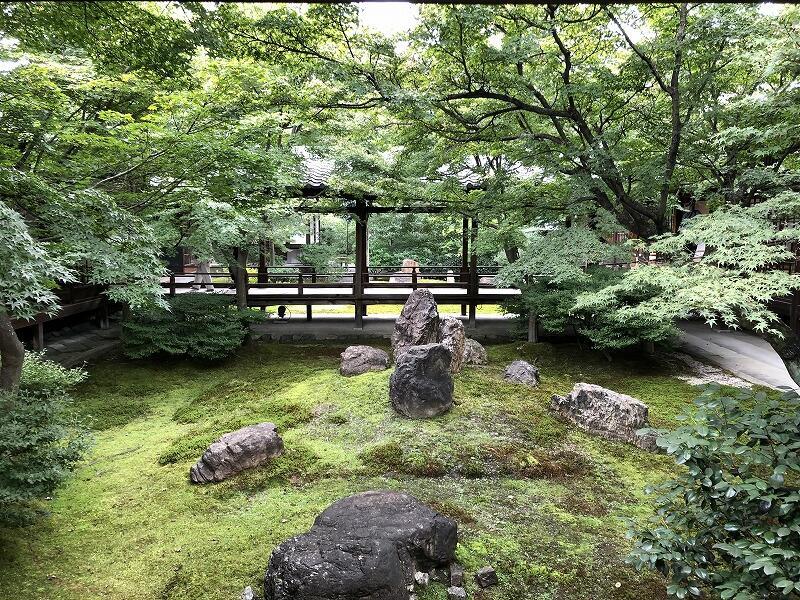 Adventures in social distancing: Kyoto.


Tell us something about yourself.

I like watching movies in my free time. I make original goods like painted t-shirts, and I've even made a bug-catching net.
I became interested in English years ago because of the song "Uptown Funk". Since then, I sing songs in English every day.
What is one way that you've changed this year?
This year I've tried to be more independent. I visited Kyoto by myself-my first time taking a trip like that alone. I've been to karaoke alone. Developing the courage to do something by yourself is a good way to have a better life.
Tell us about your experience in SEP.

What I enjoy most is giving presentations because it's interesting to share my ideas with others and I can show the audience what I've made. If I weren't in SEP, I wouldn't have so many chances to make presentations in English.

Is there anything else that you would like to tell us?
Yes. I have a message for next year's students: Even though you feel embarrassed about speaking English in front of others, I want you to be active and speak proudly.

Do you like using English?
Are you serious about improving your English?

Come learn about the Special English Program (SEP).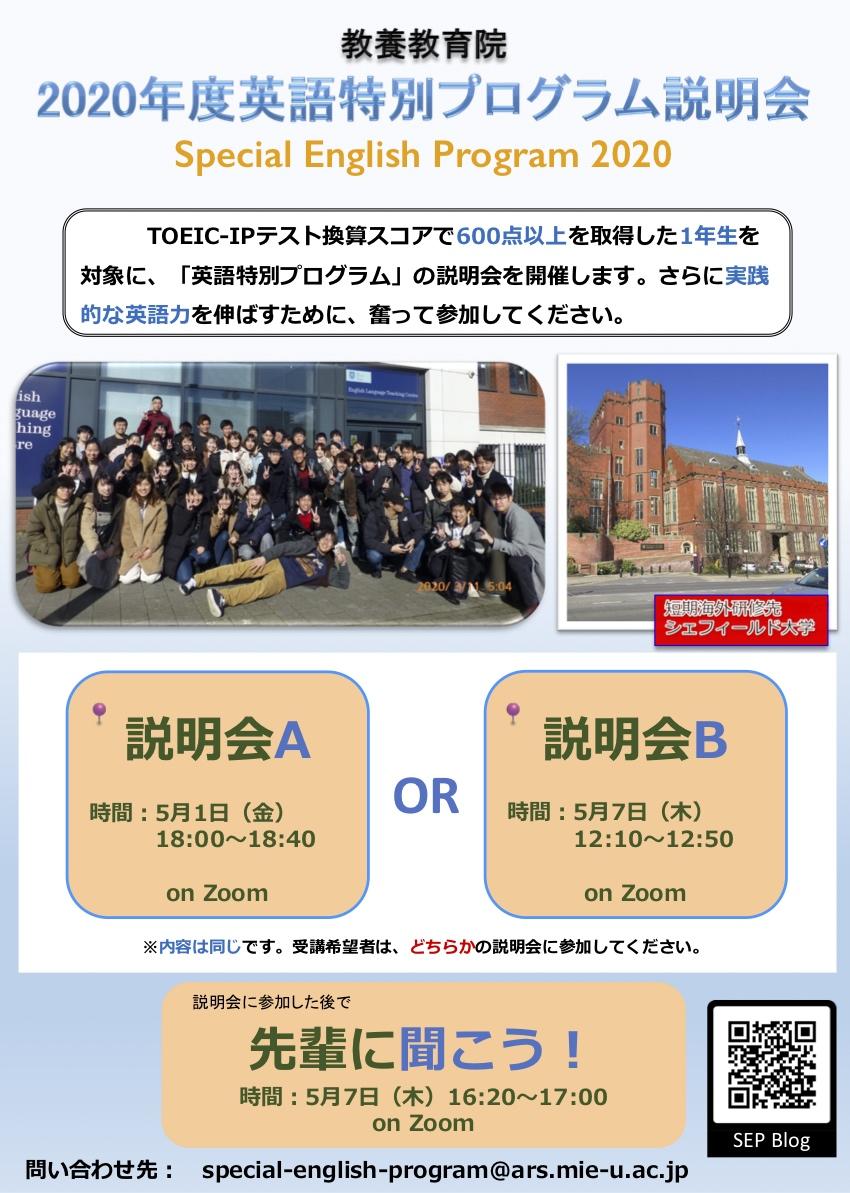 Are you interested in joining the program?
Come to one of the information sessions!

Learn about SEP by attending one* of the info sessions.(説明会)

May 1 (Friday) 18:00-18:40
OR
May 7 (Thursday) 12:10-12:50
*The content is the same at each session.
---
Application deadline for SEP: May 8th (Friday) at 10:00 AM.
→ Come to an info session to learn how to apply to SEP.
How do I get the

Zoom

information to join the info session?
→ If you are eligible to join the Special English Program, you will be notified by e-mail and given the Zoom information on May 1st.
We hope to meet you soon on Zoom!
We visited London last week. After arriving there, we visited the Tower of London and the Tower bridge for the first time. It was a sunny day, so the scenery was wonderful.

Next, we went to the London Eye. We bought a "2 for 1" ticket, so we also visited the London aquarium. Though it was at the city center, it was very big. We enjoyed observing many kinds of fish. I loved tunnel aquarium. It was amazing.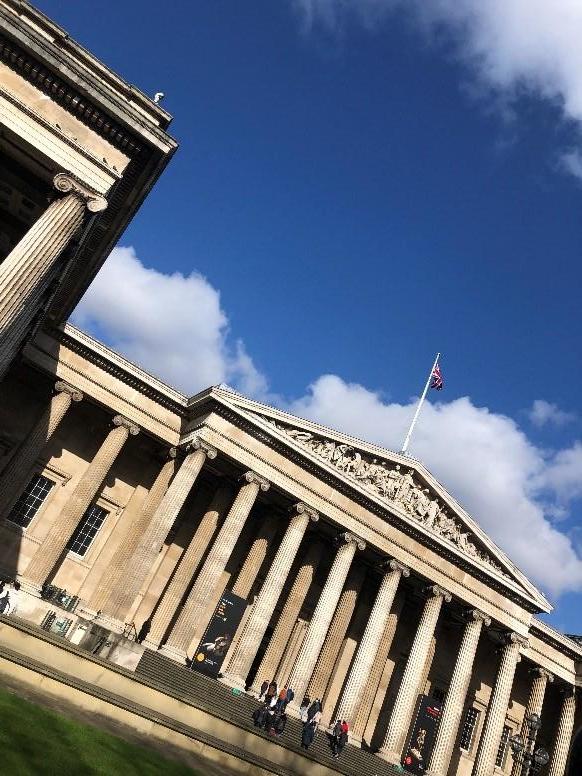 British Museum

On the second day in London, we visited the British Museum. We saw a lot of precious items on display at the exhibition, such as the Rosetta Stone, the Egyptian mummy, etc. It was so large that we required more time to see them all. After that, we enjoyed shopping at some department stores. It was a fantastic trip!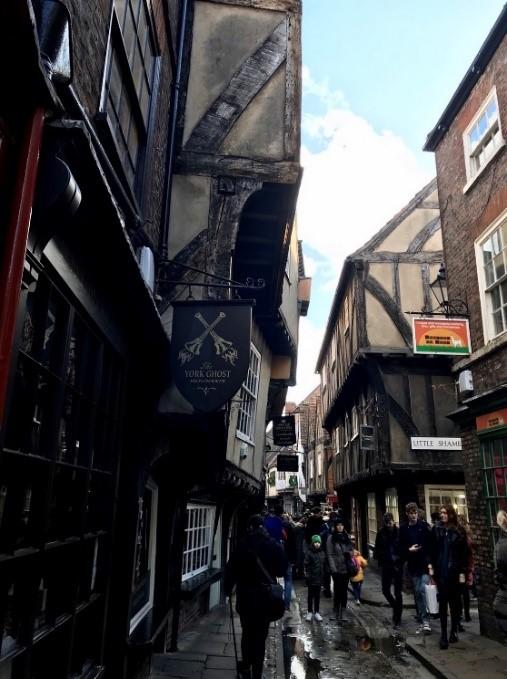 Souvenir shops at Shambles Street

Everybody knows that the U.K. is famous for afternoon tea. That's why many people often buy tea leaf as souvenir. But this time, we want to introduce special tea packs. We went to York on the first weekend where there were so many souvenir shops. The appearance of shop buildings was beautiful. That is like a film of Harry Potter.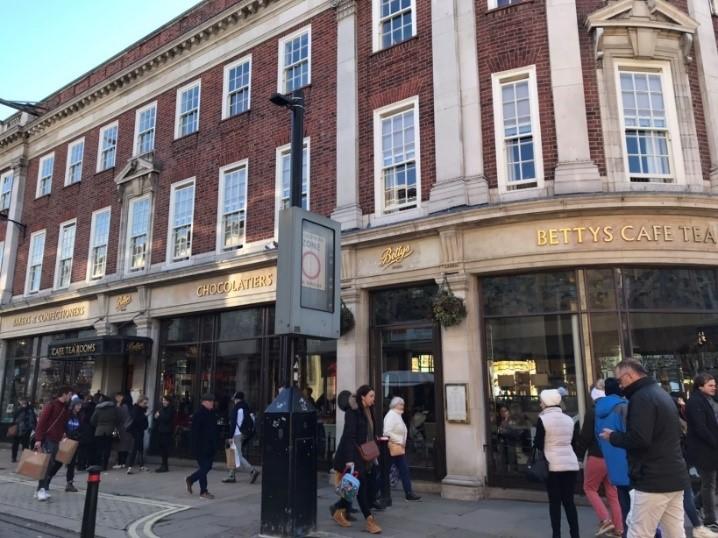 Customers in front of the shop "Betty's tea rooms"
We recommend Betty's tea rooms. Many customers formed a queue outside the shop and our host family recommended us to go there, so this shop is very popular in the U.K.

The tea leaf of English tea is from India and Africa and their tea buyers travel the world to some of the most interesting tea gardens. The tea leaf from India and Africa are skillfully combined to give a perfectly balanced blend with a bright, golden color and a wonderfully rich, invigorating flavor by Bettys. We paid in cash and the clerk gave me the souvenir in a paper bag.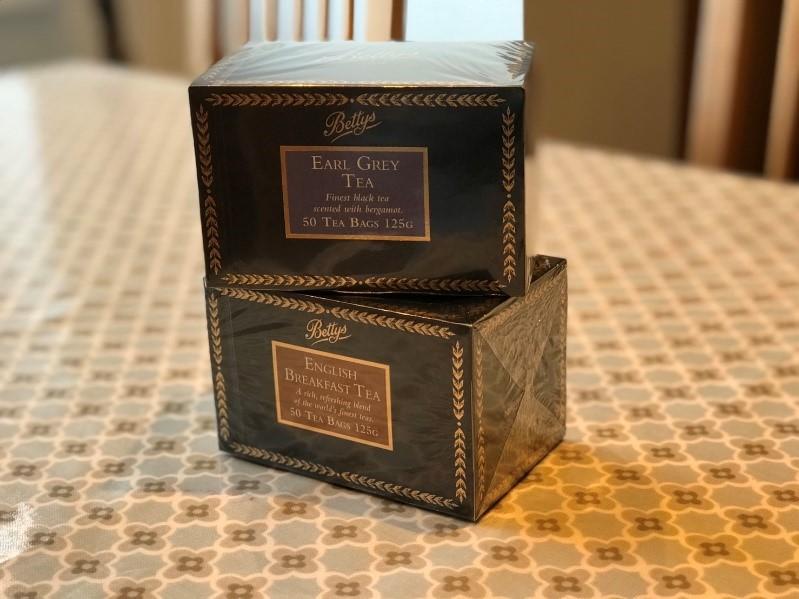 Tea bags we bought
They were in cute boxes and it was the best size. It tasted delicious and the smell was very good. If you go to York, you should buy it!

Fish & chips is one of the most famous dishes in the U.K. It is eaten with salt and vinegar as desired. Haddocks and cod are common types of fish used. Potatoes are used to make chips. When I first heard of "Fish & Chips," I thought it was fried fish and potato chips. However, the "chips" is what we call "French fries" in American English. French fries are called "chips" in British English.
Fish & Chips

Have you ever tried trifle, a dessert that originated in the U.K.? It is a simple cake made by layering ingredients such as custard cream, sponge cake, fruit and jelly. You can enjoy many varieties of trifle by changing the fruit type. (photo: Strawberry trifle.)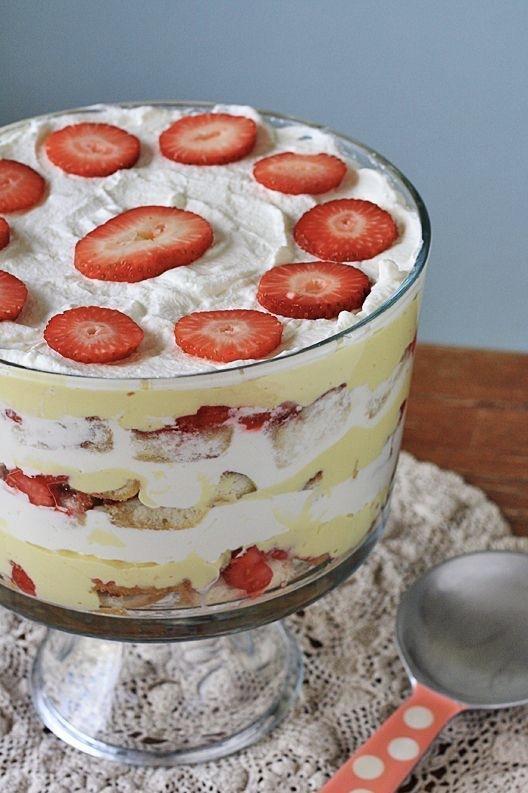 Strawberry trifle
My host mother made trifle using many types of fruits. It was very sweet. If you have a chance, you should try it!

We visited the Peak District National Park on 28th February to connect with beautiful nature. This huge park is in Darbyshire, between Sheffield and Manchester. The area is about 1437 square kilometers. In addition, this park has many sight-seeing spots. We decided to go to the "Monsal trail". It takes about two hours to reach there from Bakewell bus stop.
"Monsal trail" is an abandoned railway that is not in use anymore and now famous as a cycling road. However, that day was a rainy day and we walked this road, which was flat but had many puddles, so it took us two hours to walk and was very hard! If you go there, you should use bicycle!
On the way to our goal, we could see the beauty of nature. Left picture is the "Monsal trail". A road like this continues to the end. Right picture is of a peasant. Because of the weather, we couldn't see many animals but we could spot one-two pheasants! They were very small, but so cute!
Furthermore, there is "Weston Park" near Sheffield university. This is a big park with a museum, where we can see many birds and flowers. This makes us feel better, so it's good to refresh your mind during break time!
From these examples, we can say that contact with nature in the U.K. is enjoyable for our life at the university. If you have a time, please visit these places!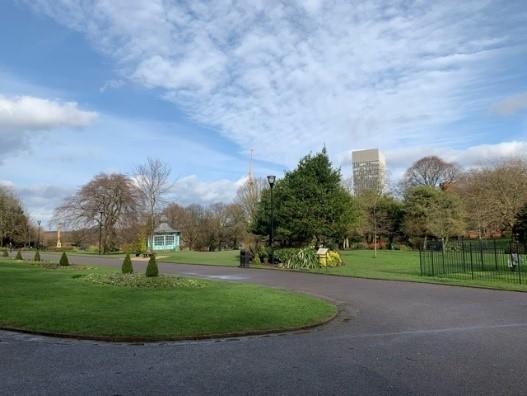 Weston park
We studied at ELTC (English Learning Teaching Centre) for three weeks. Although sometimes strike days affected some of our classes, we gained experience learning English with foreign students. There were students from China, South Korea, Turkey, and other universities of Japan in our class.

The main activity in the ELTC classes, is talking about the day's theme, for example, clothes, how to learn English, and going shopping. By talking with foreigners, we found that English pronunciation is different according to country of origin. As beginner level Japanese speakers of English, sometimes we pronounced words like Japanese, and we realized that foreigners were influenced by their own language's pronunciation. Especially, I thought Turkish English was easier than other countries' English for Japanese to understand. This difference was very interesting. I am not sure if other foreign students thought similarly.
However, there was a problem in class. We spoke a lot in Japanese!! Some classes had only one or two foreigners. The teacher tried to mix Japanese and non-Japanese, but we could make a group of only Japanese. I thought the class was like one in Japan though we were able to talk without feeling nervous. Including such feelings, everything was so new for us. We could not experience it in Japan. Thanks a lot for the kindness of all the staffs and teachers!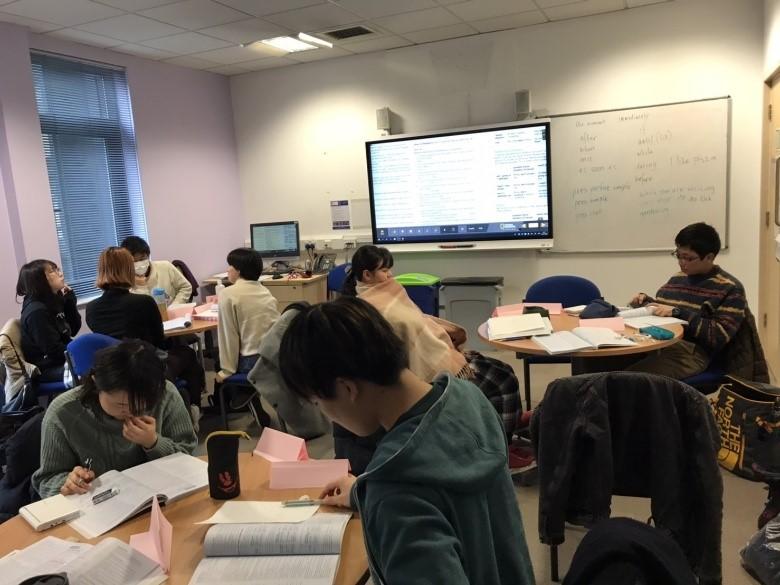 What will happen during your air trip? Before you board an airplane in Japan, you need to follow some necessary procedures. First, you must show your passport at the check-in counter. At the same time, your checked baggage will be weighed to load in the airplane. After that, you must go through security check. You have to take your coat and belt off, take out your laptop from your carry-on baggage, and put everything in baskets. If you wear boots, you should take them off and have them checked too. Then, you must go through immigration control. Just before you board an airplane, you have to show your passport at the boarding gate.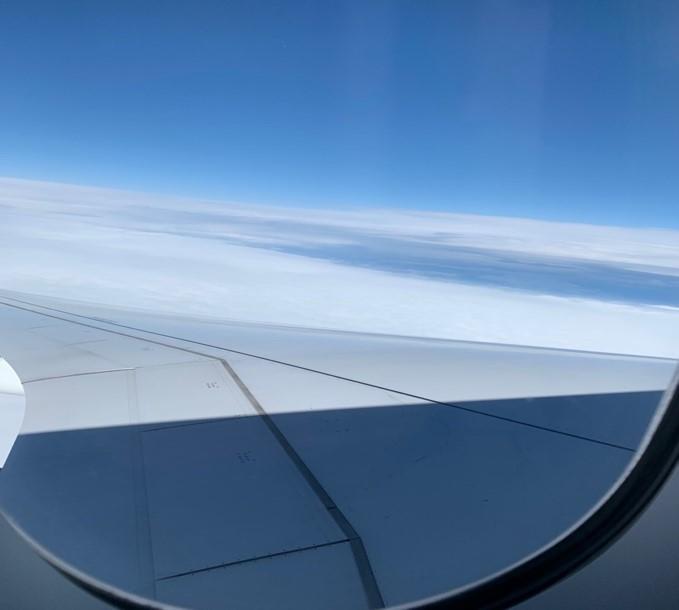 We flew above the clouds!


On the airplane, you don't have to stay hungry. A lot of snacks are served including lunch. Also, you can watch movies, play games and listen to music while on the airplane. Air crew members are kind and the airplane hardly shakes, so you feel comfortable except in case of sitting at a window seat. People sitting at the window seat have to make the passenger sitting next to them stand up when they want to use the restroom. On a 12-hour flight, this situation is stressful.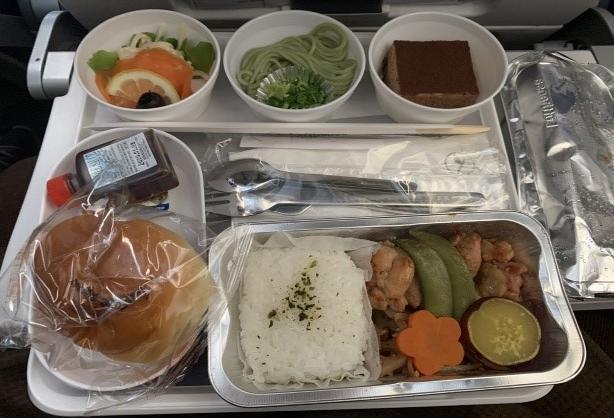 A lunch provided on the airplane
When you transfer planes, you must go through security check only. After the 2-hour flight, you set foot on the ground of Sheffield.
Hi, everyone! This article is about Sheffield Station. If you visit Sheffield, you can't miss it!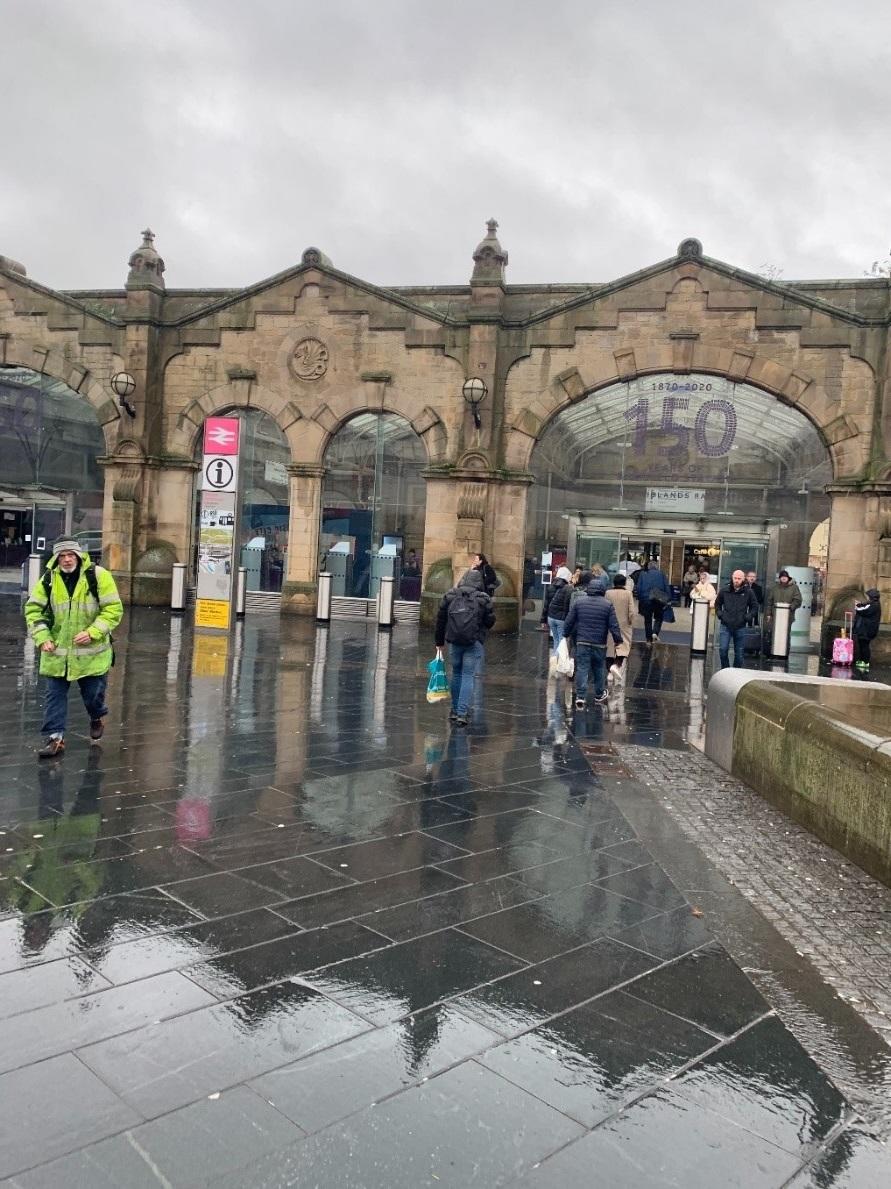 Sheffield Station (North Side)


First of all, Sheffield station is very large! There are many facilities such as shops, restaurants, bars, and self-service ticket collection machines. Surprisingly, Sheffield station has 9 platforms! There are more platforms than at Tsu station, which has 6 platforms. So, you can use various trains, and go to many places in England!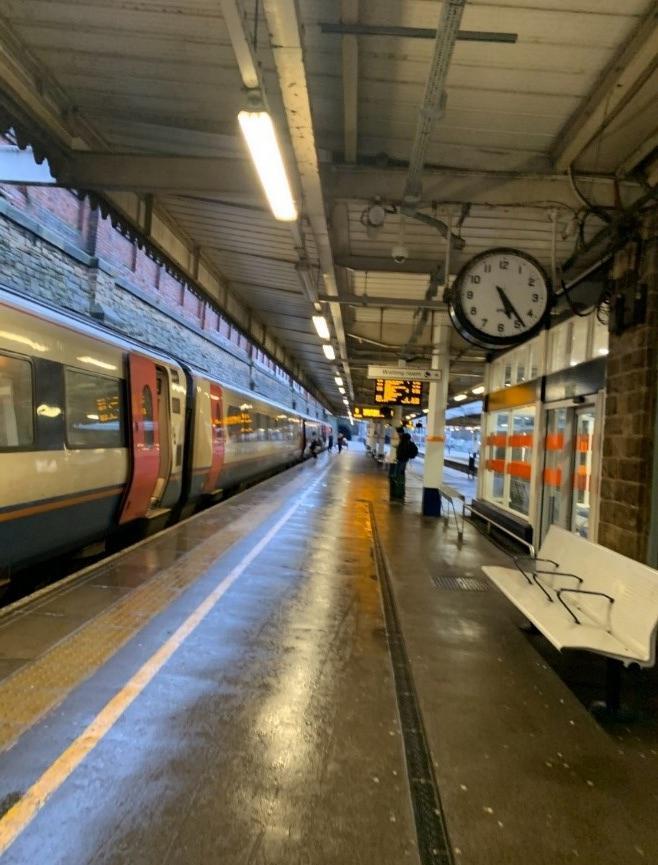 Platform at Sheffield Station
In England, there are many types of train companies, so various trains arrive at the Sheffield station. You can go to London, Huddersfield, Manchester, Leeds, Birmingham, Liverpool from here! This platform has displays that show service status of trains. In addition, there are announcements only in English. So, you can check the train times, and enjoy your trip!! British trains are often late, therefore, people run to enter the trains like in Japan. In terms of restroom use, we can go there for free while we have to pay in London. I highly recommend visiting there, when in Sheffield.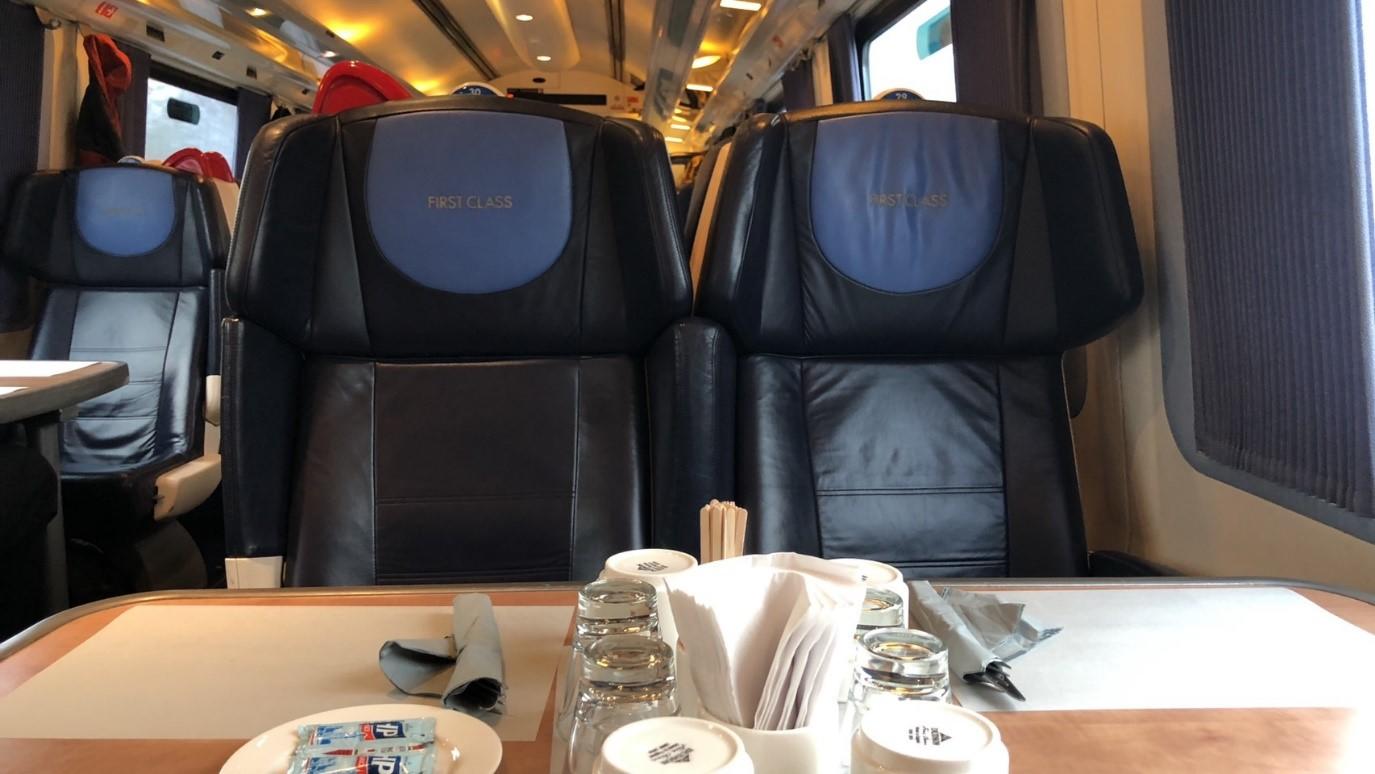 The first-class seats

I visited London with my friends on the National railway last weekend. I feared that I would not be able to get seat, so I booked first class seats in advance. I was really surprised that the facility and interior of first-class was very gorgeous. For example, the seat was comfortable like a plane's first-class seat and it came with delicious breakfast. Furthermore, the passengers in first class were really kind.

On the way back, we got into trouble while booking seats but the person sitting on the next seat helped us politely. Overall, we had a great experience on our way to London!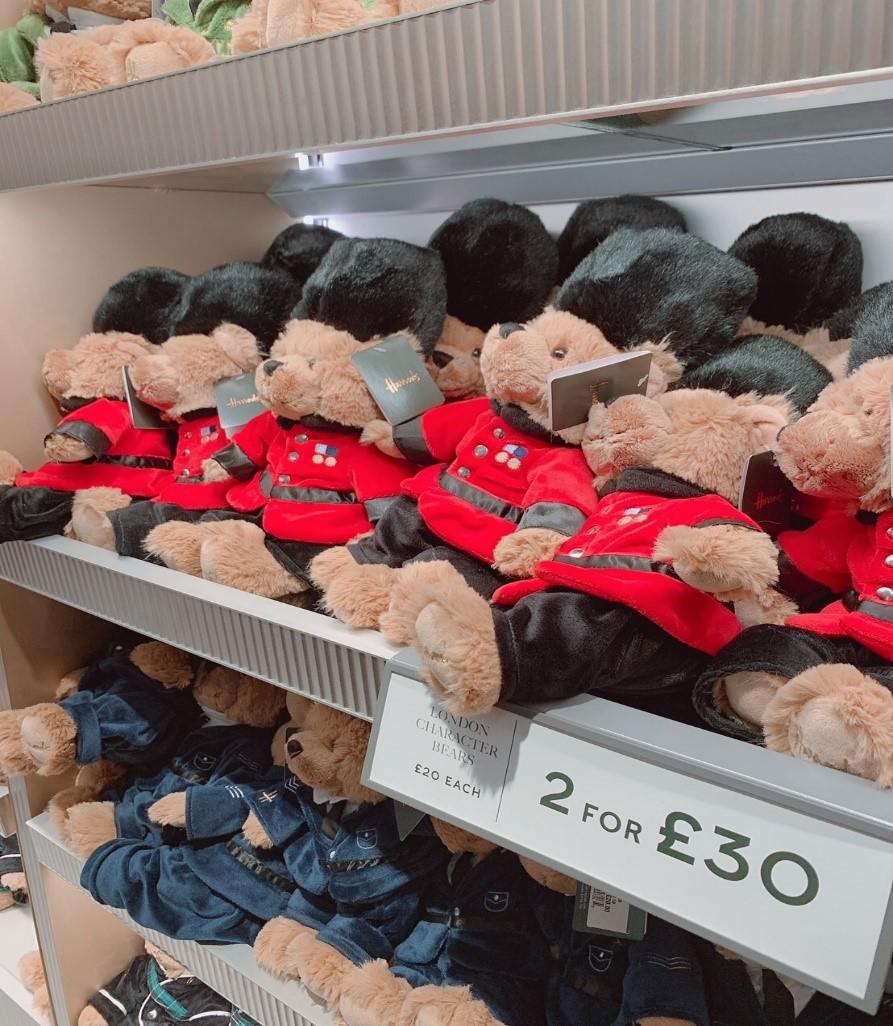 Cute teddy bears at Harrods department store!
I went to the Harrods, which is one of the most famous department stores in England. It has 330 shops and you can find food, clothes, jewelry, cosmetics, furniture, products original to Harrods etc. I was very impressed by the gorgeous mood inside. It was the best place to buy souvenirs in the U.K.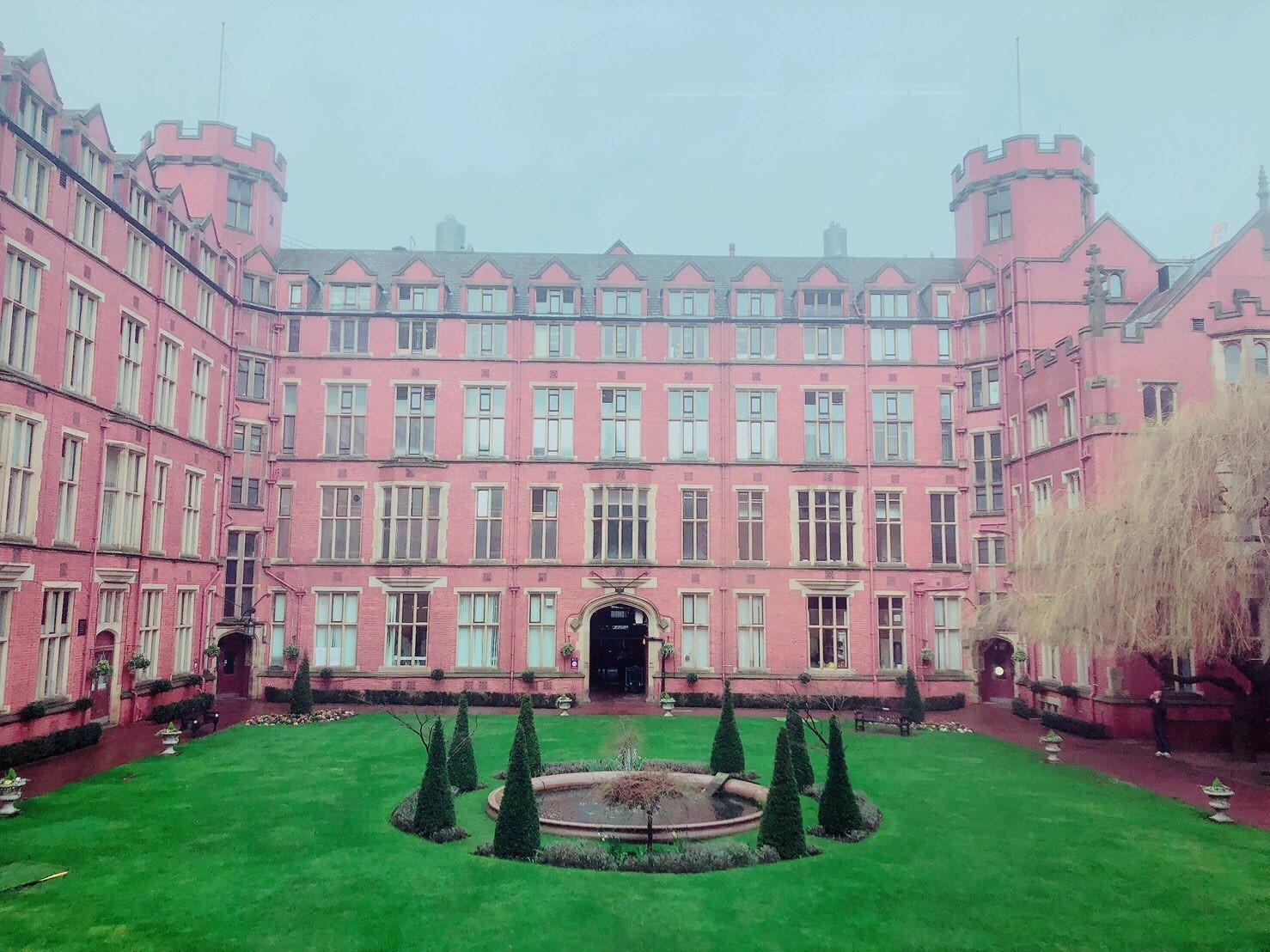 Firth court of Sheffield university

University of Sheffield was established in 1905. Therefore, there are a lot of old buildings. Specially, there are many buildings resembling Harry Potter's castle. I was surprised because there was a laboratory inside the beautiful building.
The campus building is so spacious that and we can move around the university in a tram. More than 7,000 international students from over 150 countries study here. It is easy to make international friends. One can get many opportunities to talk with a lot of students!
Faculties of Arts and Humanities, Engineering, Medicine, Dentistry and Health, Pure Science, Social Sciences and International Faculty exist at Sheffield university. Sheffield university is serving the community with the motive to transform lives for the better. 27,947 scholars have studied at Sheffield.
Many Japanese universities like Akita International University, Aoyama Gakuin University, Chuo University, Doshisha University, Hiroshima University, Hokkaido University, Hosei University, nternational Christian University, Kanazawa University, Keio University, Kobe University, Kyoto University, Kyushu University, Meiji University, Nagoya University, Okayama University, Osaka University, Otaru University of Commerce, Rikkyo University, Ritsumeikan University, Seijo University, Sophia University, Tohoku University,Tsukuba University, University of the Ryukyus, University of Tokyo, Waseda University, Yamaguchi University and Yokohama National University have exchange student program with Sheffield university.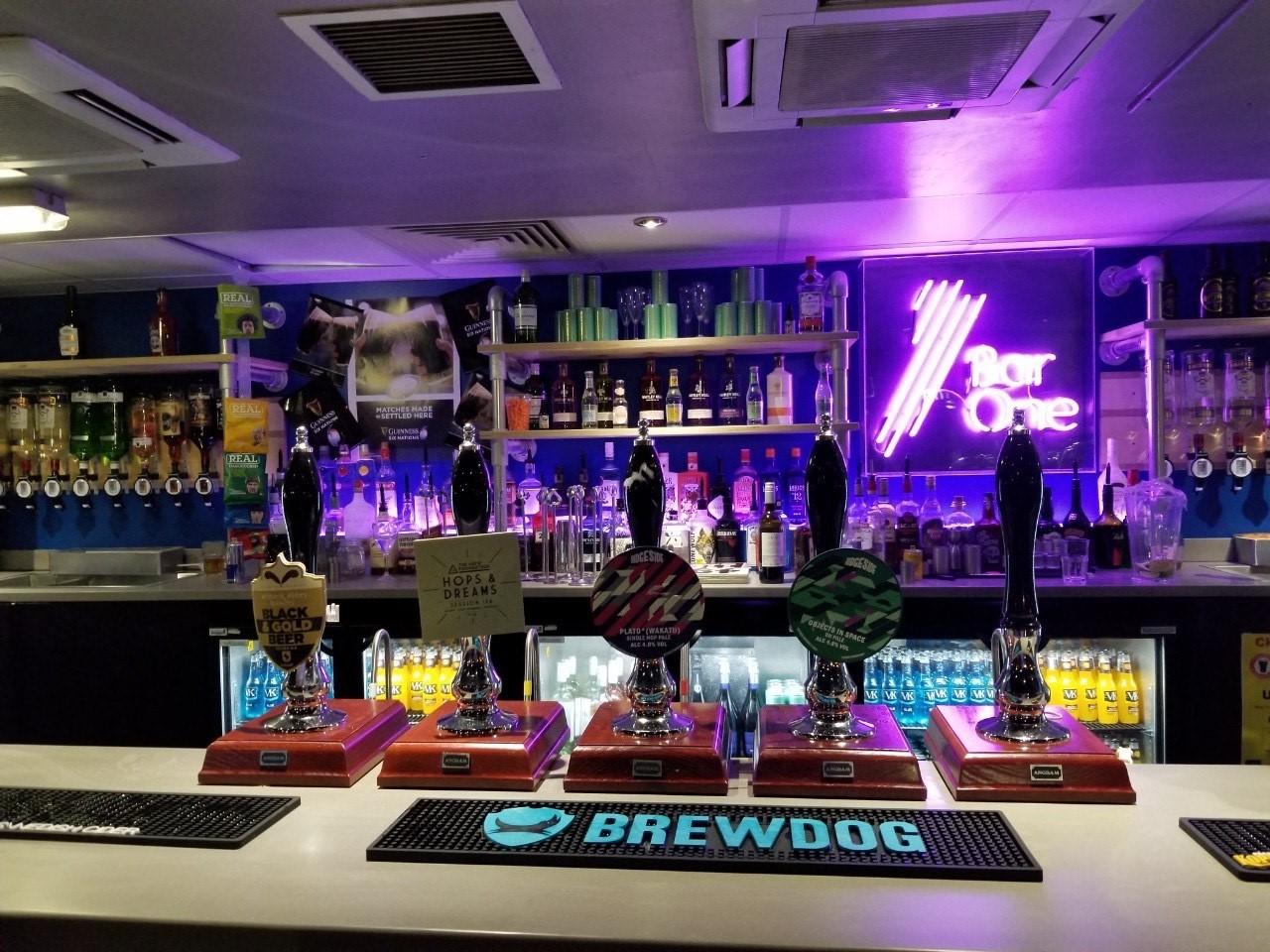 Pub at the student union
I would like to introduce pub culture at Sheffield. In the U.K., it seems to be usual that universities have some pubs. Sheffield University has several bars called ''One Bar'', ''The University Arms'' and ''Edge bar''. I visited ''One Bar''. It is a good place for us to have lunch and dinner or drink alcohol. We can buy meals and beverages for cheaper price in pubs located in university than pubs at the city center.

| | | |
| --- | --- | --- |
| Price of food | |   Price of beverage |
| One bar £5~10 | |   One bar £2〜3 |
| Other pubs over £8 | |   Other pubs £4~6 |
In Japan, people under 20 years of age cannot drink alcohol, but you can drink alcohol in the U.K.
If you are asked to verify your age, you should show your passport. At that time, the clerk who are interested in Japan may talk to you, which is a good opportunity to speak in English. You should not hesitate to do that. I had an experience of talking with a clerk.
I highly recommend you to try to visit pubs because you can learn English culture and about student's life in U.K. If you do not want to drink alcohol, you can choose English foods of many kinds.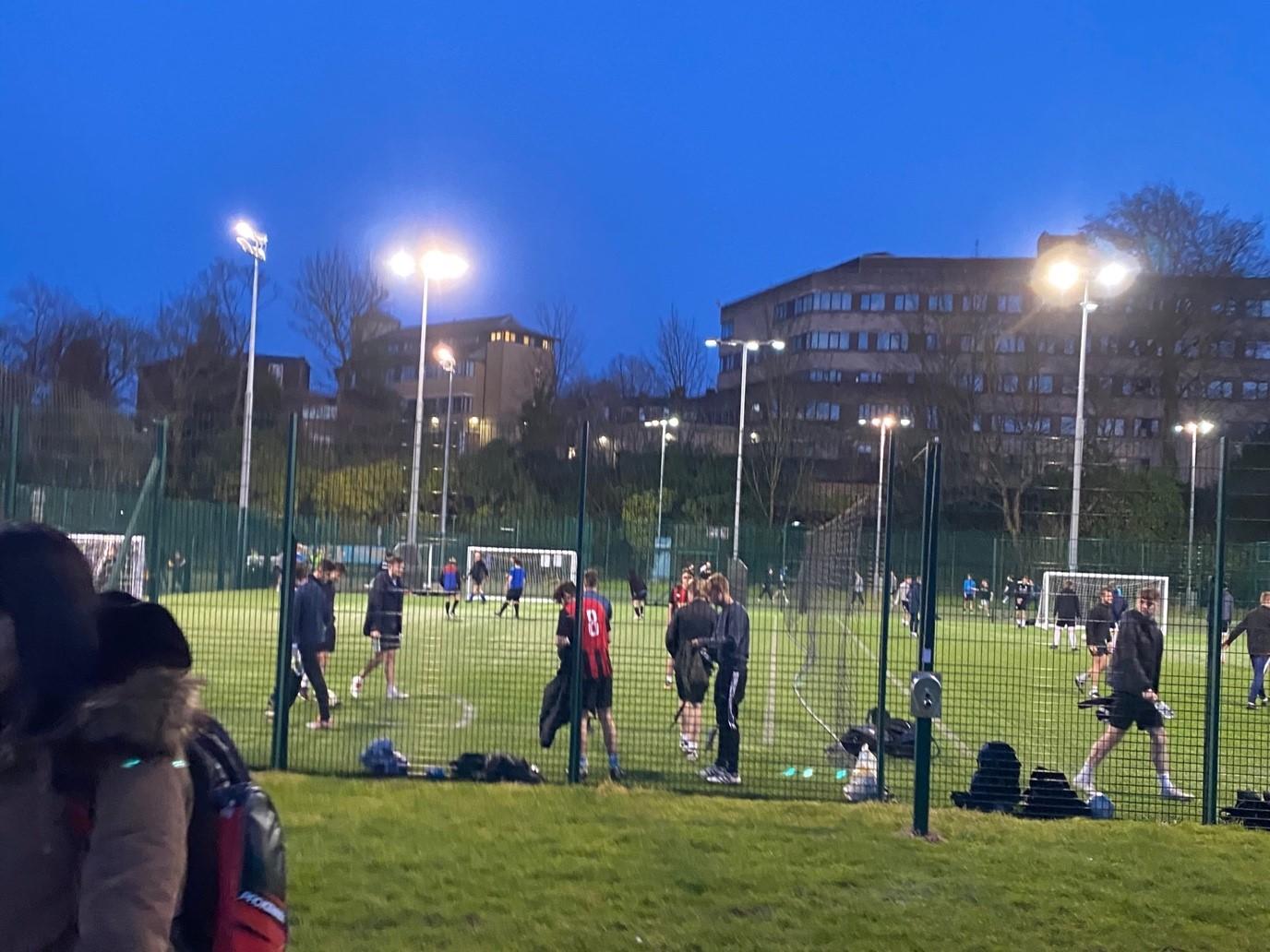 Sports at Sheffield
In Sheffield university, there are 58 sports clubs. Every student can join any of them. They are ranked 17th out of 150 universities in the field of sports. Also, there is a session for students who want to enjoy sports in the short term. All students can take part in it if they pay a little. You can try some new sports. Moreover, you can join social activities which are run by ELTC. International students like us can enjoy easily!

During our study period, we had 4 field trips. We visited Manchester, Bradford, Lincoln, and Yorkshire.

On March 4th, we went to Bradford. First, we visited the National Media Museum. After looking around the museum, we had free time to go anywhere we like in Bradford. Since Bradford is famous for curry, we went to a restaurant called Kashmir. It was a place recommended by many teachers. Both the food and the ambience were so good.
After having lunch there, we went ice skating. It was the first time for me to ice skate, but I really had fun. At last, we went to a cafe called "The Cake' Ole". If you have chance to go on a field trip to Bradford, these places are where I recommend you to go. It was only about 4 hours stay in Bradford, but I had a great time there.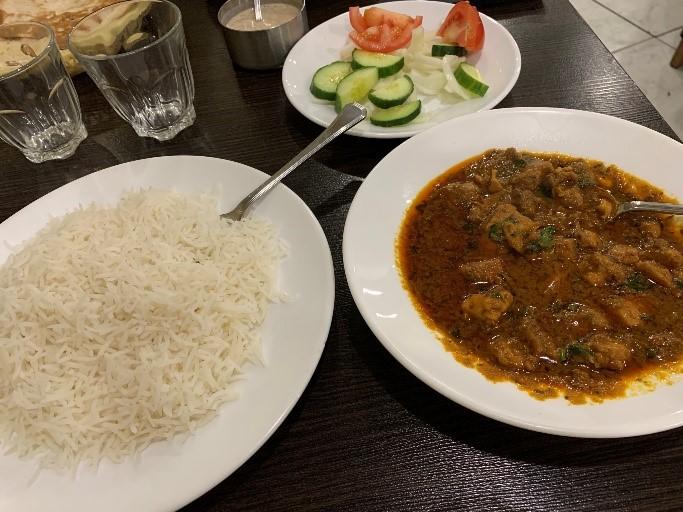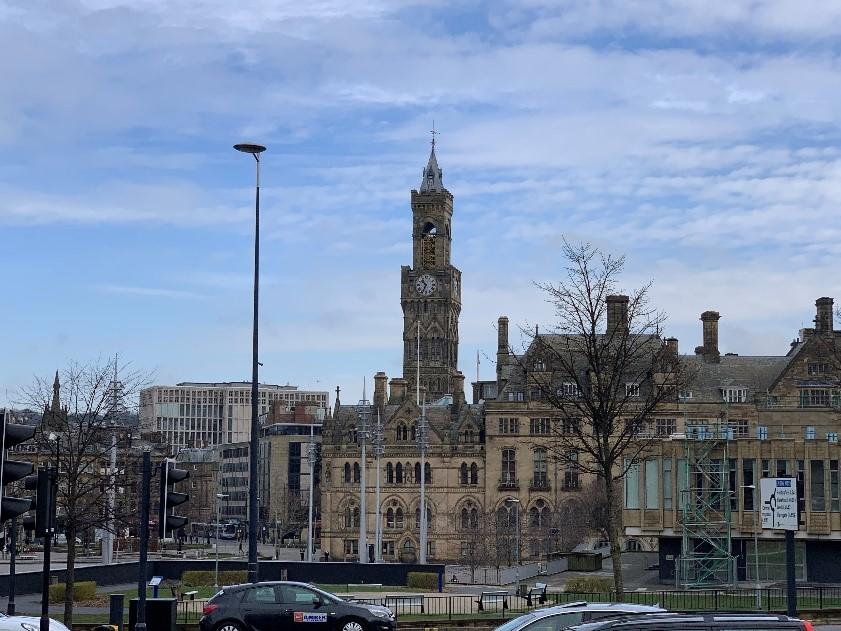 We went on a school trip every week. We could visit many cities.

The best excursion was Bradford city. The weather was sunny. So we enjoyed walking around the city and went to Bradford cathedral. It was smaller than I expected, but I liked the mood. It was calm and peaceful.
In the morning class, we had a group discussion using a text book. We could improve our speaking ability. Then we chose our afternoon class. I chose a class called "Writing and grammar.". In class, we wrote an essay to prepare for IELTS test.
We were supposed to take classes every weekday, but some classes were canceled because of strike. Fortunately, my main teacher, Anna, never participated in the strike.
I made many friends in the classes. We could improve our English skills not only in class, but also through conversation with new friends. There is a shared space called "Oasis" on the first floor where we can study, chat with friends, buy food or drinks, and play table tennis. During a break time, many students gather there and they laugh happily. At lunchtime, we can eat some delicious food such as sandwich, cookie and noodles there.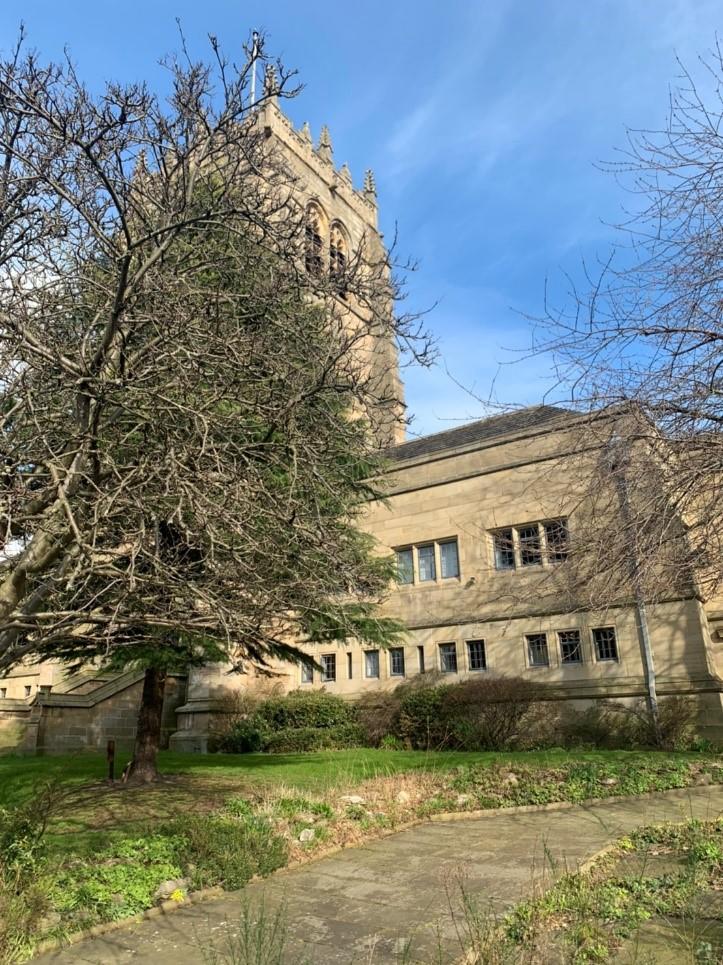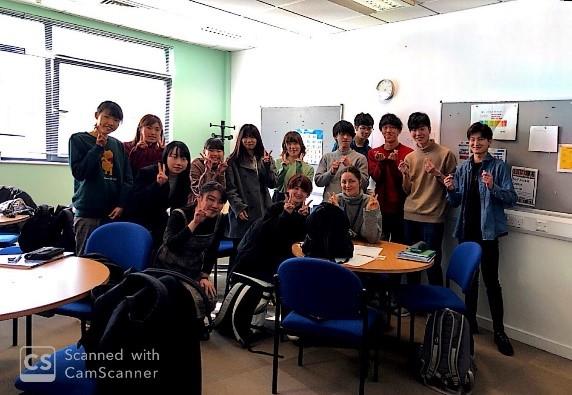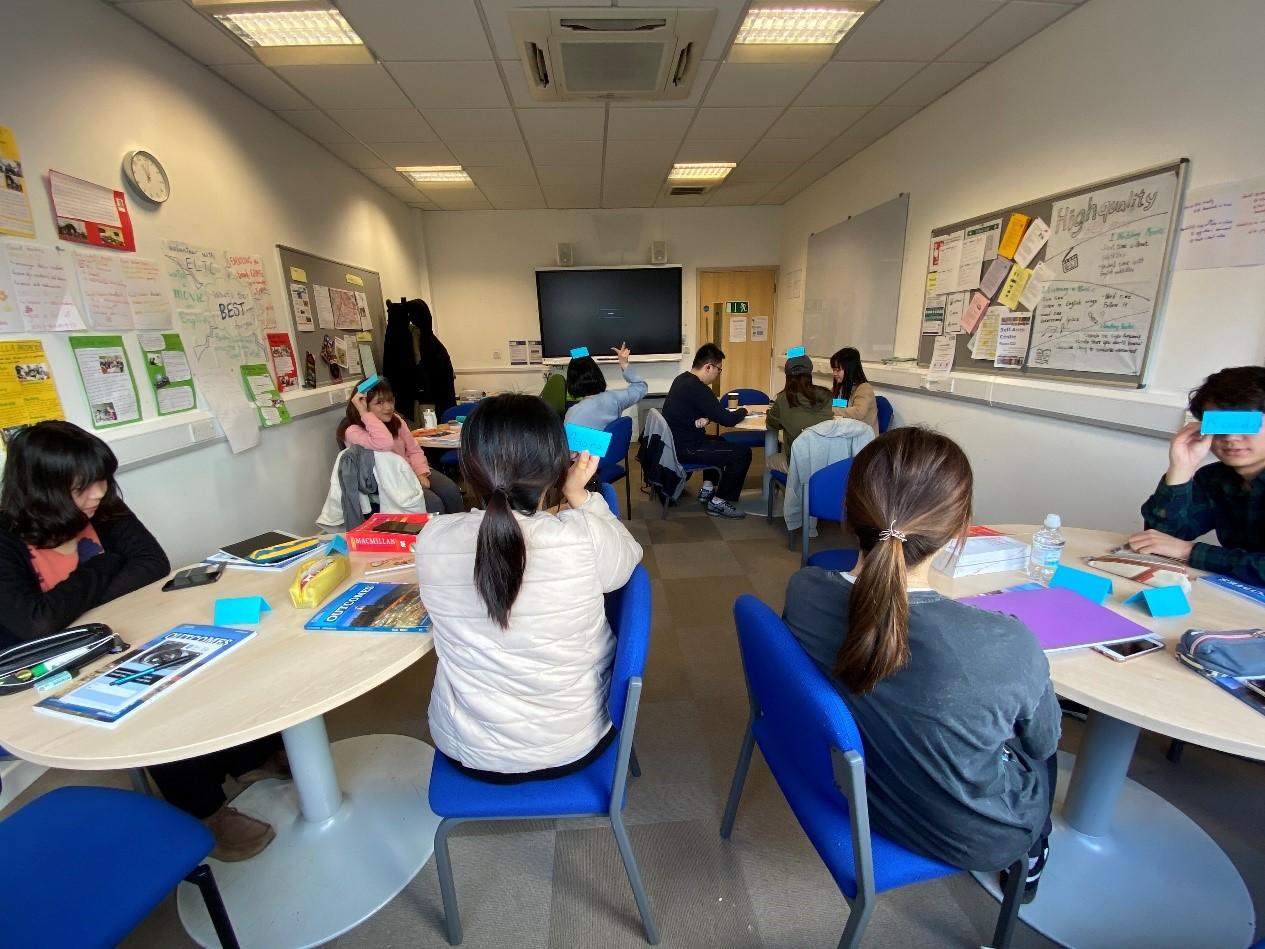 Break time in our classroom


Our classes were filled with diversity. There were a lot of international students at ELTC. We studied with students from South Korea, China, Saudi Arabia, Turkey and France. In addition, there were students from other universities in Japan.

In my class, there were students who study psychology, economics and design. Moreover, I heard that a classmate of mine graduated from university in her home country once. Therefore, there were many different backgrounds.
I found that English pronunciations differed from country to country. Their pronunciation varied according to their mother tongue. Therefore, I discovered the features of each language by learning English.
Compared to classes at Mie University, we could ask questions to our teachers easily because they walked around the classroom, and they often participated in group works. They also told us about paraphrasing and the differences between British and American English.
With our classmates!
I think this is a good chance to gain knowledge about a lot of foreign cultures at the same time!
Today, we will write about public transportation in Sheffield. Sheffield has two kinds of public transportations to commute to University of Sheffield: bus and train. Here, we will explain Sheffield's bus and train systems.
First is the Sheffield bus. If you want to use a bus in Sheffield, you have to pay the fare when you get on it. There are no electric bulletin boards to show the next bus stop's name. So, if you do not remember where to get off, you may get lost. Furthermore, buses are often late and you are sometimes refused the ride when buses are too full.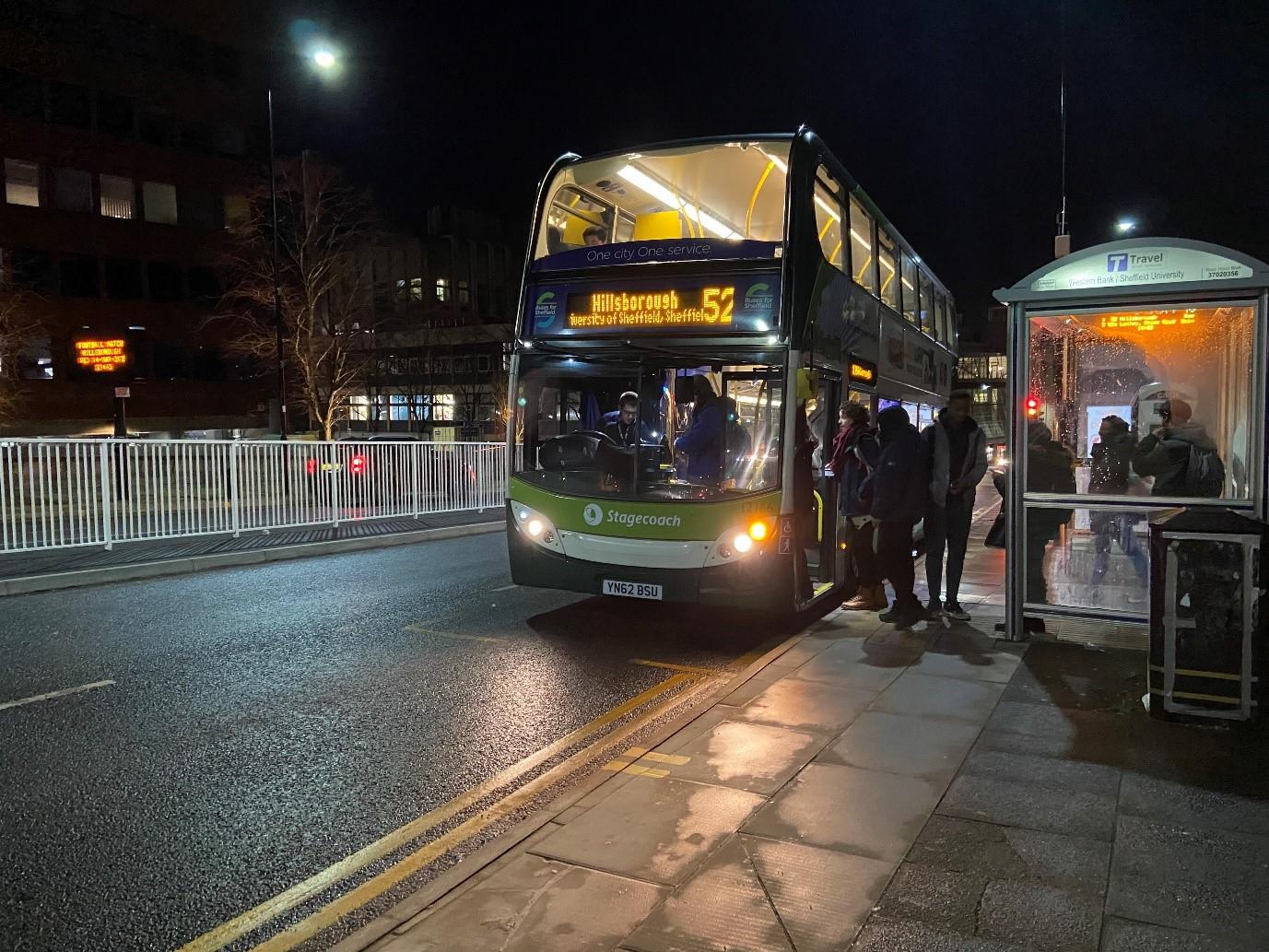 Sheffield bus (Many buses have two-floors so they are called double-decker!)


Secondly, we will show you Sheffield's train, called "Supertram". It is a kind of streetcar. When you want to ride this tram, you pay the fare to the conductor after getting on the tram. Before you pay the fare, the conductor always asks whether you choose one-way or round trip. If you use tram for both ways, you should choose round trip because you can get some discounts. Trams have electric bulletin boards displaying the next station, so you can see where you are easily.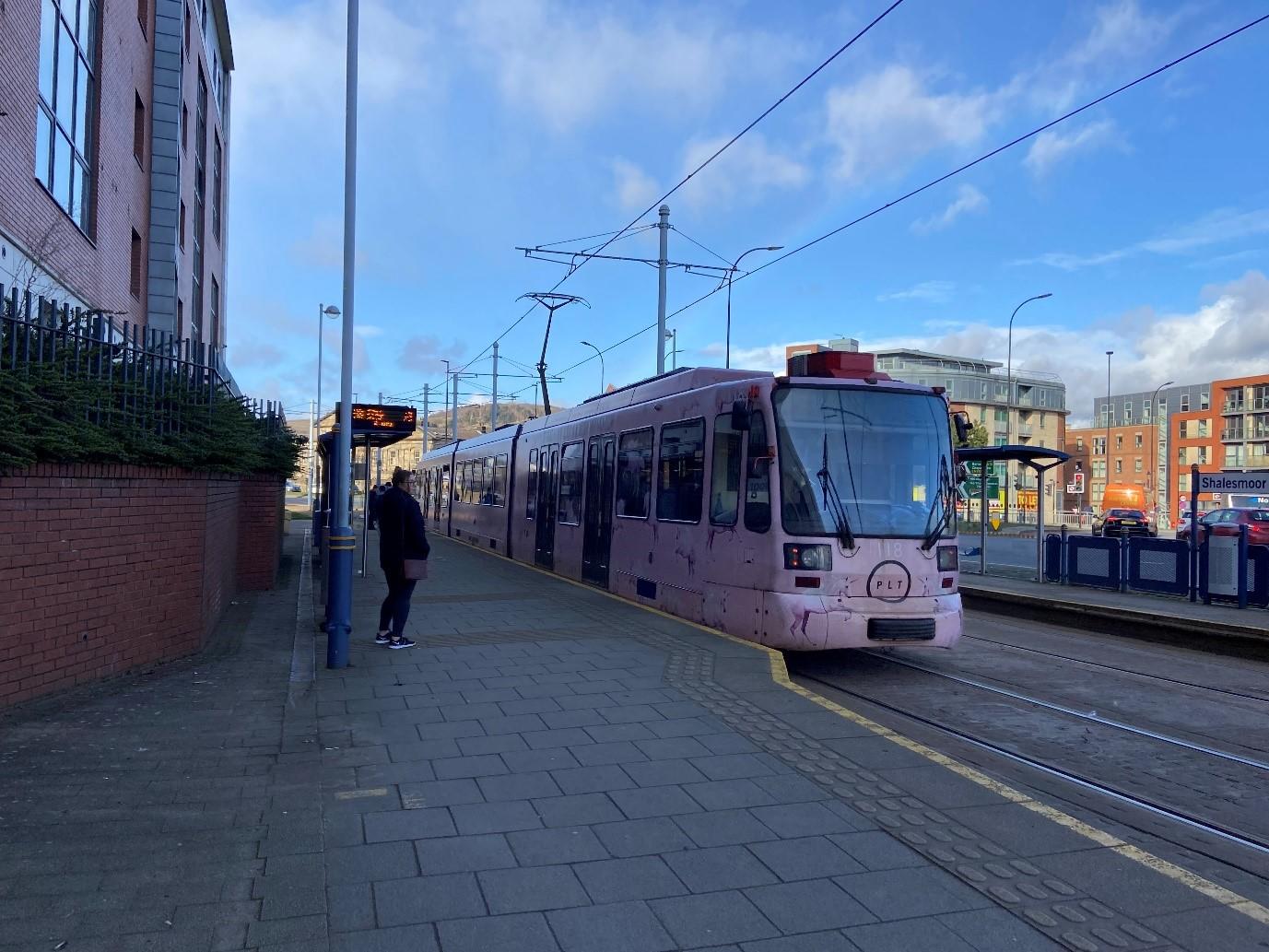 Sheffield Supertram (a kind of train)
Finally, we will introduce some valuable information. If you are a student, you can take the bus for only 1 pound if you show your student card to the bus driver. Moreover, when you take the bus or train, usually it is recommended to buy daily or weekly pass to use the bus or tram service unlimitedly.

We had the chance to ask a student, Ms S, about her experiences in the Special English Program (SEP).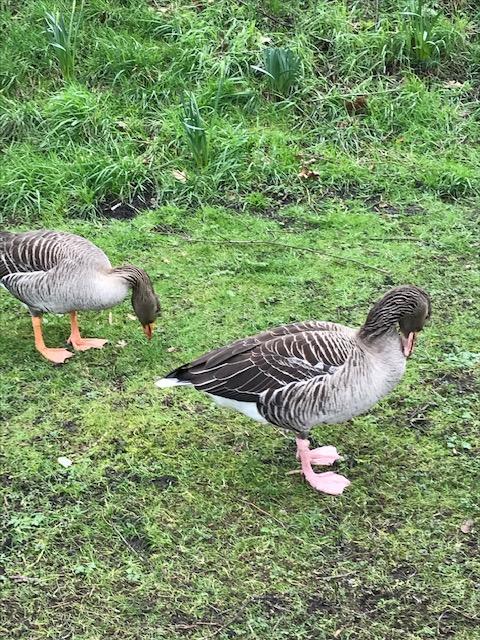 Exploring new places


Why did you choose to join SEP?

Because I wanted to go to the UK for the first time and I wanted to improve my English, especially spoken English.
What is something you remember about your classes in SEP?
I remember the class about sustainable development. At first it was so difficult! [Laughs] I worked many hours to prepare a presentation. That class helped me to improve my English. I'm thankful for the experience.
Now that you're actually in the UK, how do you feel?

It's really fun. We're in Sheffield and we can also enjoy going to other cities. Yesterday I visited York and had afternoon tea with friends. It was a good experience for me to explore the churches and ancient city walls.

Do you have a message for new students who are thinking about joining SEP?
Keep building your vocabulary! The more words you know, the more you will enjoy communicating.
We had the chance to ask two students, Mr A and Mr T, about their experiences in the Special English Program (SEP).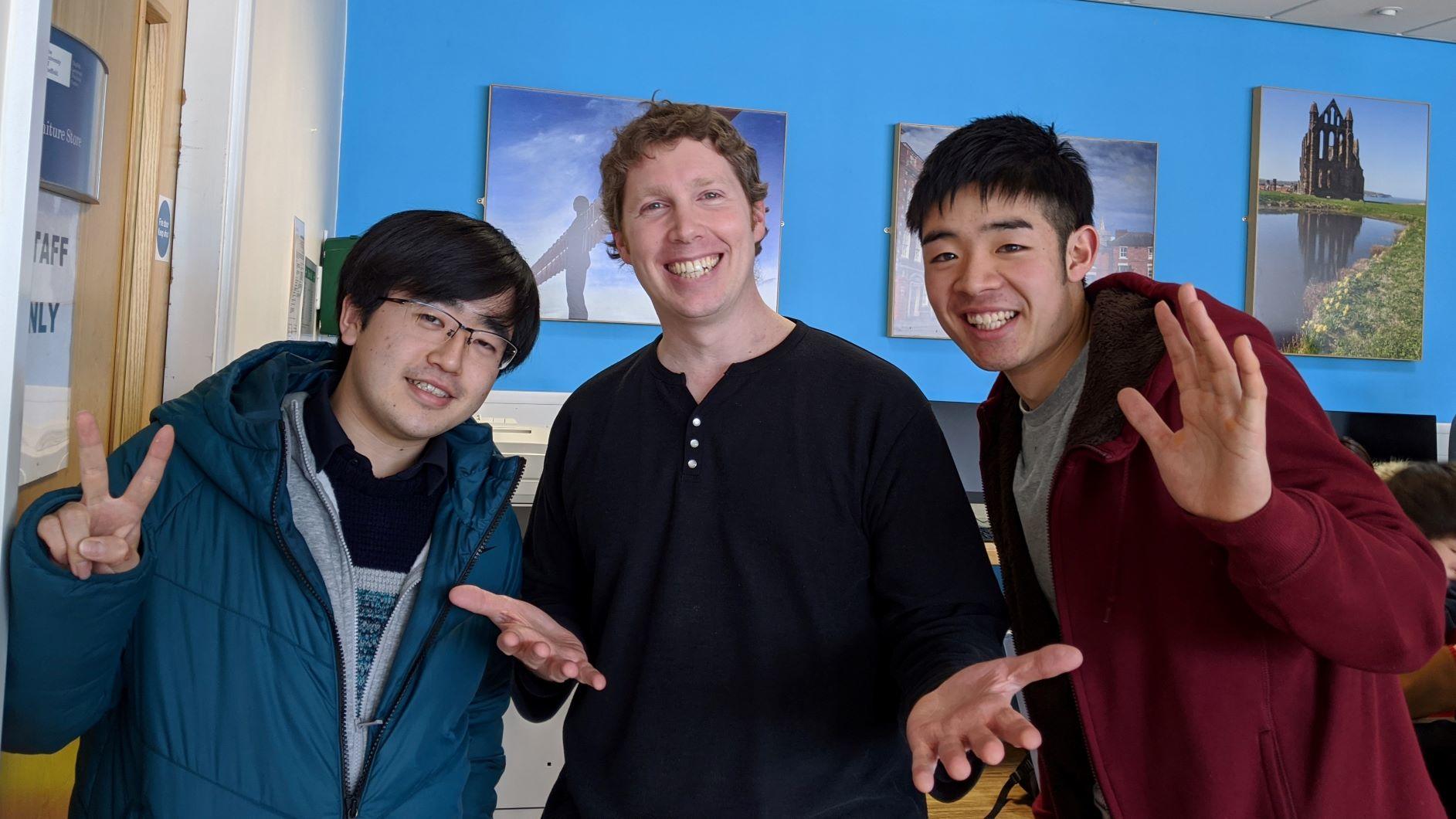 Adjusting to life in England has gone smoothly so far.


Why did you choose to join SEP?

Mr T: For a long time [before coming to Mie University], we learned English just for entrance exams. I wanted to learn real English. I mean that I wanted to learn English that I could use to communicate with people from various countries.

Mr A: In high school, I realized how much I love English. I joined SEP because I wanted to have more opportunities to talk with people in English.
In SEP, we use English not only in class but also outside of class. How do you feel about that?
Mr A: It's helped me to get ready for going abroad. At first I was surprised, but I soon came to think it natural to do everything in English.
Mr T: I've become comfortable writing e-mails in English. That's going to be useful to me in the future.
What would you like to tell new students who are thinking about joining SEP?

Mr T: Joining SEP gives you the chance to make many friends who are interested in English. It goes beyond the boundary of faculty because classes have students from various departments and faculties.

Mr A: One thing I can tell new students is, "Don't hesitate to use English!" Right now, I'm [in England] staying with a British family. Maybe some of my English is incorrect, but I can explain myself and my host family understands me.

"Don't hesitate. Be confident!"

三重大学英語特別プログラム参加者のうち73名が、プログラムの総仕上げとしてイギリスのシェフィールド大学英語教育センター(English Language Teaching Centre)での短期海外研修に参加します。
2月21日(金)は三重大学生協第1食堂に集合し、引率教員と添乗員から説明を受けた後、バスで三重大学を出発しました。学生たちは関西国際空港近くのホテルに前泊し、2月22日(土)の朝に出国します。

学生は2月23日(日)から3月14日(土)までシェフィールド大学近くの家庭に滞在し、ELTCへ通います。学生達は、これまでに、英語に関する授業を履修し、更に夏休みには合宿研修に参加するなどし、集中的に英語を勉強してきました。この磨いてきた英語力は、この短期海外研修で更に磨かれることとなるでしょう。
帰国は3月15日(日)です。その間に学生が作成したブログ記事が投稿されますので、お楽しみに!

Students came to English Lounge recently to practice for their presentations.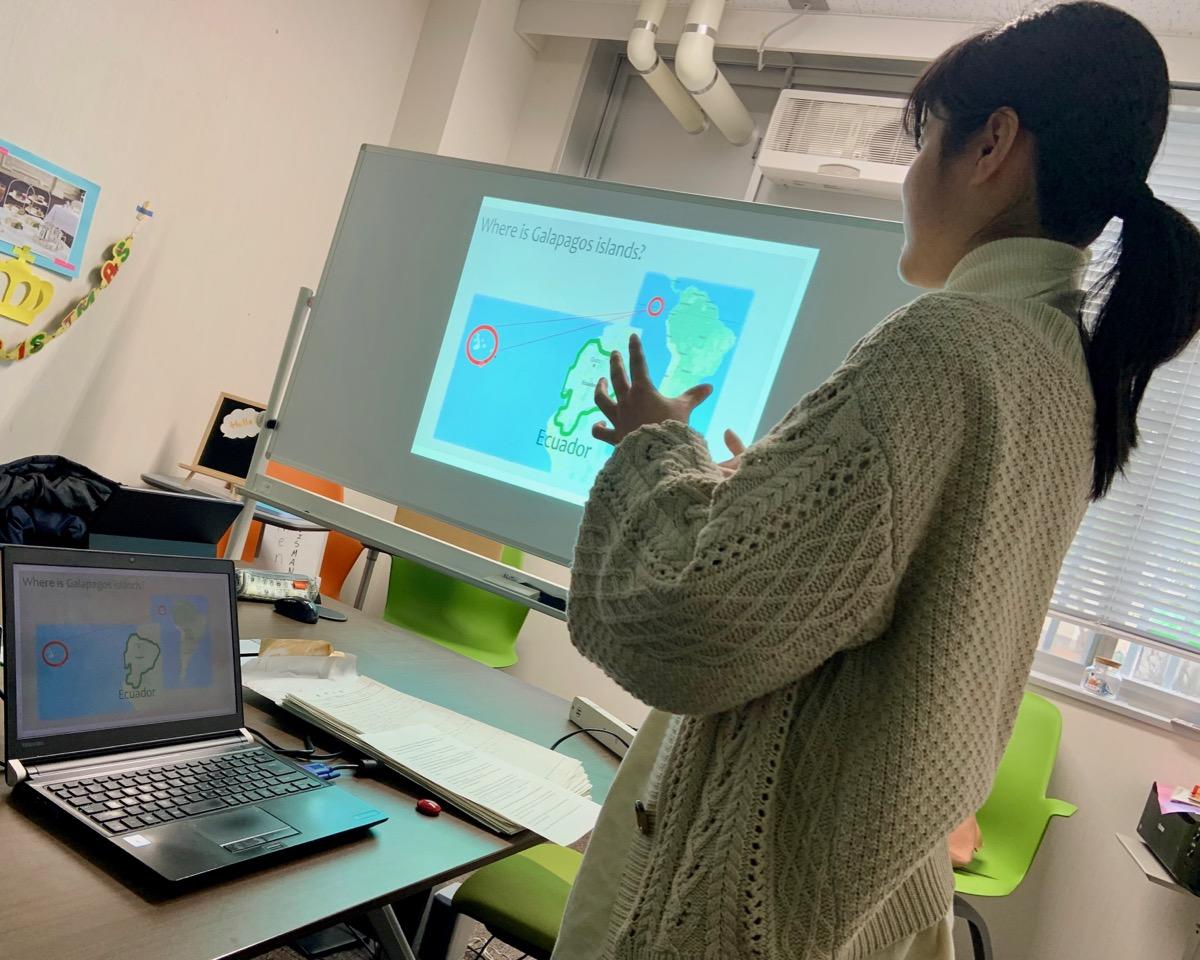 Improving presentation skills and gaining confidence


English Lounge is a place to use English however you'd like. This semester we've befriended international students, celebrated holidays, and even solved a "Murder Mystery". Of course, we also like to host game days like this and this.

Did you know that you can improve your presentation skills at the Lounge?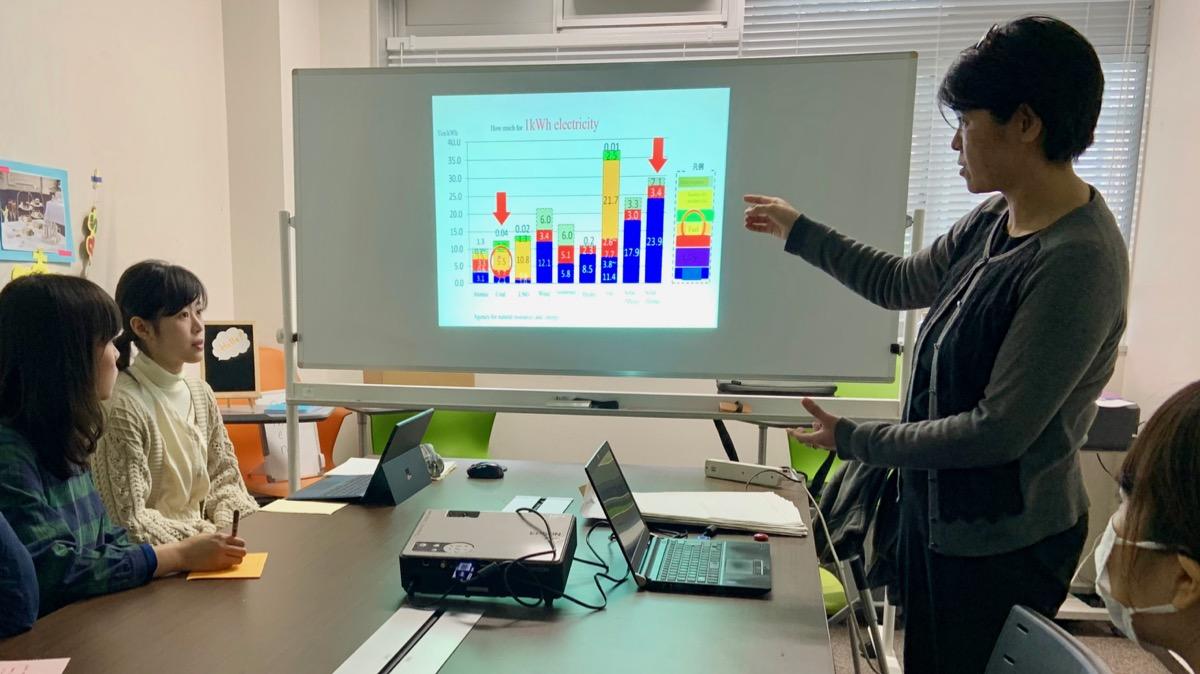 Get feedback from peers and make your presentation even better.
Come to English Lounge and learn by watching others.
Then when you're ready, practice giving your own presentation.
You might even make a new friend in the process!
        "I can't wait to go abroad and make new friends!"
        "I'm excited to experience a new culture."
        "But how should I talk to my host family?"
        "What if I don't like the food?"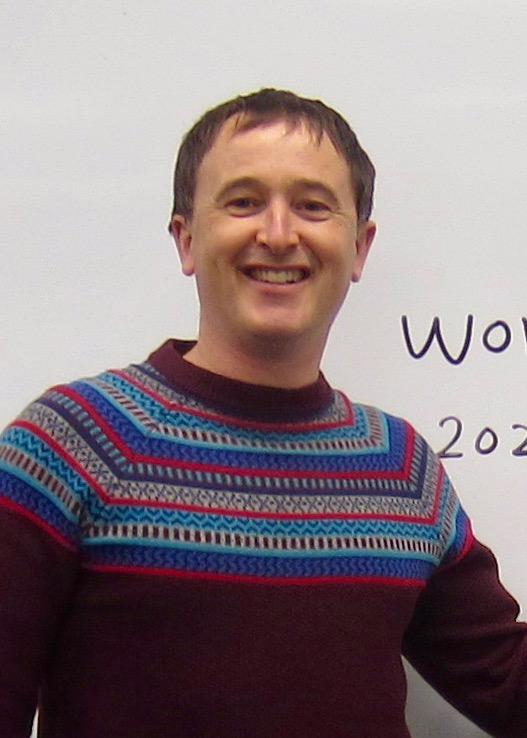 Mr Backwell prepared us for life in the UK.


Our adventure in Sheffield, England is just weeks away. Although we are bursting with excitement, facing the unknown in a new country can also make us nervous.

To help us focus our goals for the trip and face our fears, the Special English Program was proud to invite Ben Backwell (Nagoya City University) to conduct workshops on 10 January. A native of Liverpool, home of the Beatles and--in his own words--"the world's greatest football club", Mr Backwell has been preparing students to visit the UK for over a decade.

18 students participated in morning and afternoon workshops to learn about British culture and lifestyle, set individual goals for the study-abroad experience, and discuss fears. The highly interactive workshops helped us to make our own plans and move forward positively.
We'll soon be on a plane to England. Thank you, Mr Backwell, for getting us ready to experience a new culture.