The five-day online intensive study program at ELTC has finished. What did SEP students say about the experience?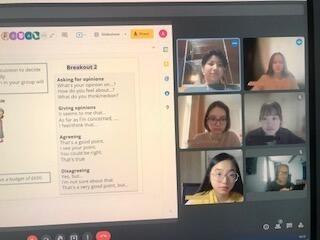 Students from various countries learning together.
Different Cultures, Different Values
"I could feel the differences in cultures and ways of thinking."

"It was a good experience for me to understand the culture of the UK."
"I learned a lot about British scenic spots and culture, as well as some authentic English expressions."
"I was really impressed by other countries' students. They expressed their opinions very clearly, and gave good examples."
Developing Abilities
"I am now able to express my opinions better in English."

"Throughout this intensive English course, I not only learned about many ways to develop a discussion but also practiced them immediately, which means both input and output, so I feel my English and discussion abilities have greatly improved."
"At the beginning of the week, I could not express my opinion very much. However, as the time passed, I gradually became able to speak English more smoothly."
"My English skill, especially in terms of logical speech, has developed drastically."
Final Thoughts
"I had a wonderful experience at ELTC. The lectures and discussions were great, of course, and moreover the assistance from people of the ELTC Team was [kind-hearted]."
"This course was hard for me, but I enjoyed it very much! Thank you for giving me this opportunity."
"It was perfect."