2019年記事一覧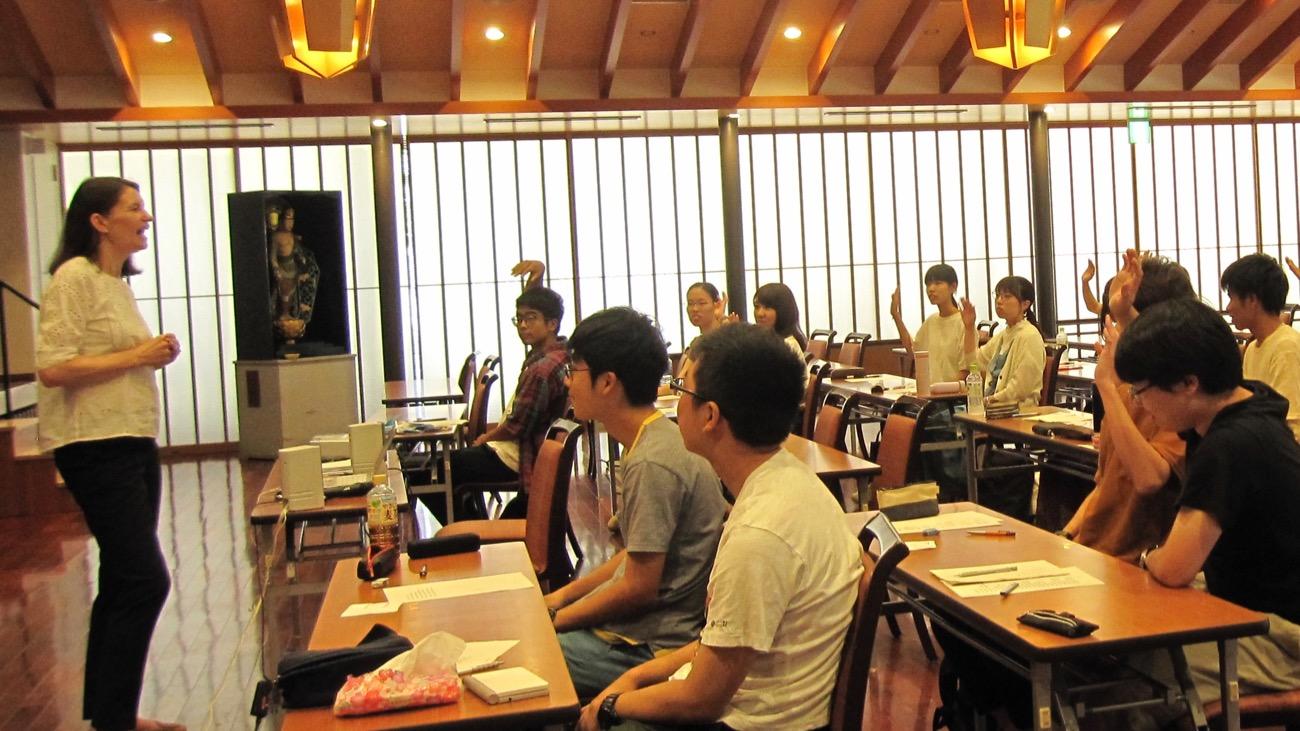 Professor Helen Johnstone prepares 31 SEP students for life in the U.K.
It's never too early to get ready for England.
Professor Helen Johnstone, academic director of the English Language Teaching Centre (ELTC) at Sheffield University, taught 31 SEP students about British culture, everyday life in the U.K., and classes at Sheffield University through a two-day workshop at Takada Kaikan in Tsu.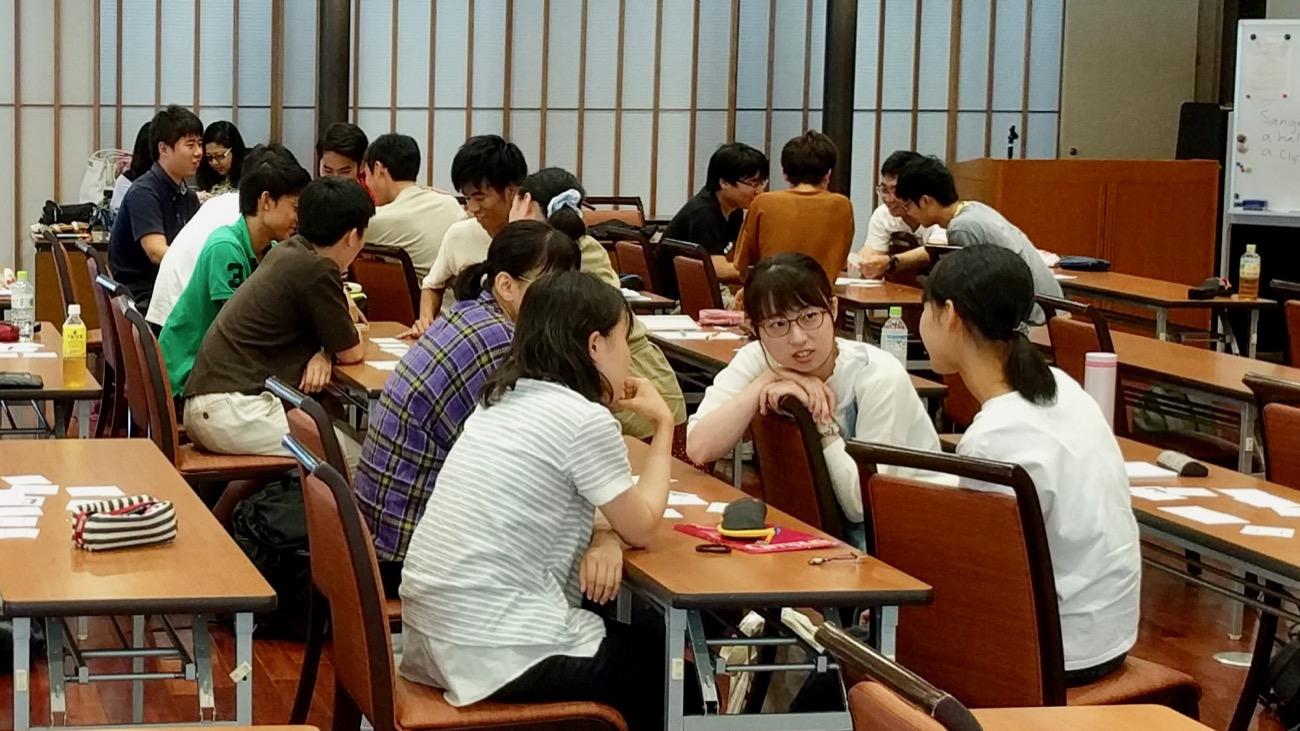 Group work during an ELTC-style lesson


Students had the opportunity to experience an ELTC-style lesson. This gave them an interactive preview of what they should expect at Sheffield University.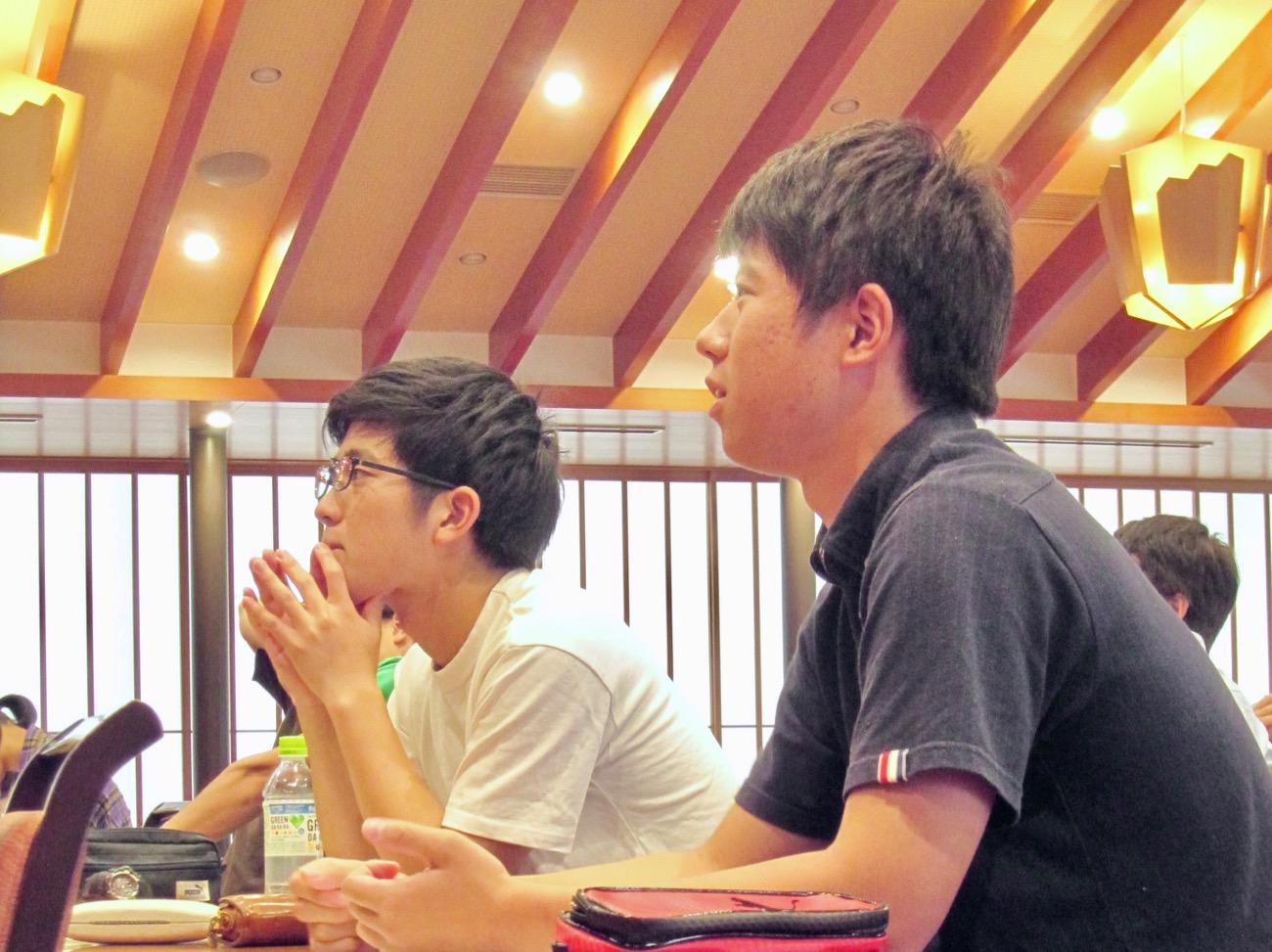 Learning about life in a British home
Students felt less anxious about going to live in a British home after having learned about the differences to Japan and having had their questions answered by Professor Johnstone.

♪We are the Champions!♪

On Saturday night, about 20 students decided to practice singing Queen's renowned anthem, We are the Champions. They took to the stage on Sunday morning, impressing Professor Johnstone and their fellow students.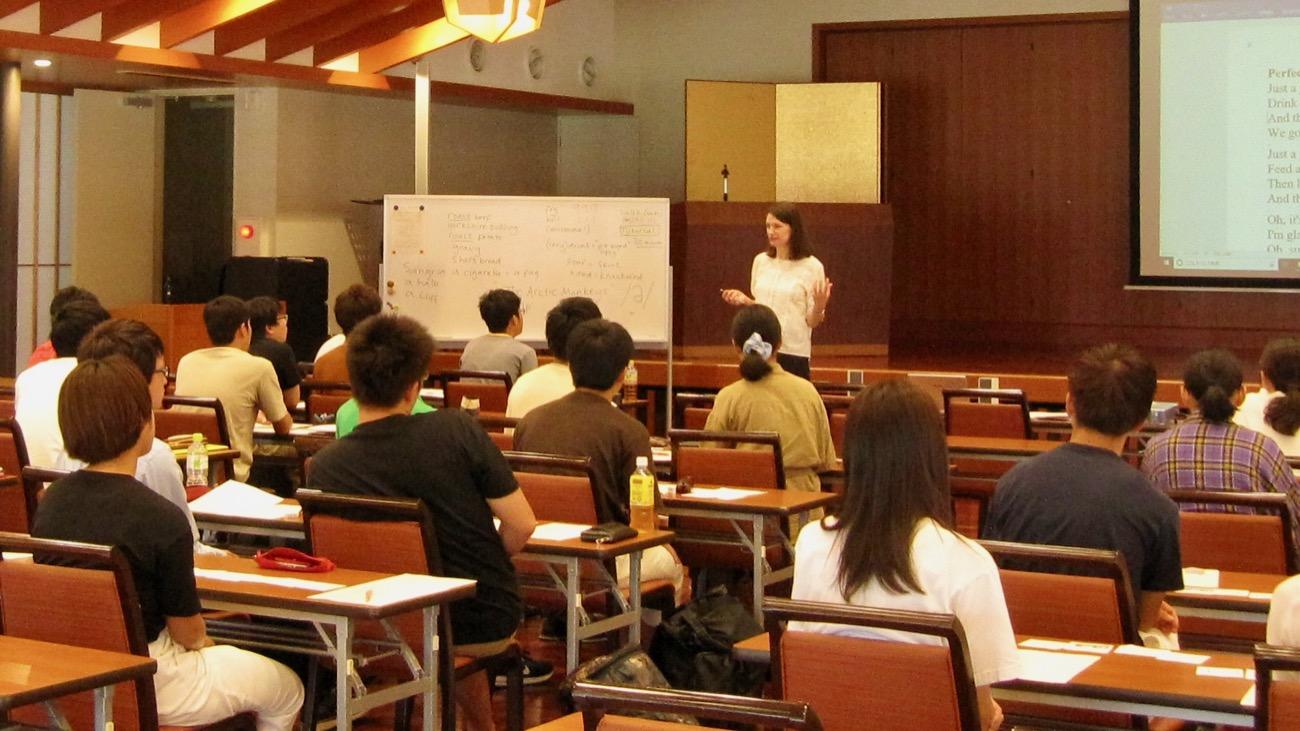 England, we'll see you in a few months!
The idea that we are going to England has begun to feel real. Thanks to this workshop, the students are less anxious and also better prepared to go abroad. Several people commented, "I need to study English harder!"
Now the real work begins.
We would like to express our sincere gratitude to Professor Helen Johnstone for leading the workshop, to Mie University's International Relations Office and the "Inviting Foreign Faculty Short-term Program" for the financial support that made this workshop possible, and to Takada Kaikan for hosting our large group so graciously.
---
INFORMATION SESSIONS
7/26 & 7/29
12:15-12:45
Building 3, Room 1111 (see map below)
Have you been working hard preparing for the TOEIC-IP Test on July 20?
Would you like to join the Special English Program and study abroad in Sheffield, England?
This is your chance!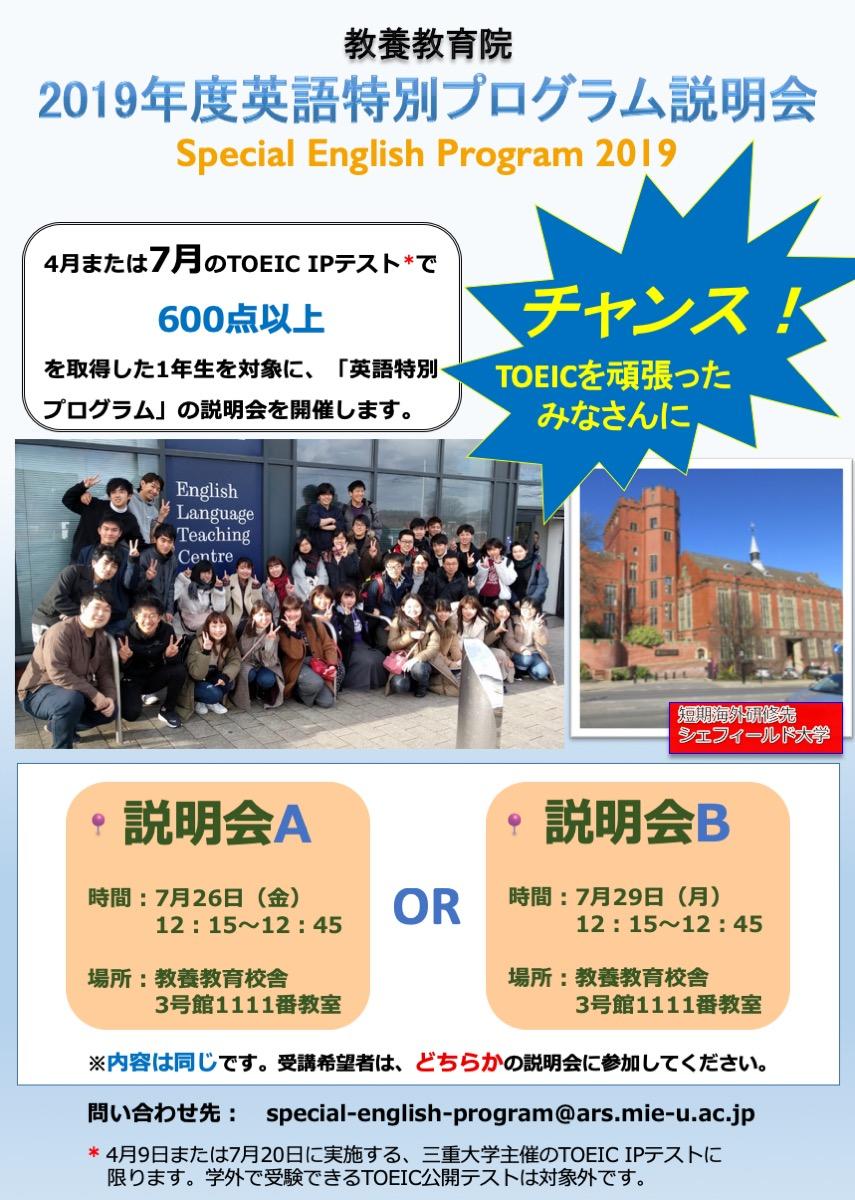 Come to one of the information sessions if you are interested in joining SEP and studying in Sheffield.
For more information, click here.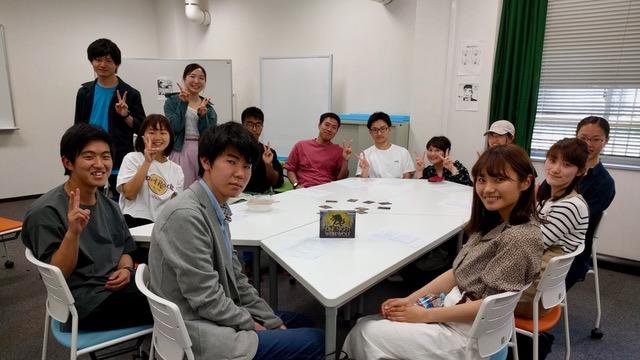 Who is telling the truth and who is a werewolf?
Want to have fun while using English?
The SEP 2nd-Year Leaders are running many events for 1st-year students.
Come join us at the English Lounge!
On Wednesday, May 8, we celebrated the 2018 Special English Program participants' completion of the program. 14 months of hard work really paid off!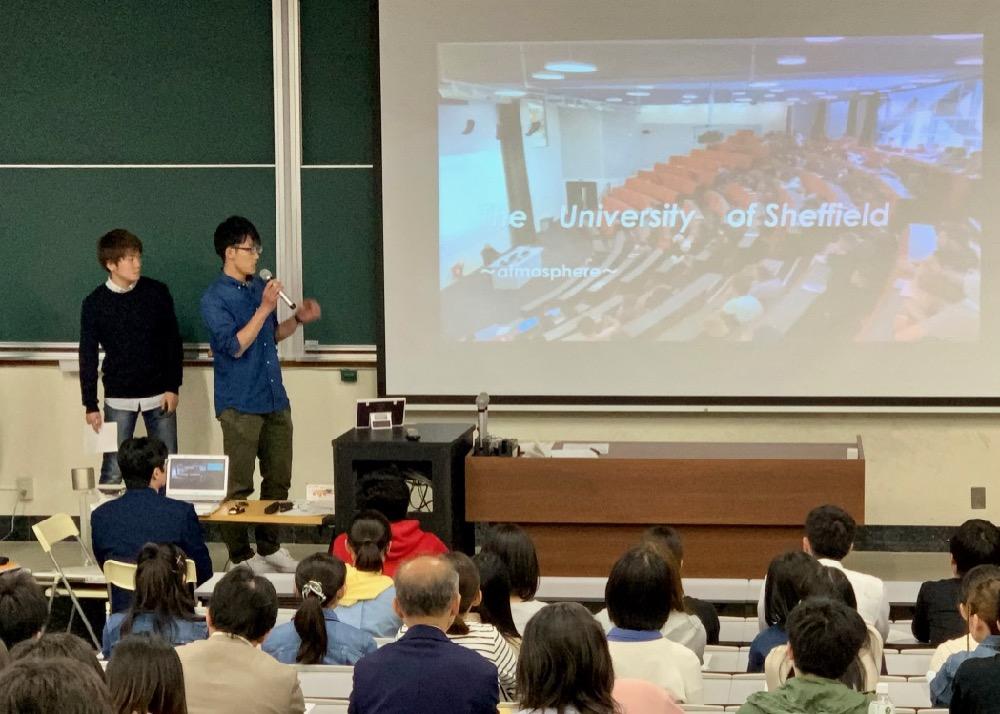 Describing our experiences in Sheffield, England
We would like to thank our honored guests (in order of appearance), Executive Vice President for Education, Professor Toshihiko Yamamoto, and the President of Mie University, Dr. Yoshihiro Komada.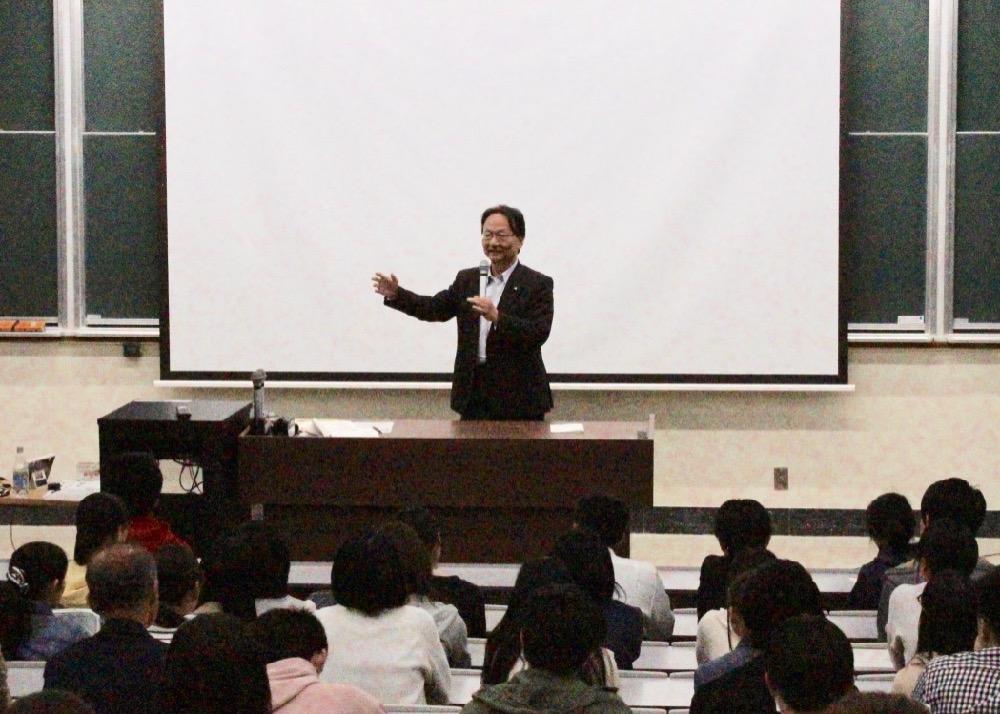 The President was impressed by how many students made presentations in English without any notes.


We would also like to express our gratitude to Dr. Seiki Ayano, Dean of the College of Liberal Arts and Sciences, who presented certificates of completion to 71 SEP participants.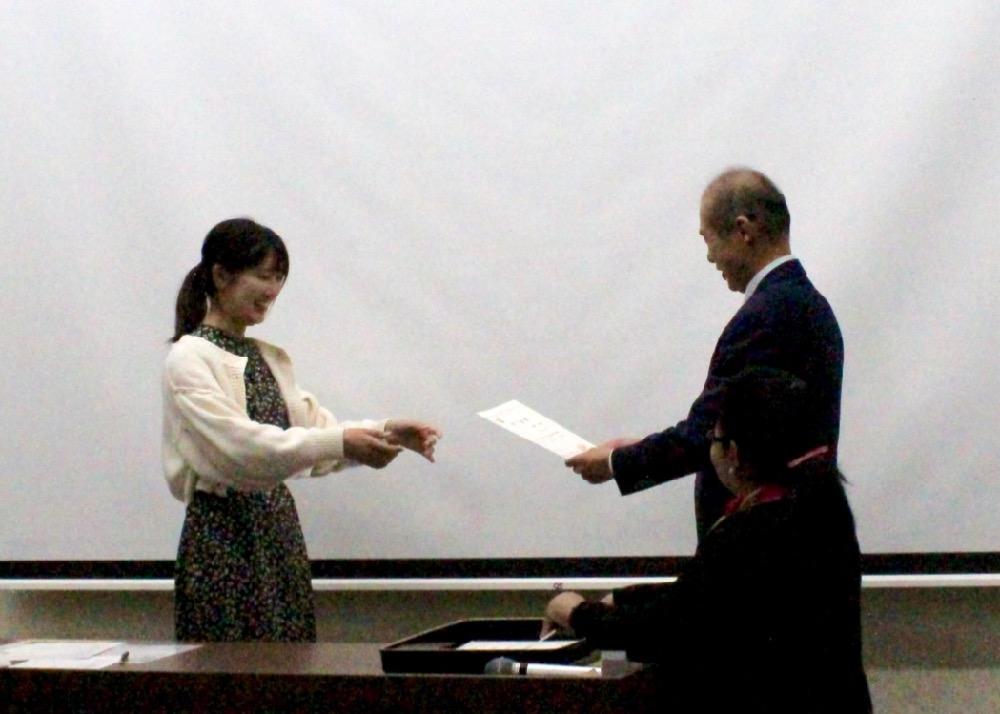 A celebration of hard work mixed with a bit of fun


Congratulations 2018 SEP students! We're proud of you!

---
Want to read about the ceremony in Japanese? Click here
Come to one of the Special English Program information sessions (説明会)
April 12 (Friday) 18:00-18:30
OR
April 15 (Monday) 12:15-12:45
*You need only attend one of the sessions. The content is the same.
Location: College of Liberal Arts and Sciences, Room 120. (教養教育校舎)
See maps below.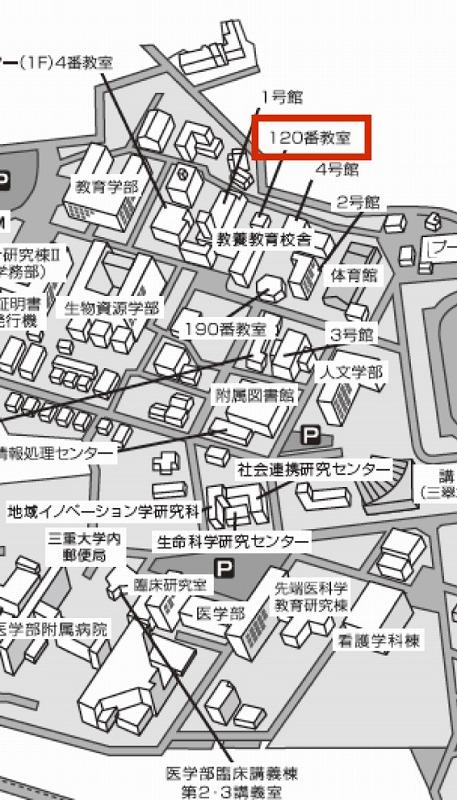 The program is open to 1st-year Mie University students who have scored 600 or above on the TOEIC-IP test in April 2019.
* * * * *
We've recently come back from Sheffield, England. Scroll down to see our blog!
Would you like more information about the program and the courses that we offer?  https://www.ars.mie-u.ac.jp/subject/special-e/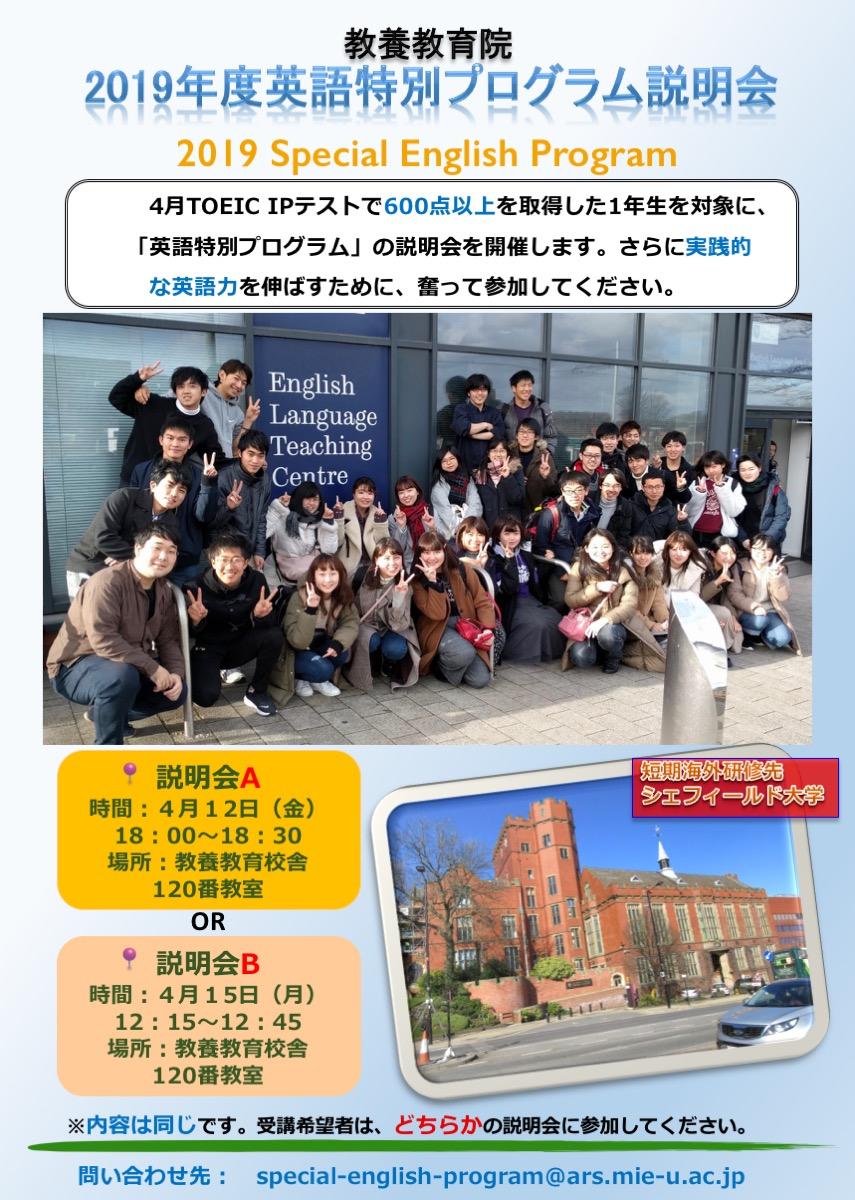 Are you interested in joining the program?
Come to one of the information sessions!

We hope to see you there.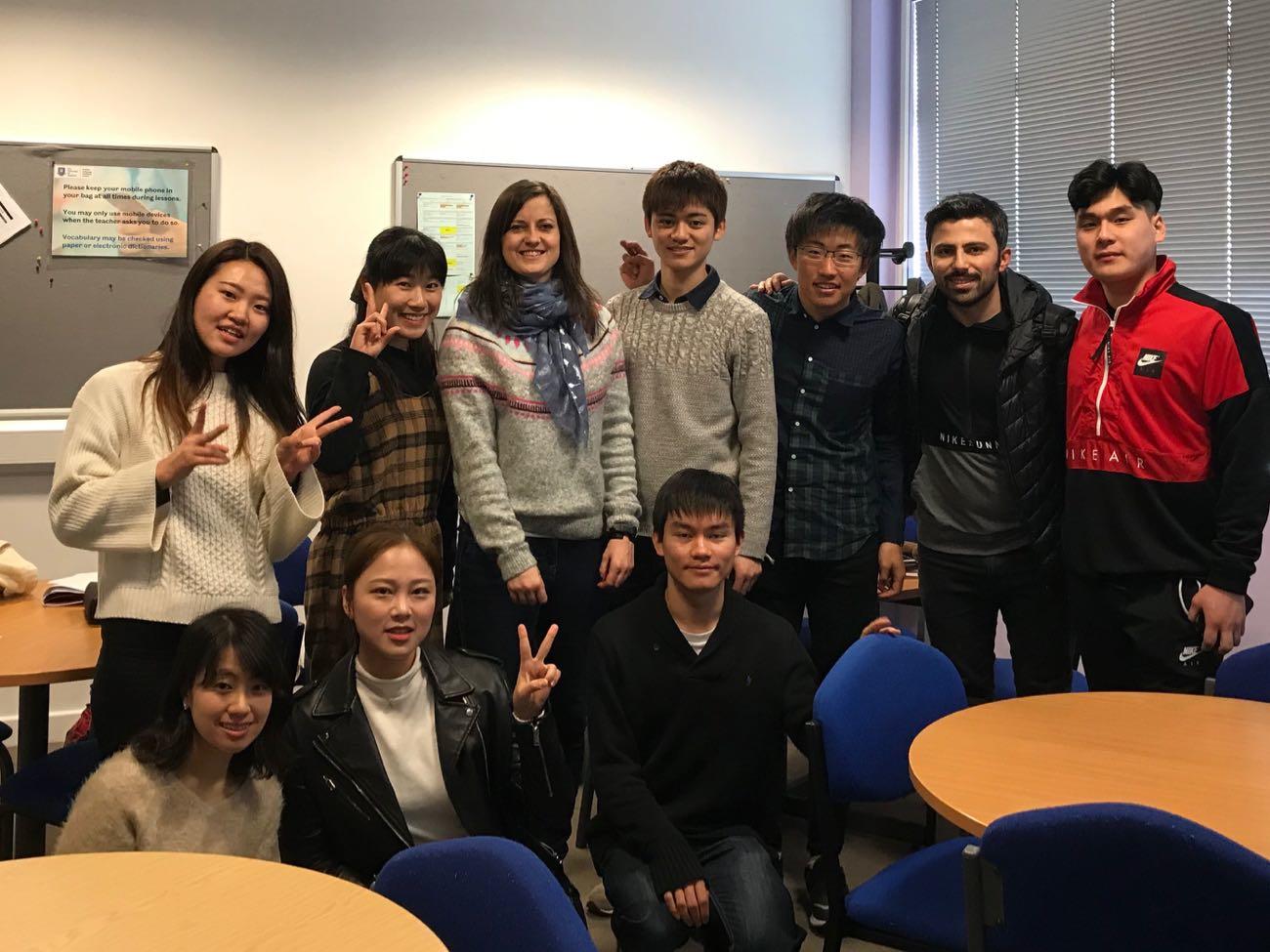 You made me a better communicator. Thank you!
Life in Britain had a big effect on me.
Firstly, I have come not to be afraid of making mistakes. I've learned to be patient. At first, I couldn't put it into words, because I was concerned with speaking English that is grammatically correct.

However, as I talked with my friends in ELTC or my host family, I realized the important thing was trying to make myself understood. Even if I didn't know how I could say something in English, I tried to think of another expression. For example, when I wanted to say a barber, I said, "Person who cuts hair." By just trying to talk, my communication skill has been improving.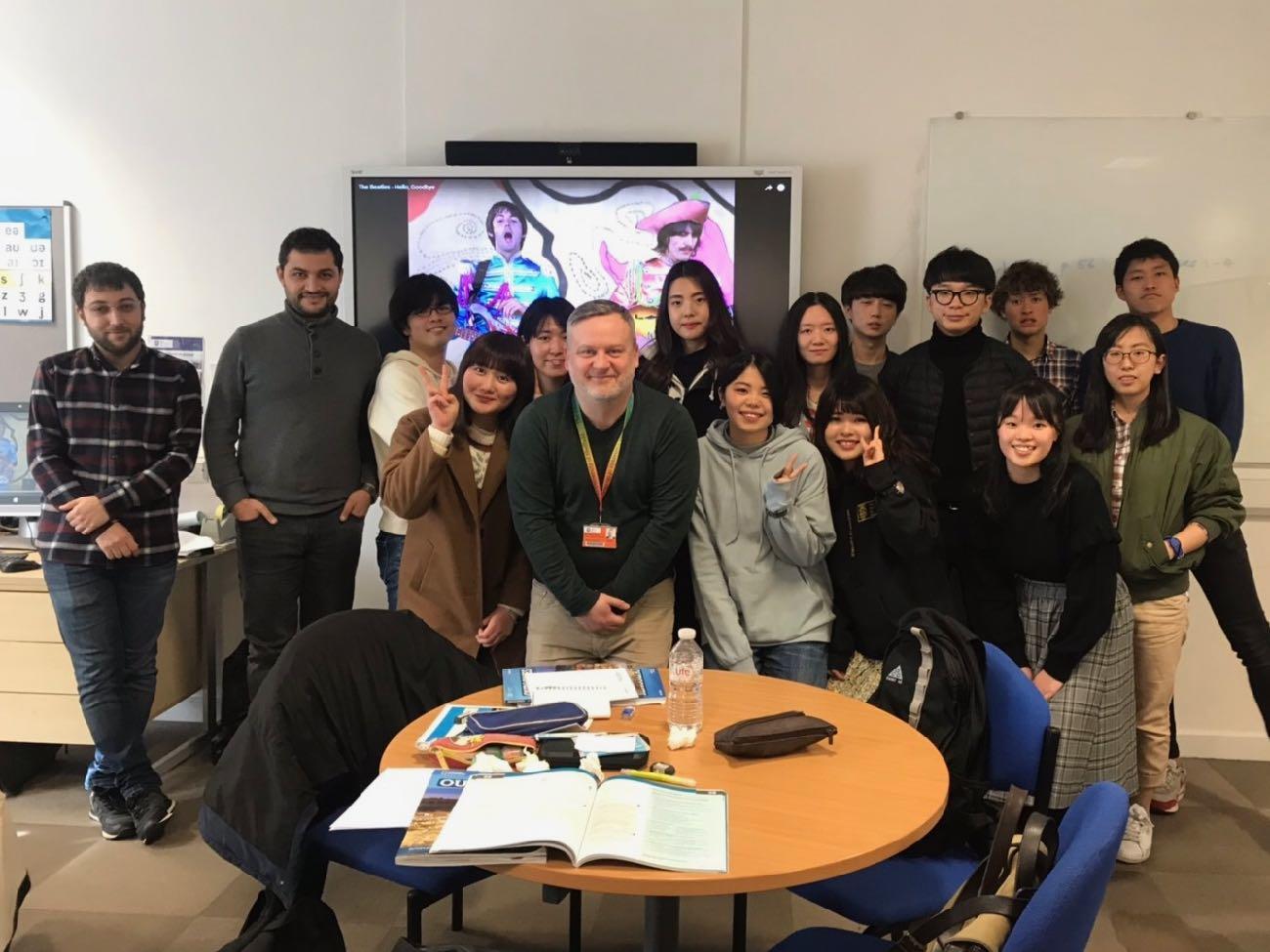 You helped me expand my world. I'm grateful.
Secondly, I could get various points of view. We discussed the differences between other countries and our country, such as food or buildings and so on, in the lessons of ELTC. It was interesting, because I could broaden my horizons. In addition, I could make many foreign friends. Through conversation with them, I learned a lot of things.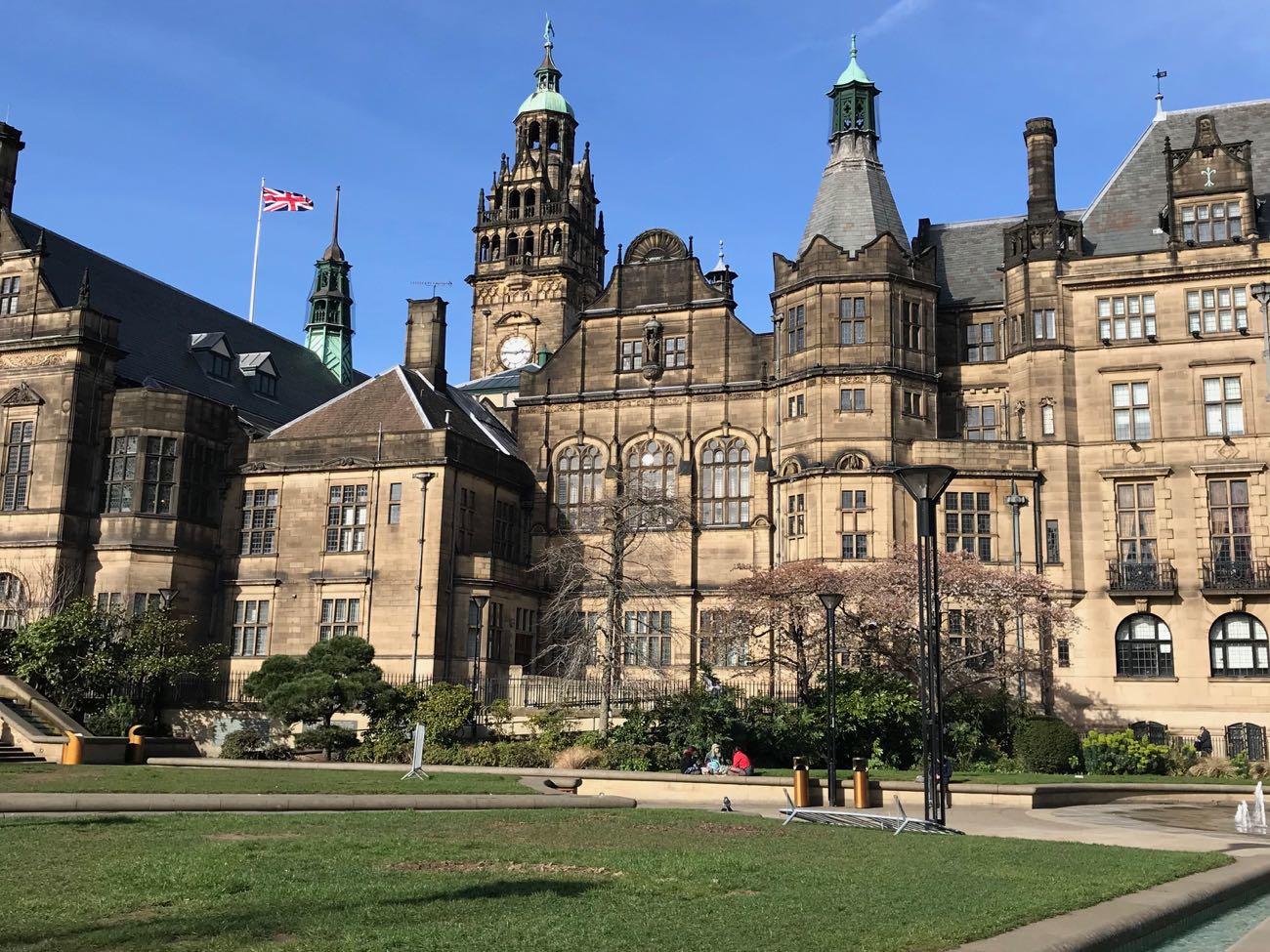 Until we meet again.
These are the best memories of my life. I would like to express my gratitude to all the people I have met.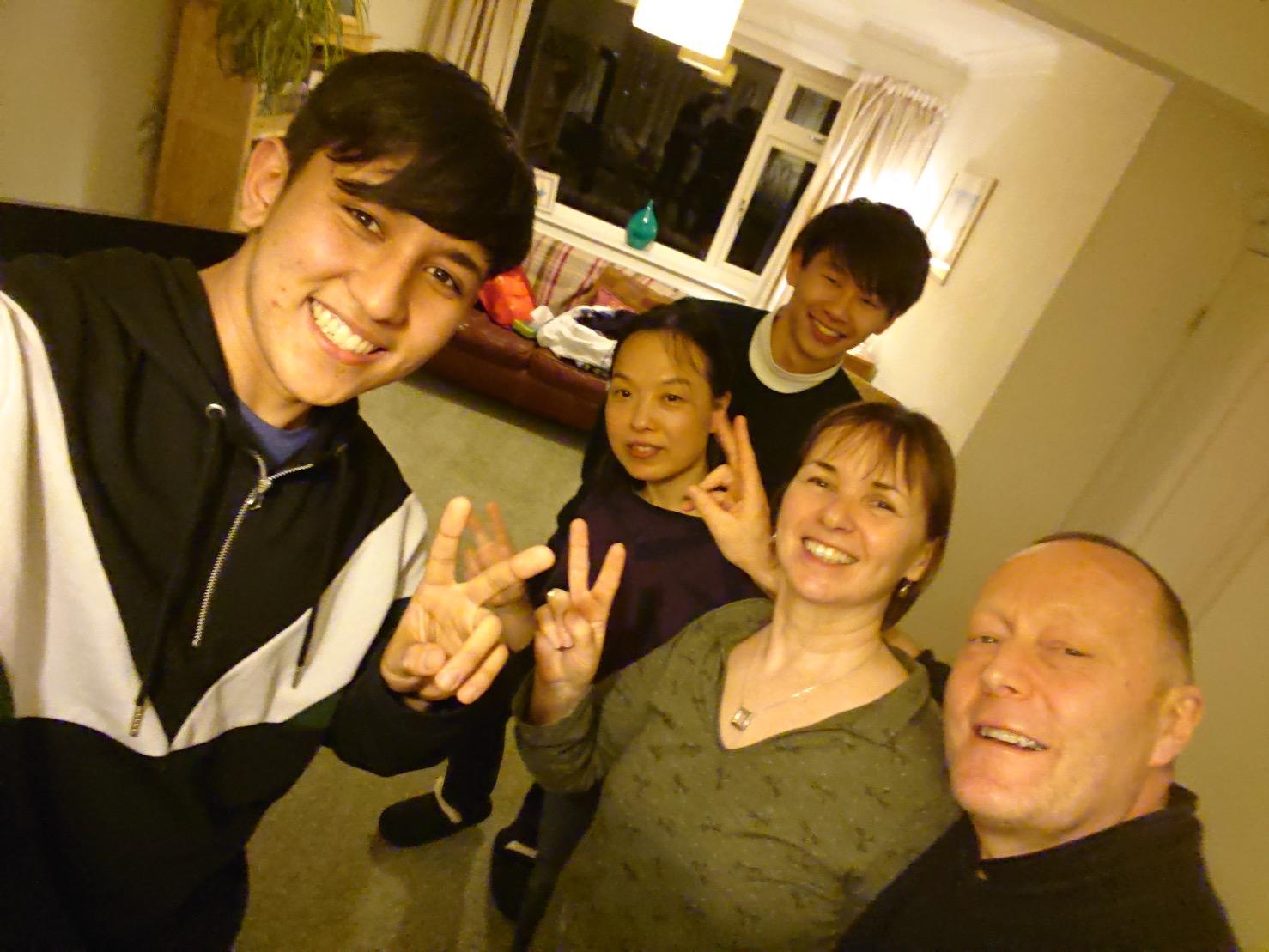 Say hello to my host family and friends.
It's been about 3 days since I came back to Japan. Studying in the UK gave us so much experience that we have a new perspective on life in Japan.

The thing that has changed the most in my mind is that I could realize that Japan is a very peaceful and soothing place (of course the UK is as well).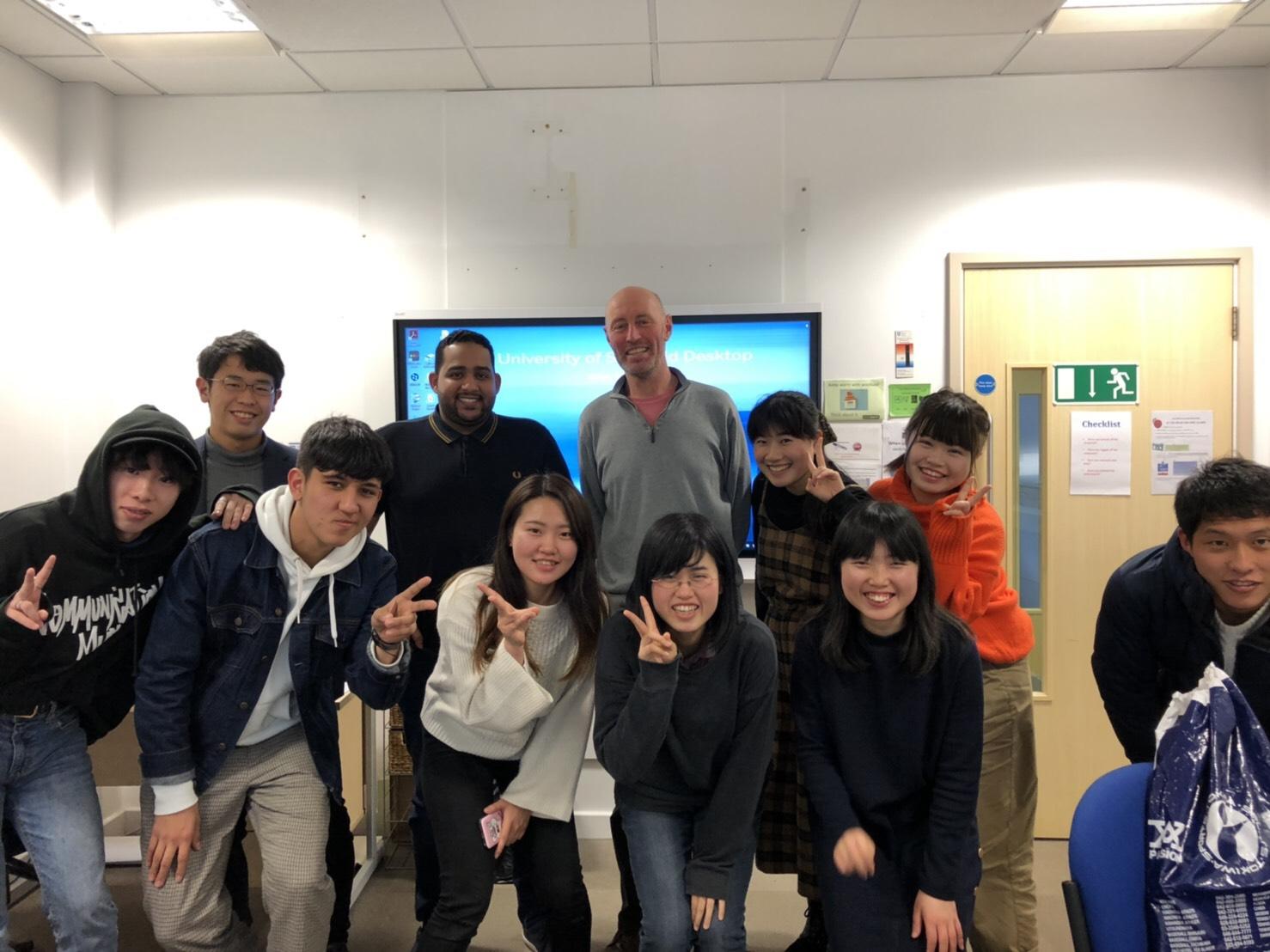 They made my trip a fun one.
In the UK, I was glad to see many kind and polite people who really made my trip a fun one. After coming back to Japan, I somehow came to consider the people who is around me even more. I thought it is an important thing that sometimes we forget.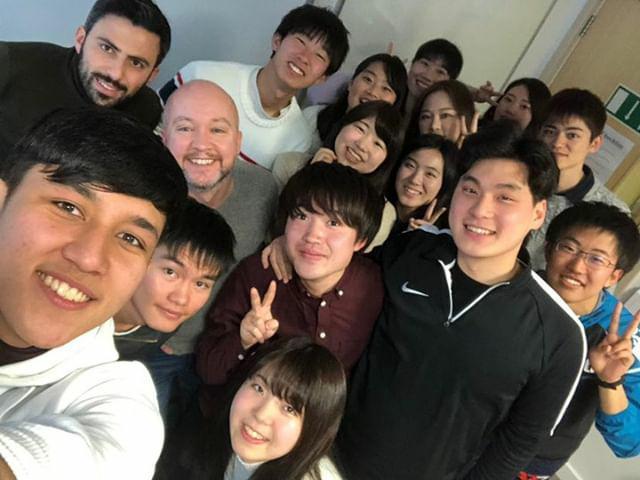 Surrounded by great people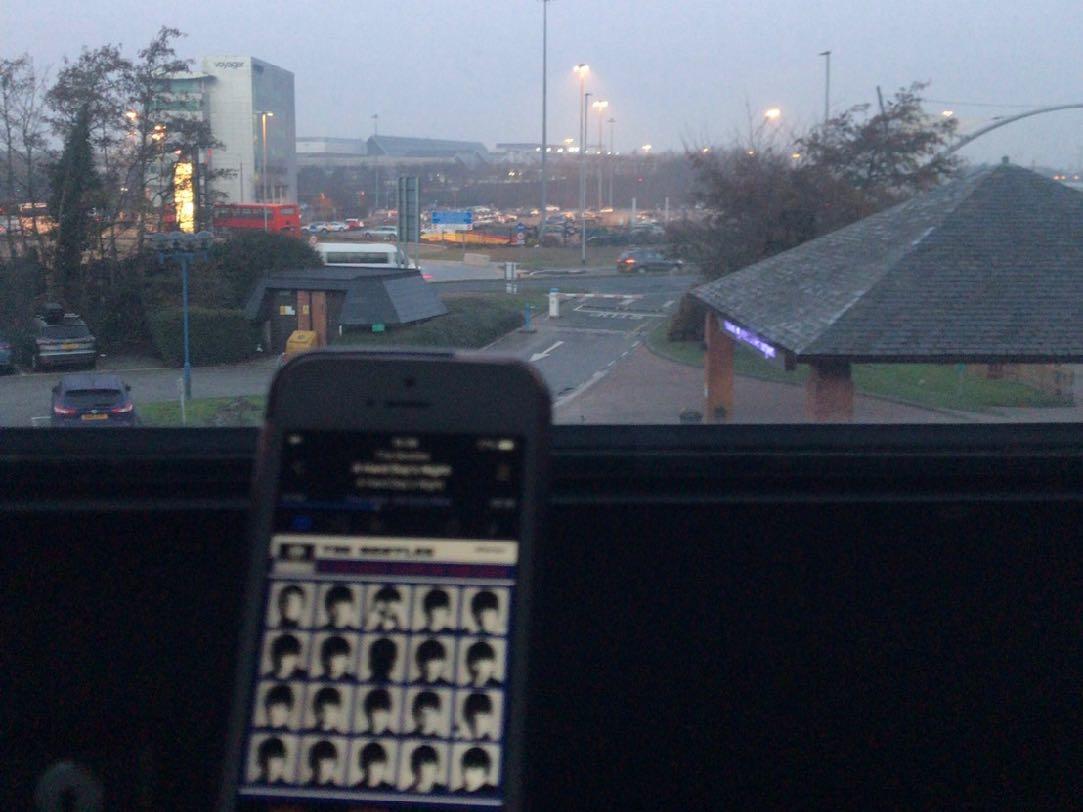 A pleasant morning from "A Hard Day's Night"
Do you know that Britain is a very important country in the music scene, especially the rock music scene? Britain has put out many music artists who've left their names in history, and they have changed many music scenes. In this article, we'll look at two famous artists among them.

The first artist is The Beatles. The Beatles were, of course, a British rock band who produced many famous songs. They changed the common sense of the past music scene. If you visit their hometown of Liverpool, you can learn more about The Beatles history.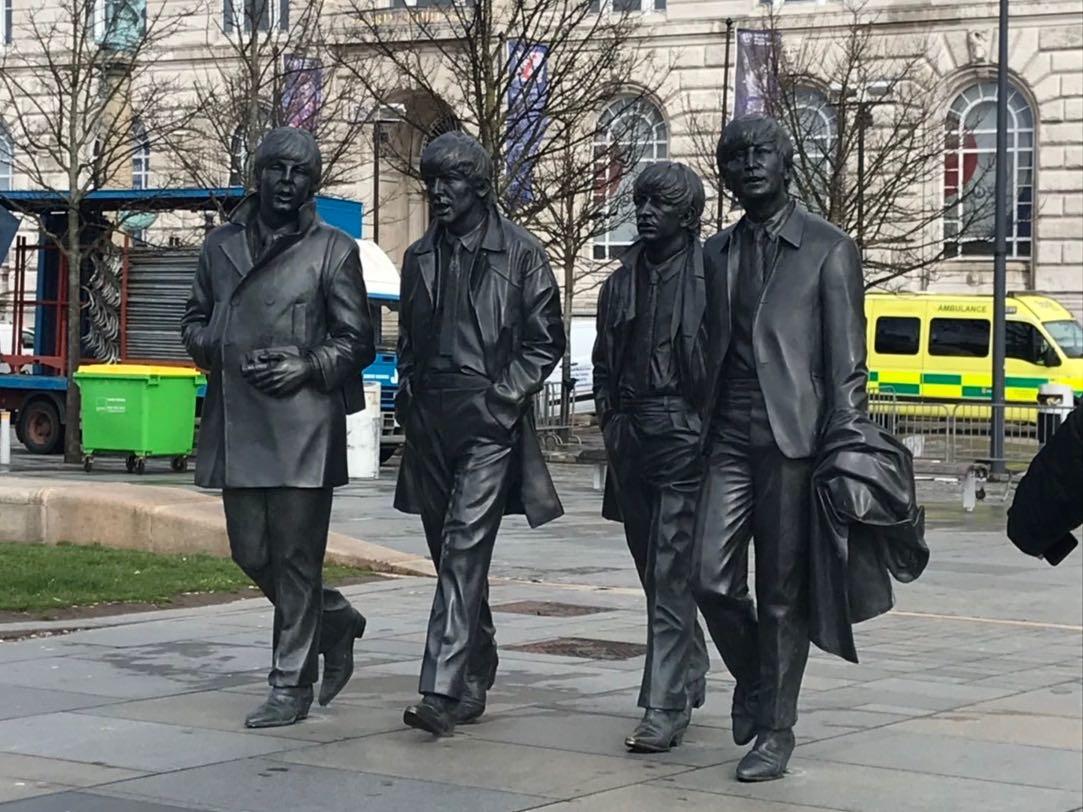 The Beatles still walk around the city
The second artist is Queen. Queen is familiar in Japan, and they are also famous as a Japanophile. Queen's songs make a friendly impression, but in fact, their musicality changes in various ways depending on the time. Queen's album "Greatest Hits" ranks first among the UK's successive album sales, with 6.1 million sold.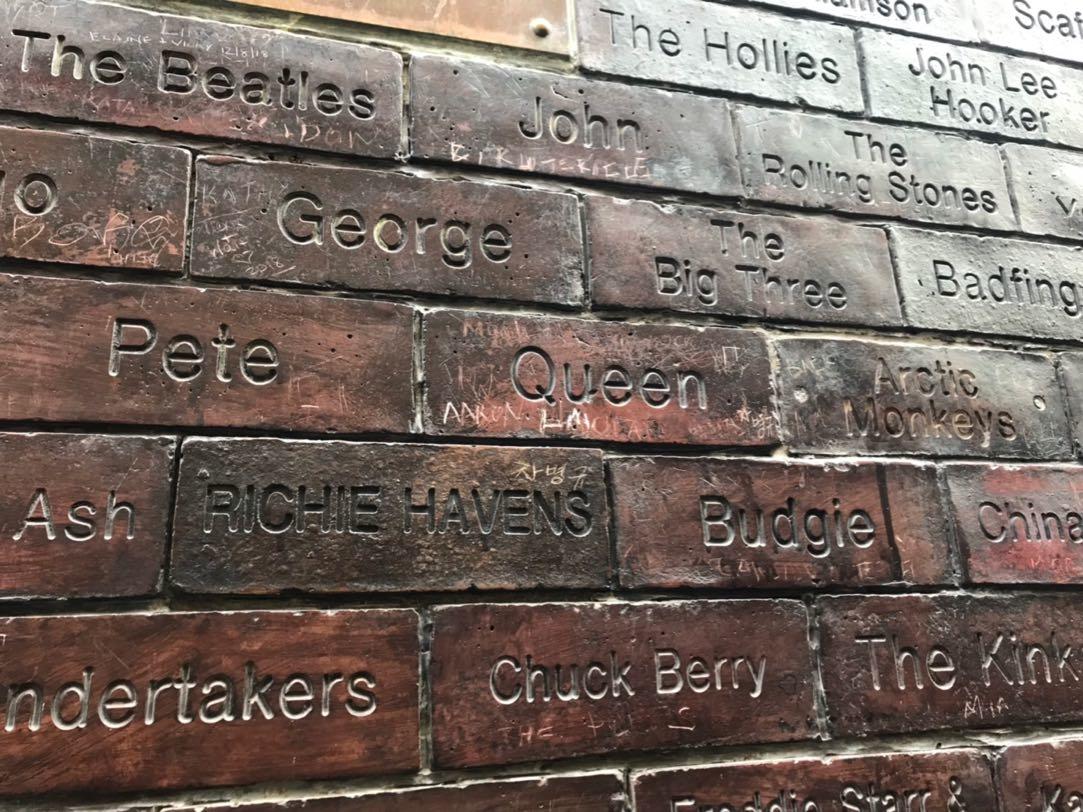 Liverpool Wall of Fame
We introduced two sets of artists, but there are still many more great artists. If you love music, why not go to England? However, there are so many music-related goods sold in the UK, so be careful not to spend too much money.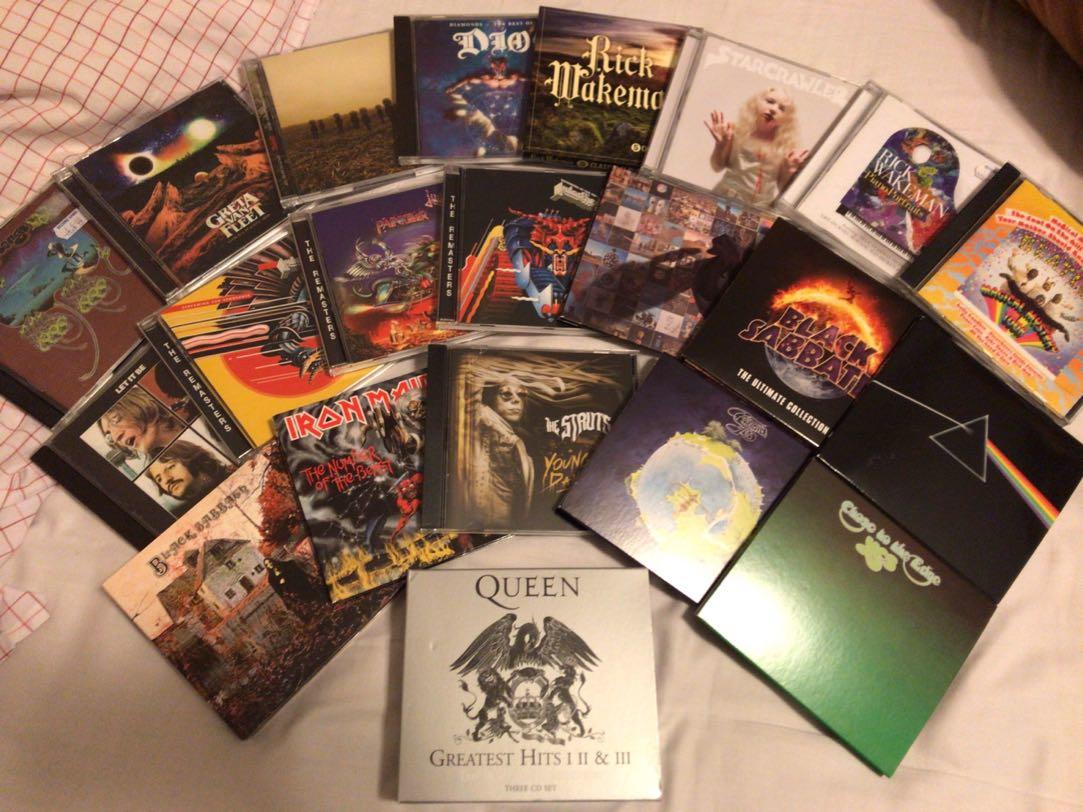 CDs I bought in the UK (Another my money bites the dust...)
We studied English in ELTC of Sheffield University. You may remember from reading earlier blog entries that in this building, there are a lot of students from China, Korea, and Turkey and so on.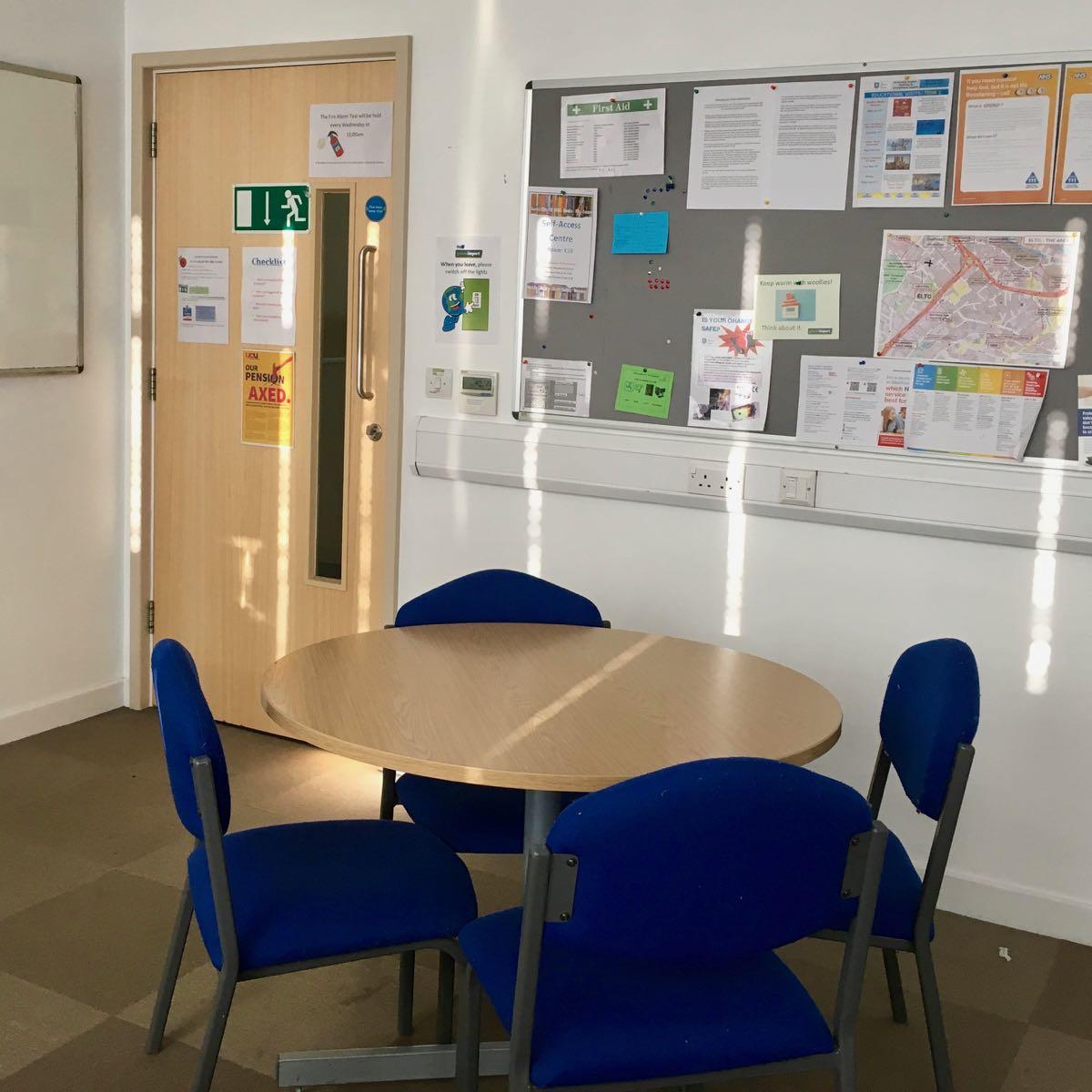 Tables like this lead to close communication.
Since we could talk with people from various other countries, we could know the difference of cultures. And also, we had a good time with them by telling them how to say some things in Japanese. For example, saying "thank you" in Japanese is Arigatou. Moreover, we learned English in a small class, so we could communicate with teachers a lot.

On the ground floor in ELTC, there is a café called the Oasis. It has been mentioned previously that at this cafe, we could buy sandwiches or fresh bread. But did you know that the café also sells udon noodles or kimuchi ramen? Therefore, international students can enjoy the taste of home.

During my stay in Sheffield, I experienced many aspects of the culture of England. Through this experience, I found something new and something important.

There's one point that I would like to focus on today: the custom of sending a greeting card on a precious day.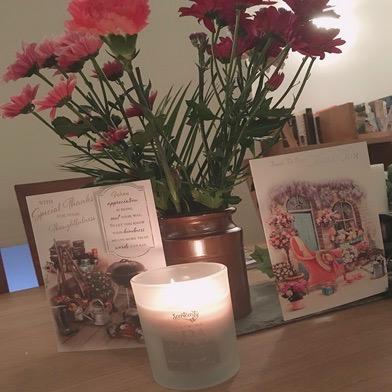 Cards on display
In my host family's house, there were a lot of greeting cards displayed in their room, so I asked them why they have so many greeting cards. They told me it is customary in the U.K. to send a greeting card on an important day such as their birthday, anniversary, and Christmas. On Christmas Day, everyone exchanges greeting cards with each other to show their gratitude.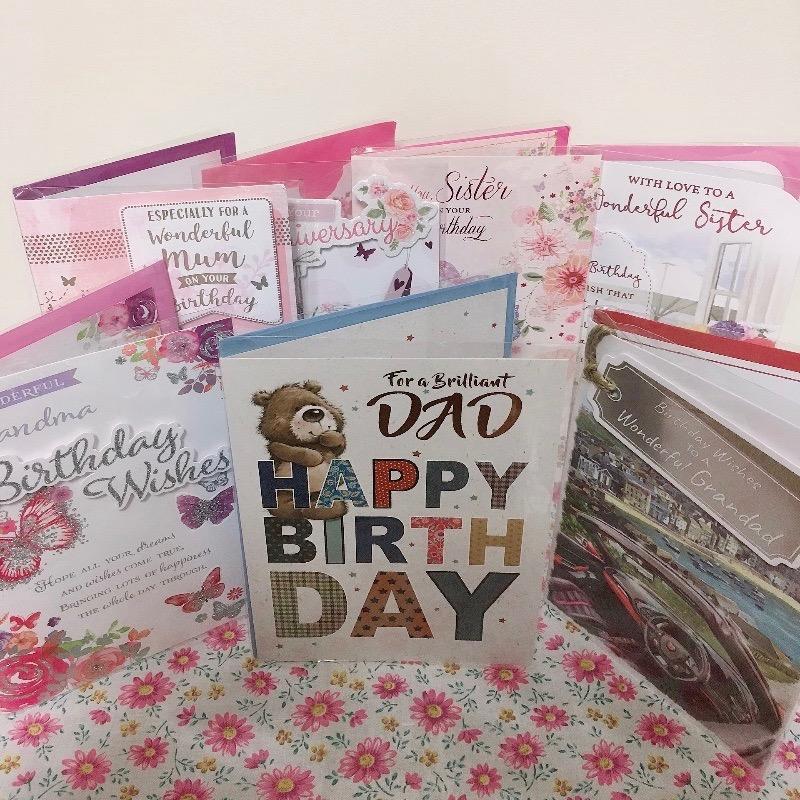 You can find any type.
I understood the reason why I saw many kinds of cards being sold everywhere when I went shopping. I was so impressed with the culture to express one's gratitude to someone honestly.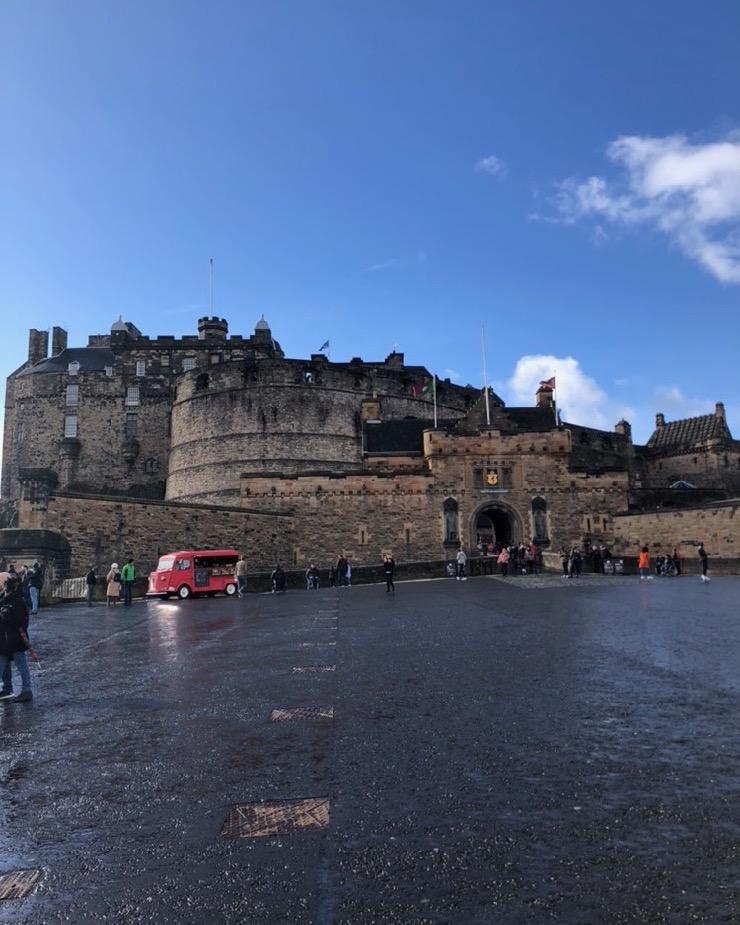 Imagine climbing those walls.
I went to Edinburgh on Saturday with four friends of mine. We went to Carton Hill at first because the students of Tohoku University recommended visiting there. The hill was like a park and many tourists were visiting there.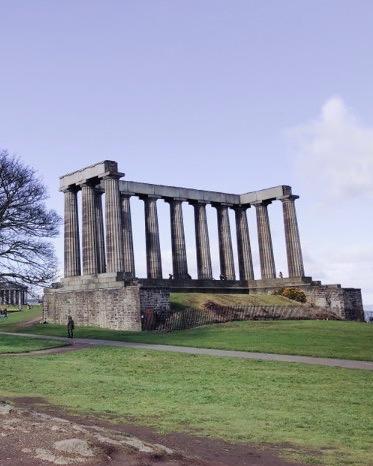 Greece or Scotland?
There are some buildings on the top of the spacious hill, but I was impressed especially by big pillars that remind me of a Greek temple.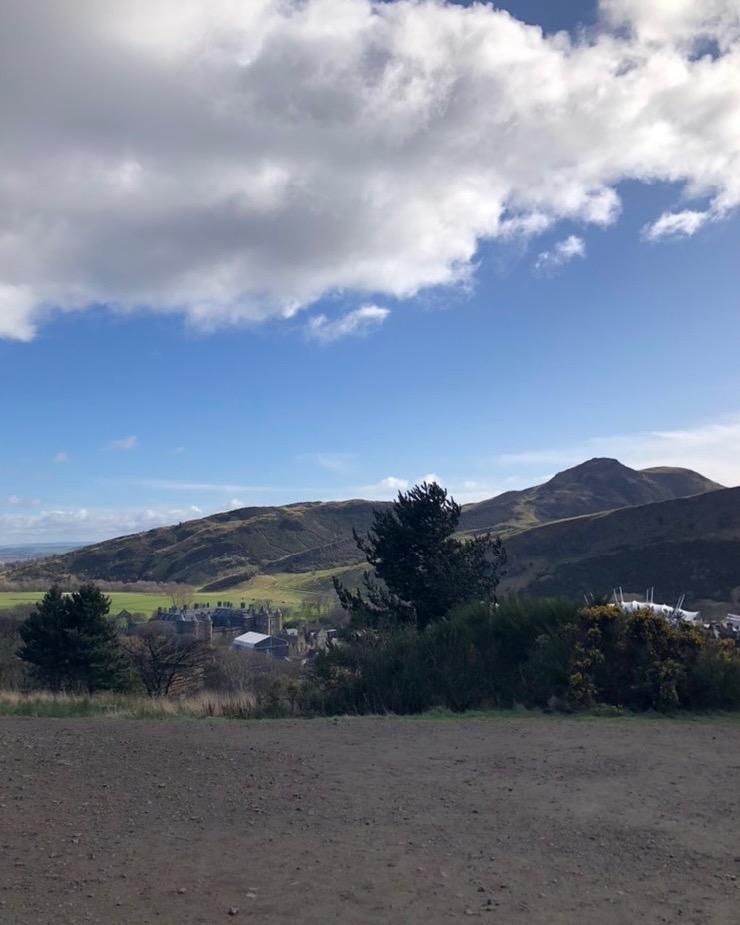 Rich in natural beauty
The view from the hill was superb. We were able to overlook the city of Edinburgh from one side, and we were also able to enjoy the natural beauty such as the sea and another hill from the other side.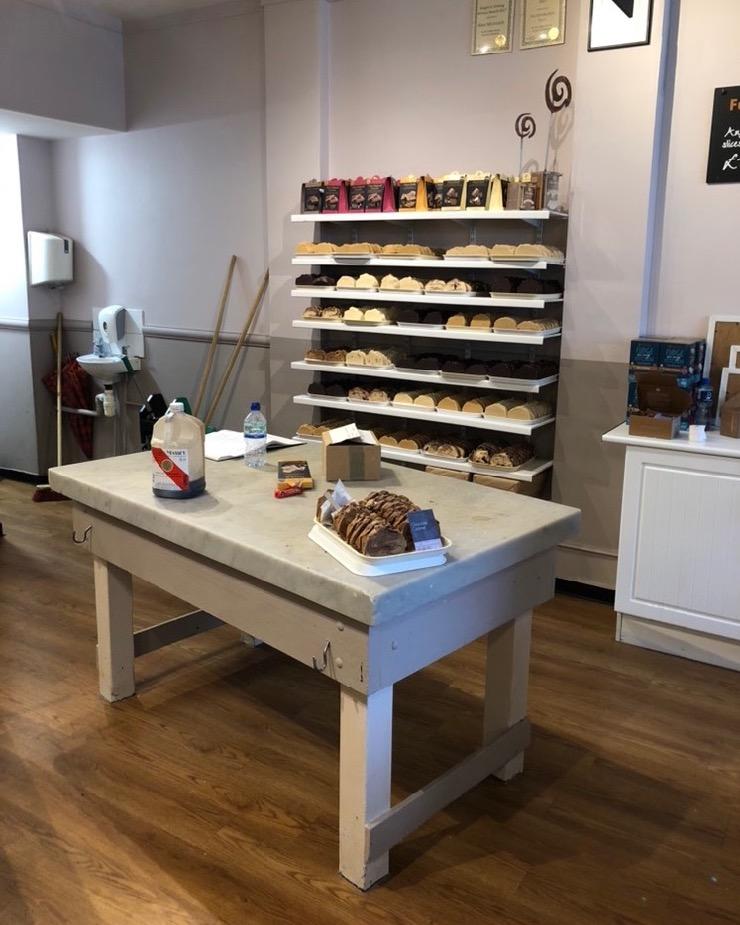 You need to try Scottish fudge.
Then we went to a fudge shop. On entering the shop, we were wrapped up in the sweet and pleasant smell. Fudge, which looks like caramel, is one of Scotland's traditional sweets. The shop has about 15 flavors. We tried a classic flavor. The taste was also like caramel, but it was sweeter and richer than caramel.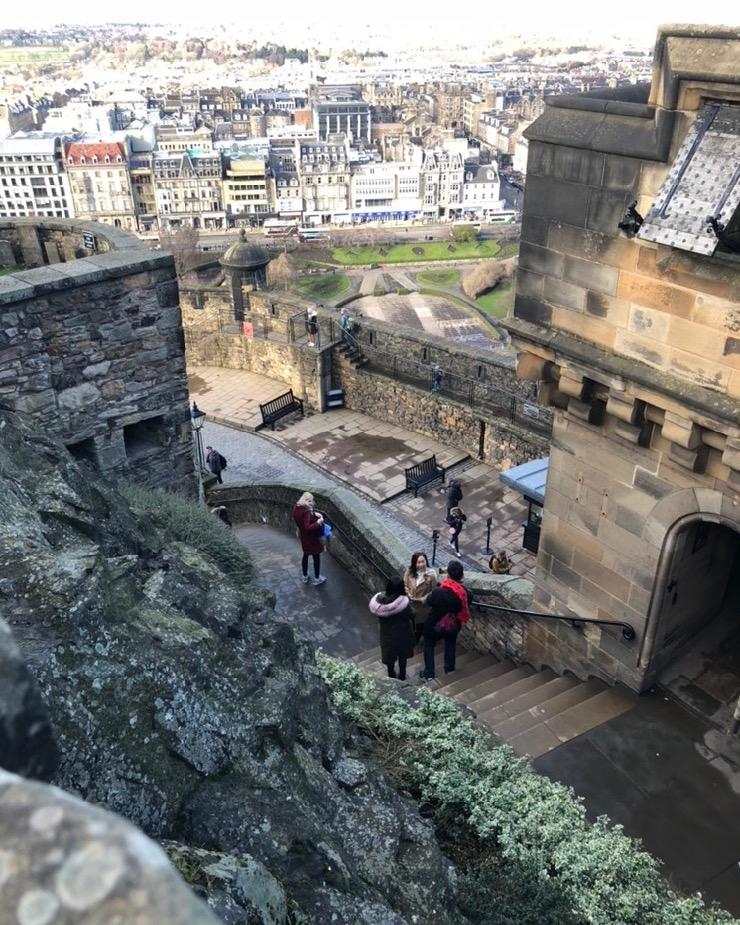 Guarding the city
At last we headed to Edinburgh Castle. Edinburgh Castle is located in the bottom of the city, and I was excited by the magnificent castle that appeared through the city. The entrance fee to the castle was a bit high, but we entered there. I could not see everything because the castle was larger than I thought, and we didn't have enough time.

There were a number of buildings in the castle, which had an exhibition of Scottish history. I regretted that I had not done enough preparation before going, because I did not know anything about Scotland's history.

Throughout this trip, the most awful trouble was the weather. While going to Edinburgh Castle, the hail came down suddenly. We scarcely see hail in Japan, so it was my first experience. It was more painful than I thought.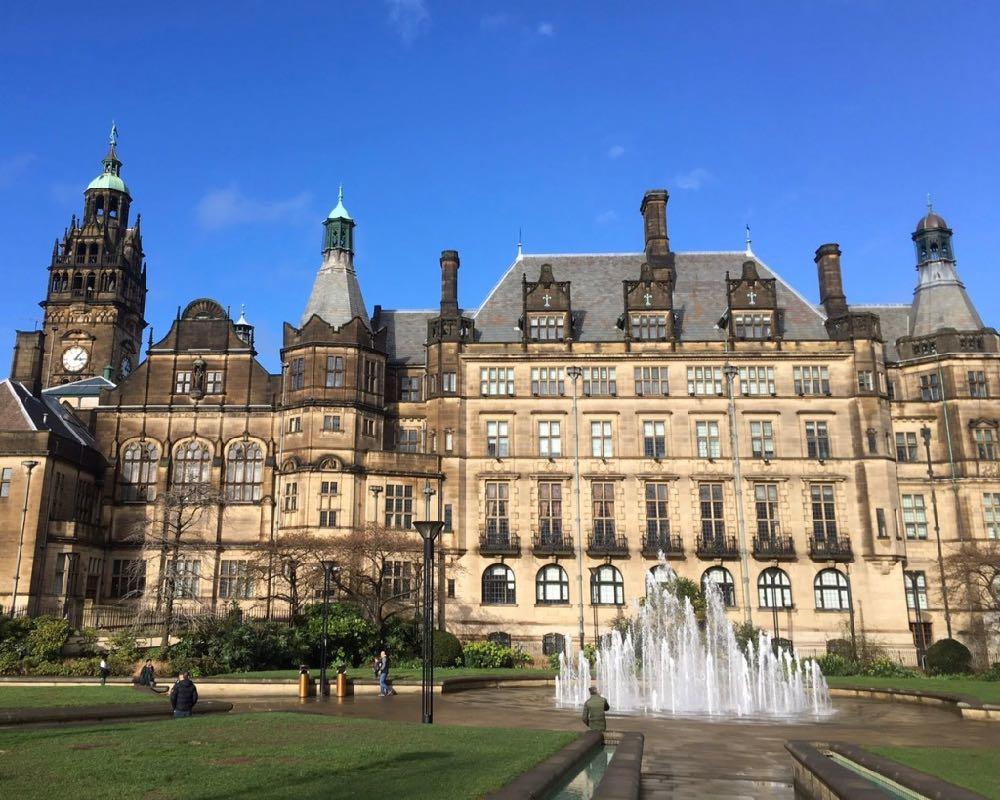 Sheffield Town Hall
Sheffield is the fourth largest city in the UK. The wind is strong and the weather can change suddenly.

One sunny day after school, I visited Sheffield Town Hall. The building was historical and beautiful. There were many people in the park with a fountain in front of the Town Hall. They were having a break or taking pictures because it was a great sunny day.

After that, I went to Millennium Gallery near the Town Hall. I could see some of Leonardo da Vinci's works. I was impressed with his accurate sketches of the human body, especially powerful leg muscles. I was also surprised that his understanding of anatomy was accurate. He was such a genius!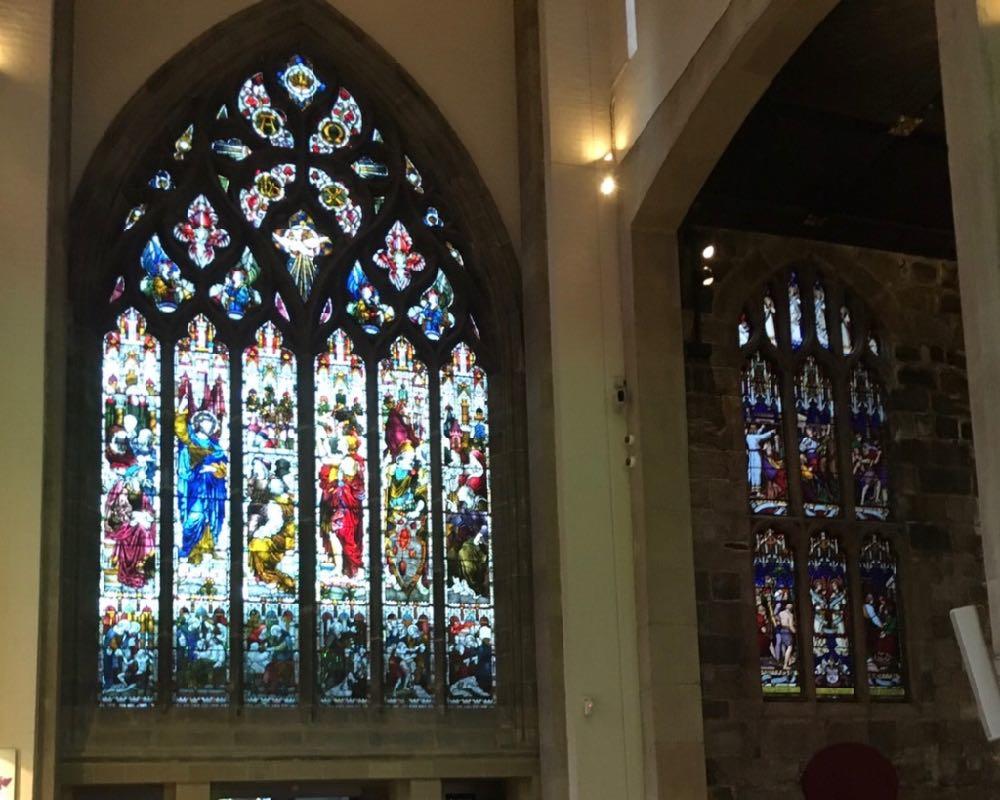 Inside Sheffield Cathedral
Finally, I went to the Sheffield Cathedral. It was the most impressive cathedral I've ever seen because it was great. The inside of it was very beautiful. Even though it was getting dark, I could see the stained glass, so I was deeply touched by the beautiful work.
I have been experiencing English culture in my daily life. For example, in Japan, when your eyes meet with another person's, staring at their face is considered rude, but it's not rude in the UK. You should not look away. Smile at them. Actually, when my eyes meet with another person's, they don't look away from me.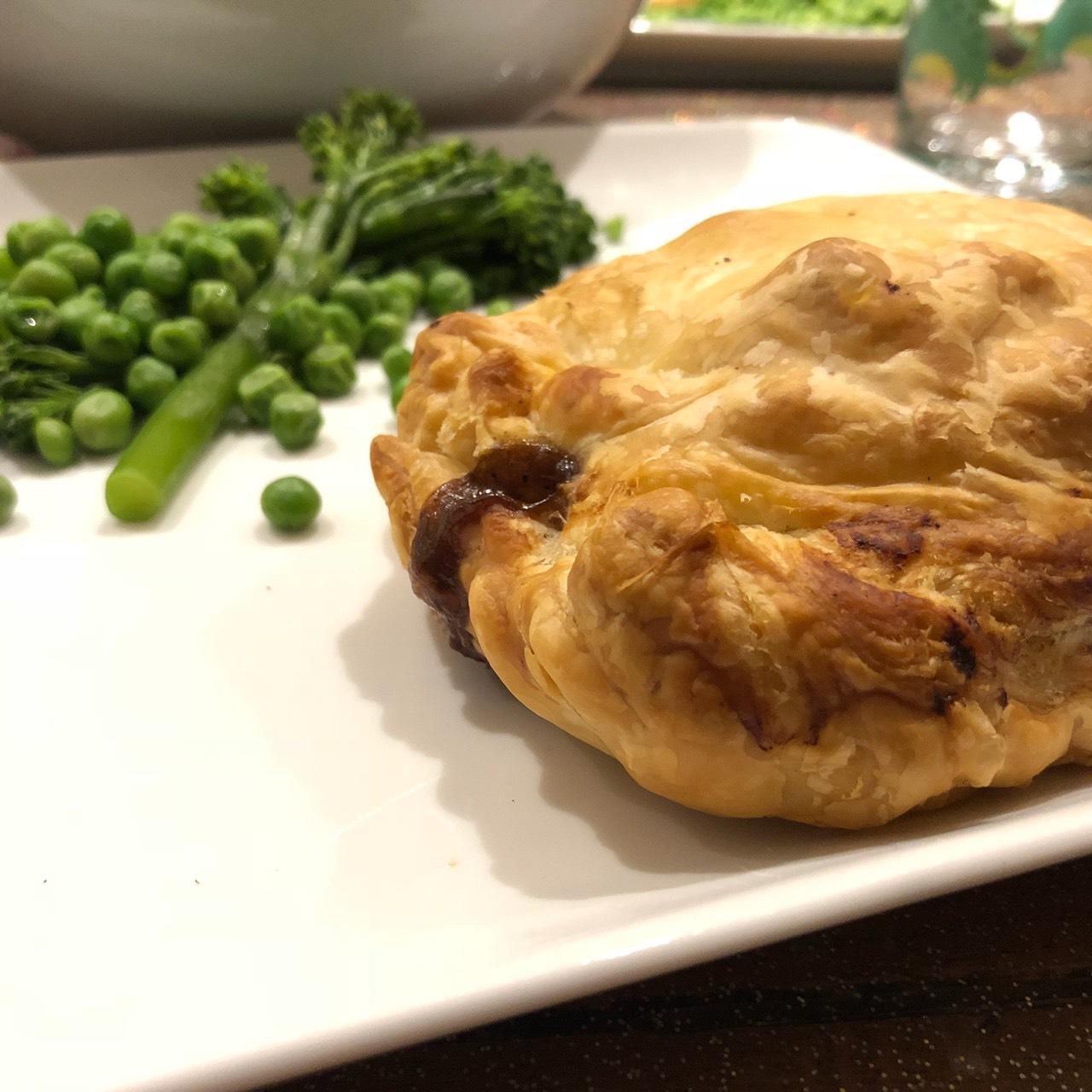 Steak pie
The thing I have been especially interested in is English food. I had heard that English food is not good, but the food I have eaten in the UK is very tasty! My favorite English food is the steak pie made by my host mother. It has tender stewed steak covered in gravy. So, you can enjoy super delicious food in the UK!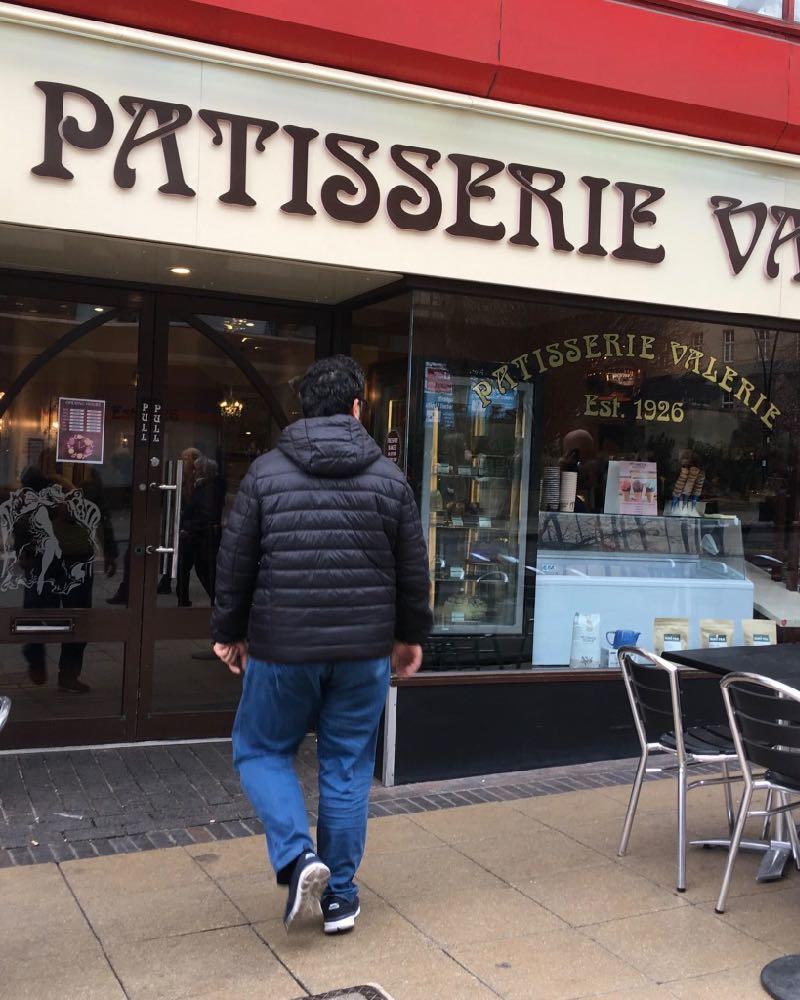 Time for tea
Afternoon tea is one of most famous British meals. You can find many great cafés if you ride the bus or tram a little.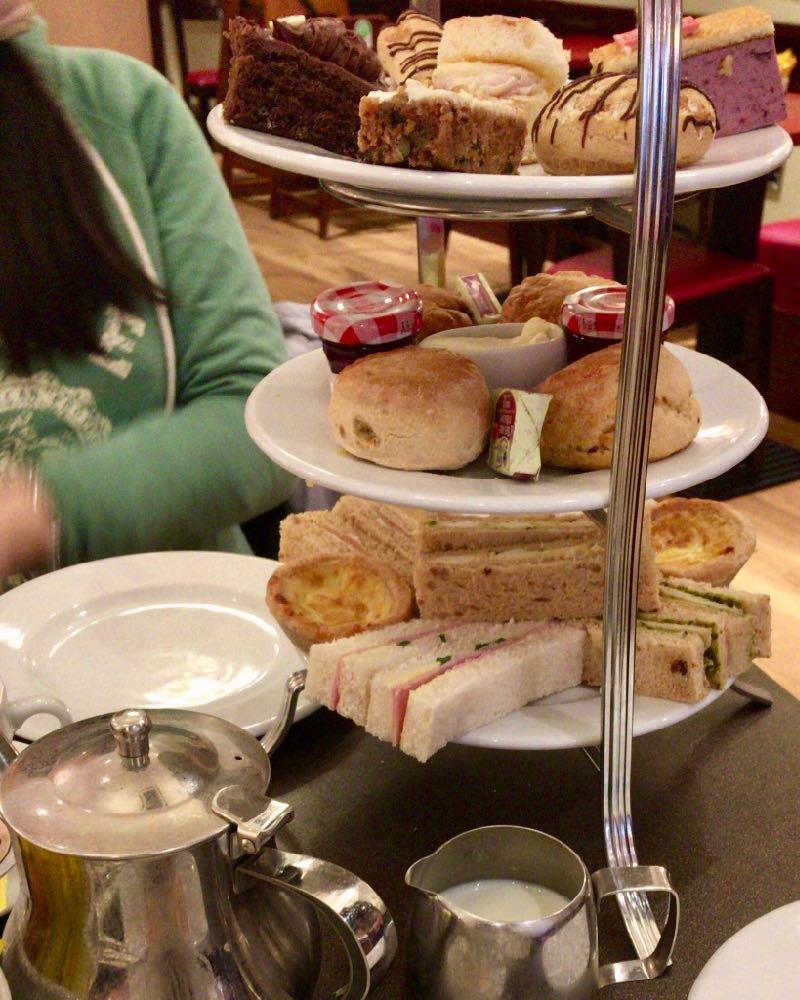 Move from bottom to top
There're sandwiches, scones and cakes on a three-floor cake stand, and you eat them from bottom to top. You should eat combinations of snacks taken from the same dish. This is the manner of afternoon tea. But you don't have to care about this manner too much when you eat afternoon tea in casual restaurants. If you go to England, why don't you try it?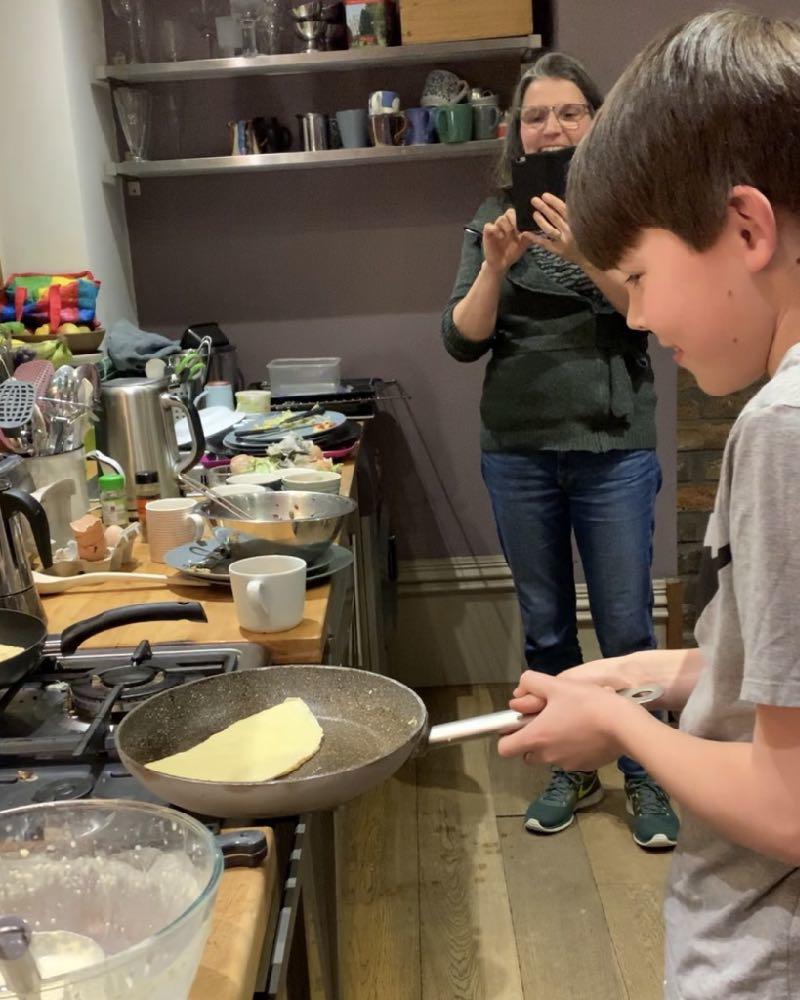 Celebrating Pancake Day at home
Also, I ate pancakes and these were a little different, but I love how they taste. On 5th March, the UK has Pancake Day! This pancake is very thin and it looks like a crepe. The taste is not sweet, but we squirt it with a bit of lemon and put some sugar on it. It's very yummy!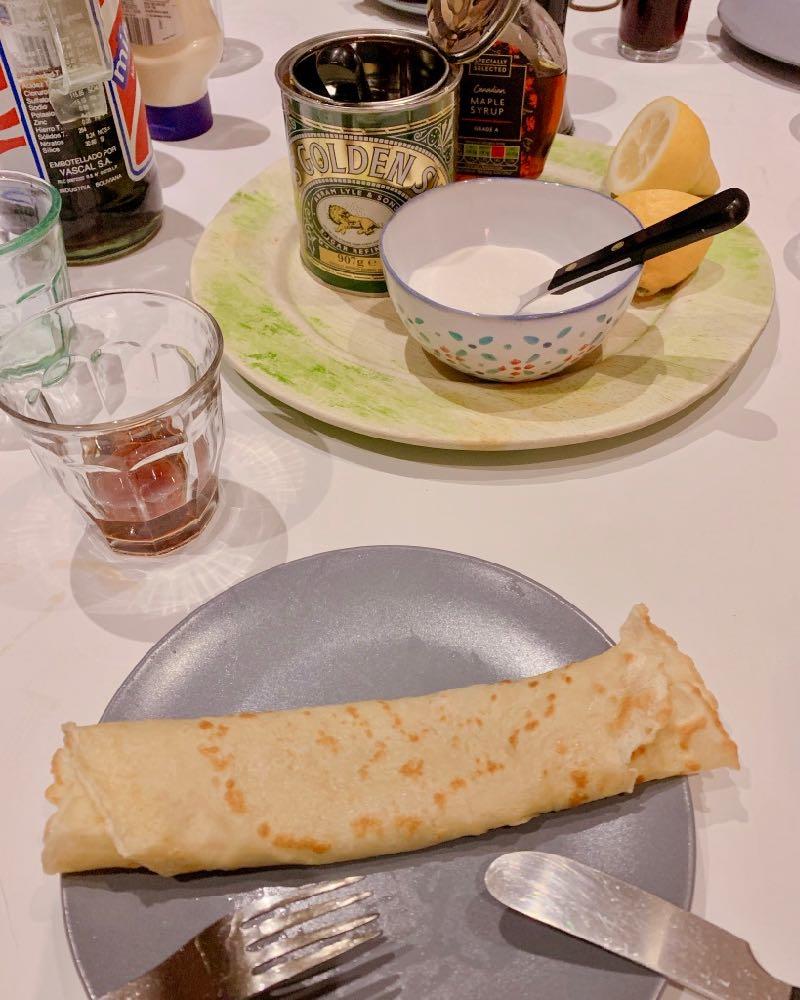 Like a crepe
I was really happy that I could come into contact with British culture and tradition!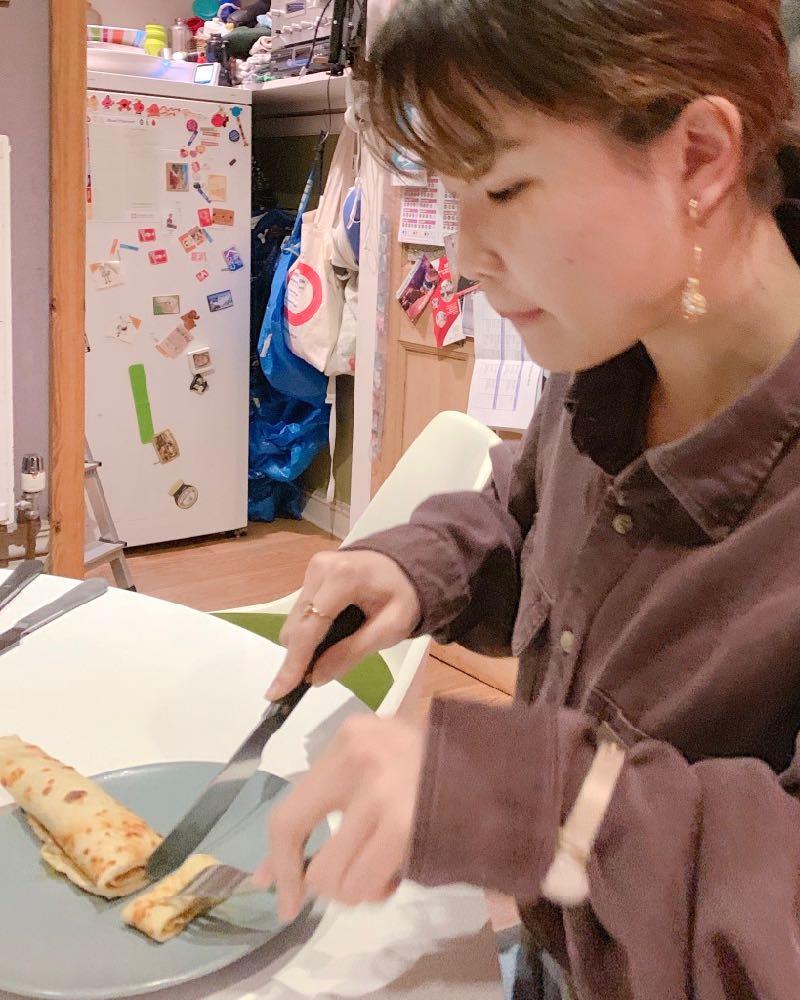 More, please!
Sheffield University has a lot of international students. I have already met Chinese, Korean, Turkish, Swiss, and Saudi Arabian students. We study the same subject in the same classroom.

There are many kinds of people. Most students in our class are students in their home university. In addition, there are also people who are not university students. One Chinese student works for her university as an academic staff member for international education. There are also Turkish students who work for their government. There are differences not only of country but also of age or job.

During break time, we often talk with them. The topics are such as what they did last weekend, where they recommend in Sheffield, what is popular in their counties, what they study in their country and so on.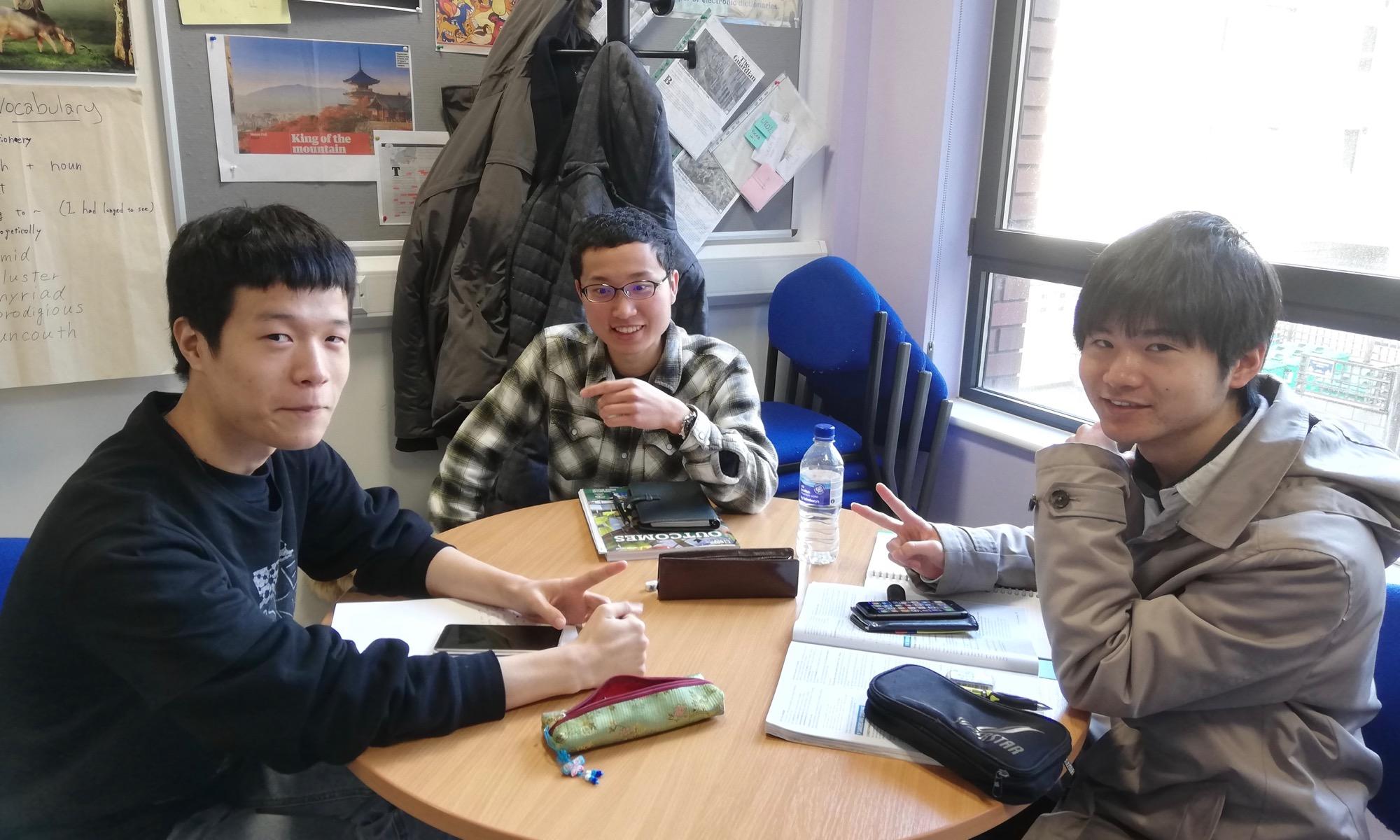 Finding ways to communicate
Communication isn't always easy. We sometimes can't understand what they say because we don't know the meaning of the words. That happens when I talk about some subjects as well. When we don't understand each other, we try to describe what we want to say with other explanations or gestures.

The most interesting thing is that the way of speaking English varies by country. Their pronunciation is like their mother tongue. Of course, their English pronunciation might be wrong, but it is interesting because it shows us the features of their mother tongue.

I think it is a good experience to interact with international students because we can find out how to communicate with people from a variety of countries.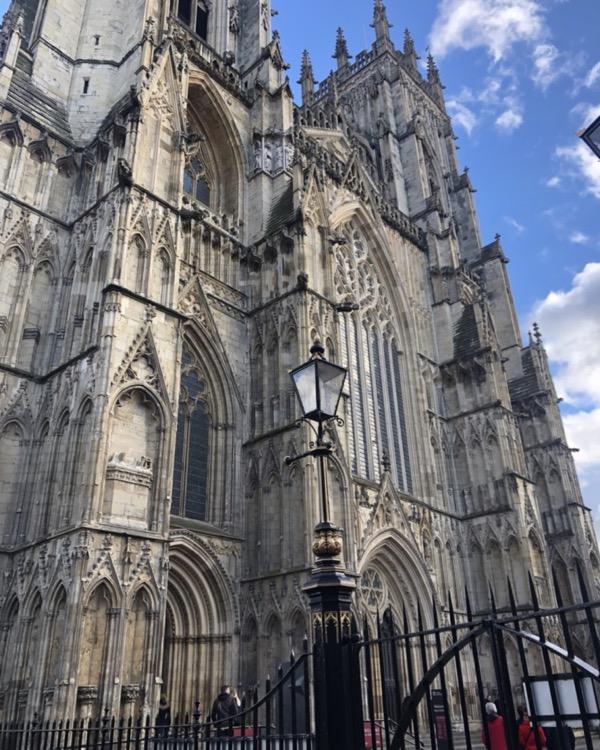 York Minster, over 800 years old
I visited York over the weekend with my friends. It was the first time we'd taken a train in England. We had booked the tickets in advance and we managed to get the train smoothly.

We showed our tickets to the man who was walking around checking the tickets in the train. However, we couldn't get a seat. If the seat number isn't written on your ticket, you had better go earlier and line up. Even if you do have a seat number written on your ticket, you should go quickly to get your seat. Sometimes someone is already sitting in it. When that happens, you should say something to them.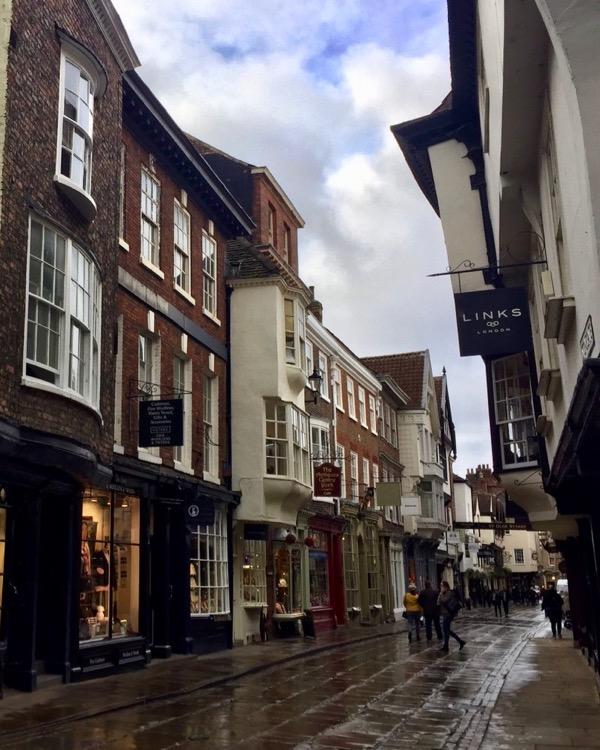 Charming shops
Arriving in York, we found that it's a city with many old buildings, and they are not so tall. We can take in beautiful scenery thanks to these buildings. There is a market which sells food and goods made in York. We really enjoyed ourselves there.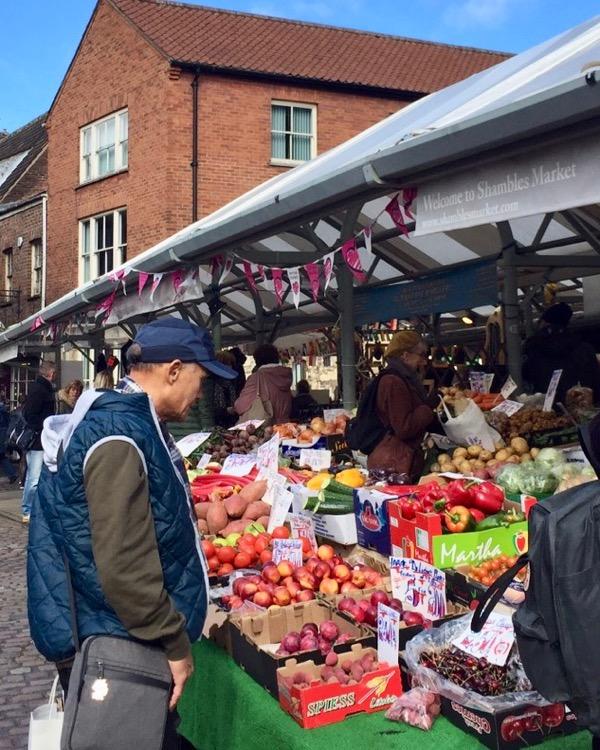 Shambles Market
We had afternoon tea at Bettys, which is the most popular café in York. We chose the "luxury" type. It was far more expensive than the other types of afternoon tea, but it was awesome. The atmosphere, sweets and tea made us feel luxurious.

I highly recommend you to go to Bettys when you visit York.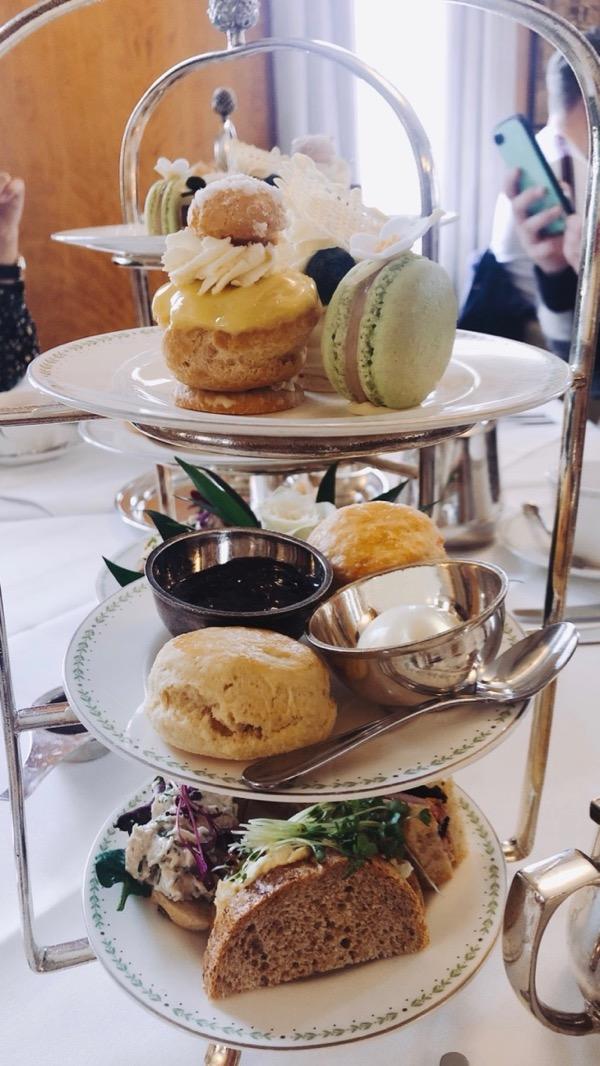 Luxurious afternoon tea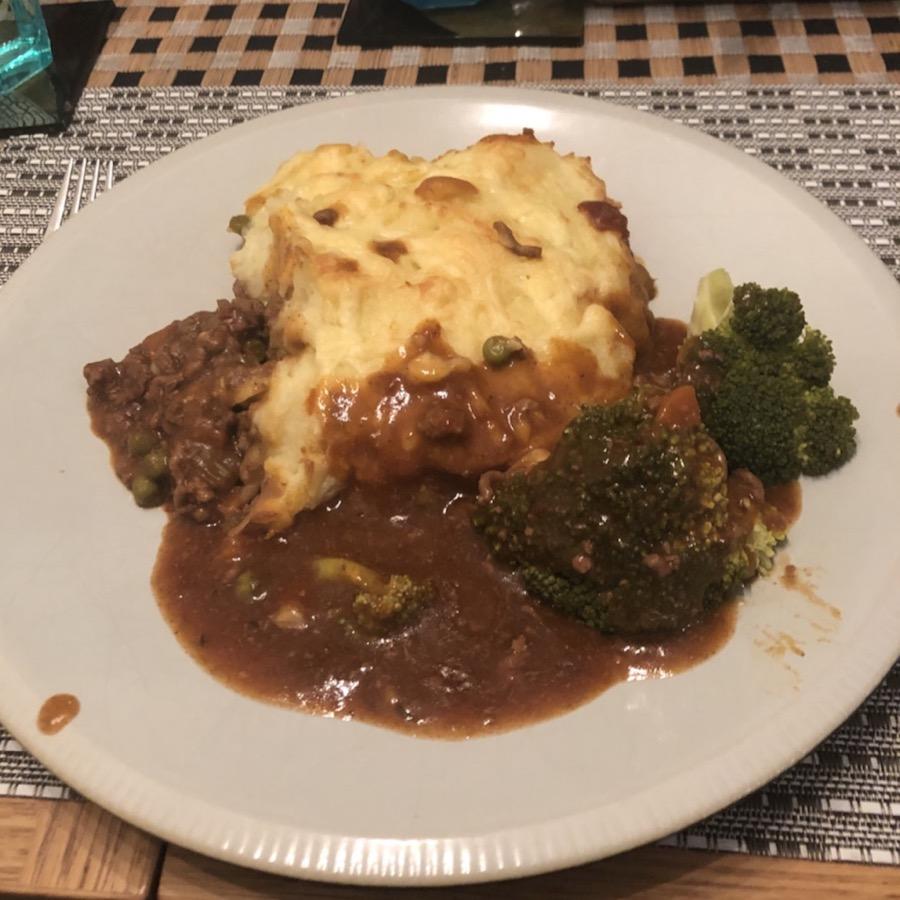 Shepherd's pie. Yum!
For exchange students, living with a host family is a good chance to exchange food culture.

Let me show you my favorite English foods. The first is shepherd's pie, which you can see in the picture above. It's a delicious and traditional English food. From the bottom, there are tasty bean sauce, mash potato, and cheese. It's cooked for long time in the oven, so the cheese is very crispy and delicious!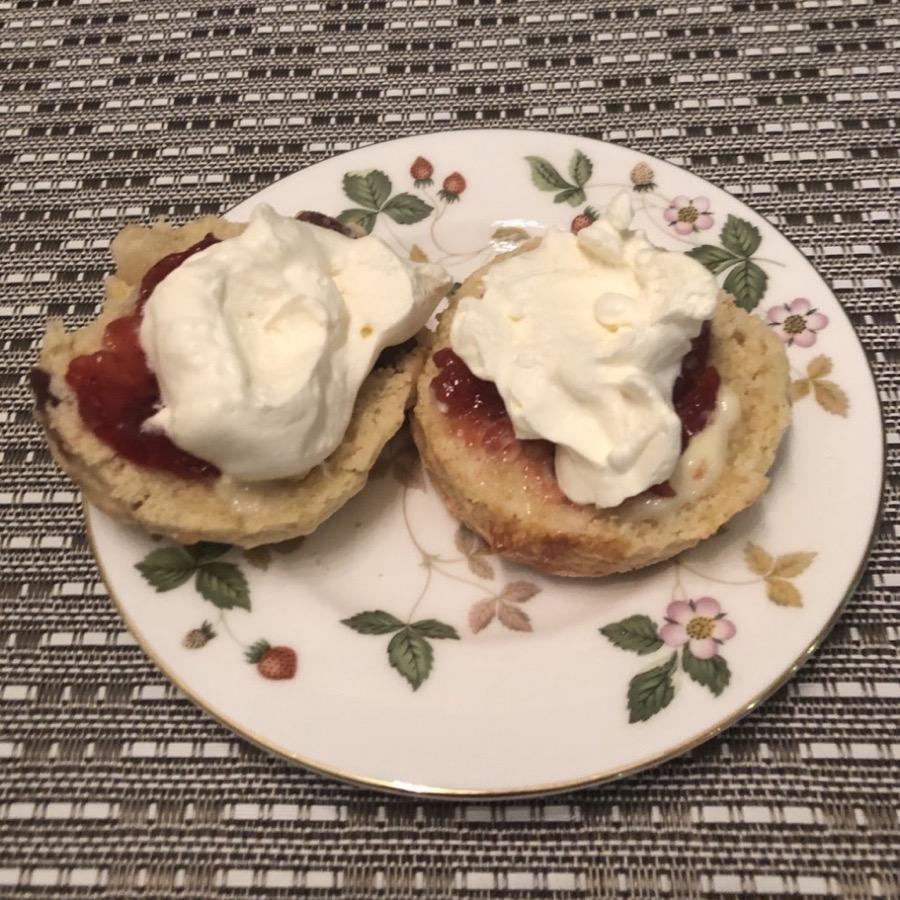 Scones
Here you can see scones, another of my favorite English foods. From the bottom, there are kinds of bread, jam and cream. Scones are very sweet and tasty.
Now, my turn: miso soup
I could enjoy English food culture, so I wanted my host family to eat Japanese food. I cooked two Japanese dishes in the host family's kitchen.

The first was miso soup. I brought Japanese miso and dashi powder with a fish flavor from Japan. I used many vegetables, so the soup was very healthy and tasty.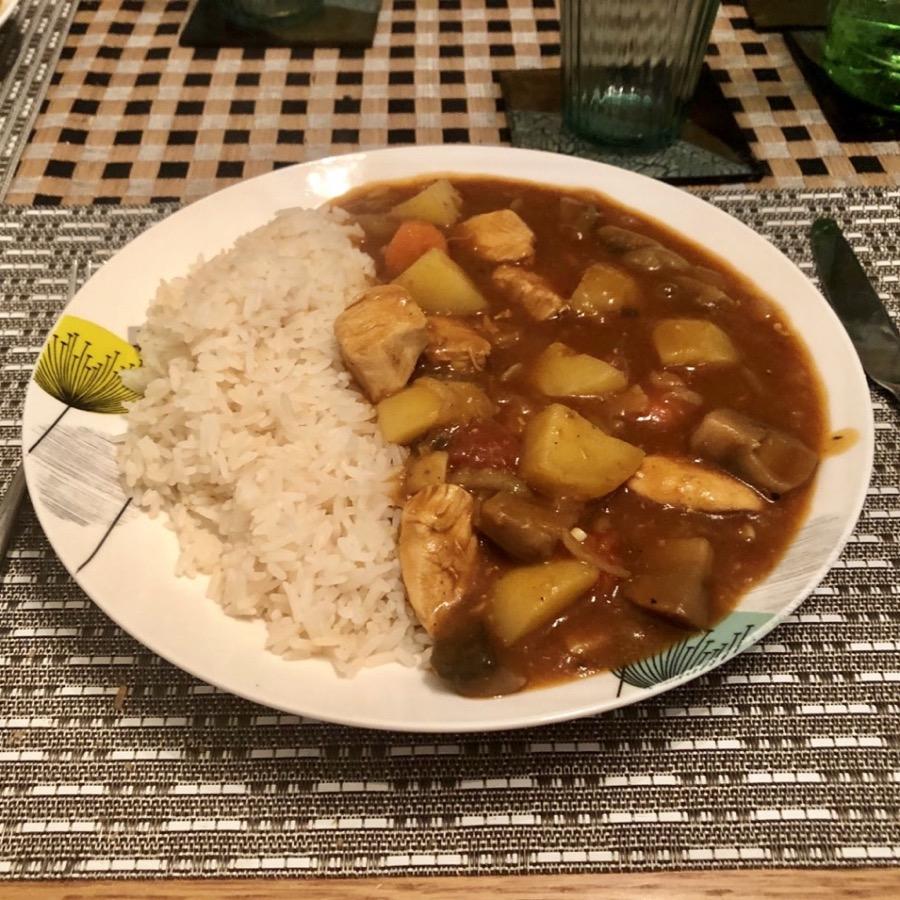 Japanese curry has its own flavour.
The second was Japanese-style curry. Most people may think curry is Indian food, not Japanese food. However, Japanese curry is very different from Indian curry because Japanese curry's soup is strong rather than spicy. Even though both are called curry, people in many countries recognize Japanese curry as a different food entirely. Actually, my host family liked Japanese curry a lot and they were very happy.

Through exchanging our own food culture, I could communicate with my host family in many ways! I think it's important to know food culture to communicate with people from other countries.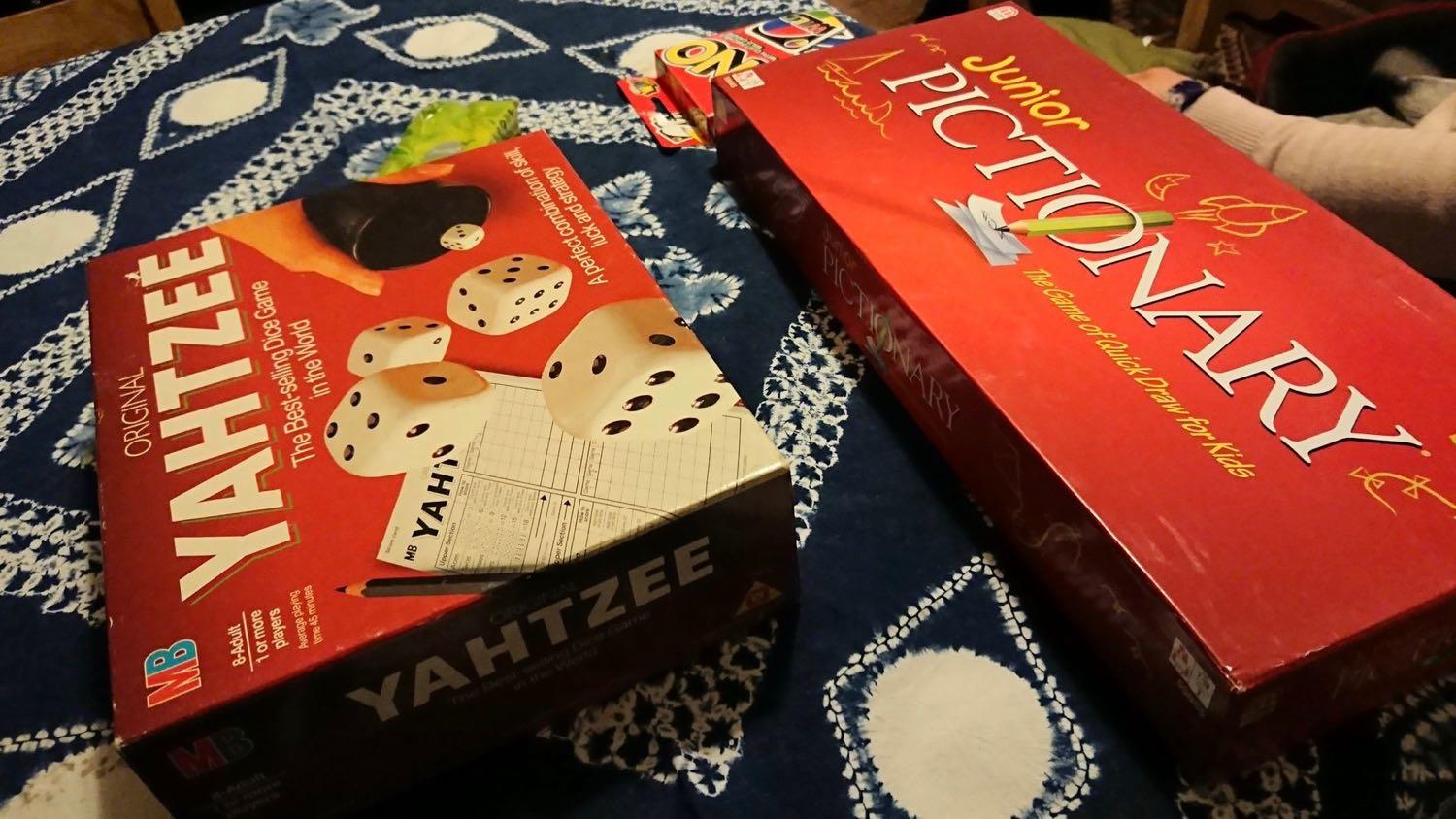 Games are a part of family life
In staying in Sheffield, we are enjoying our homestay and learning the differences and common points between Japan and Britain. For example, people drive on the left side in both countries. However on Sunday, the shops in Britain close much earlier than those in Japan.

I'll describe my life with a family in England. In the morning, I eat cereal, toast or porridge with a cup of tea. Then, I go to the university by tram. Sheffield is very hilly and we get quite tired from walking.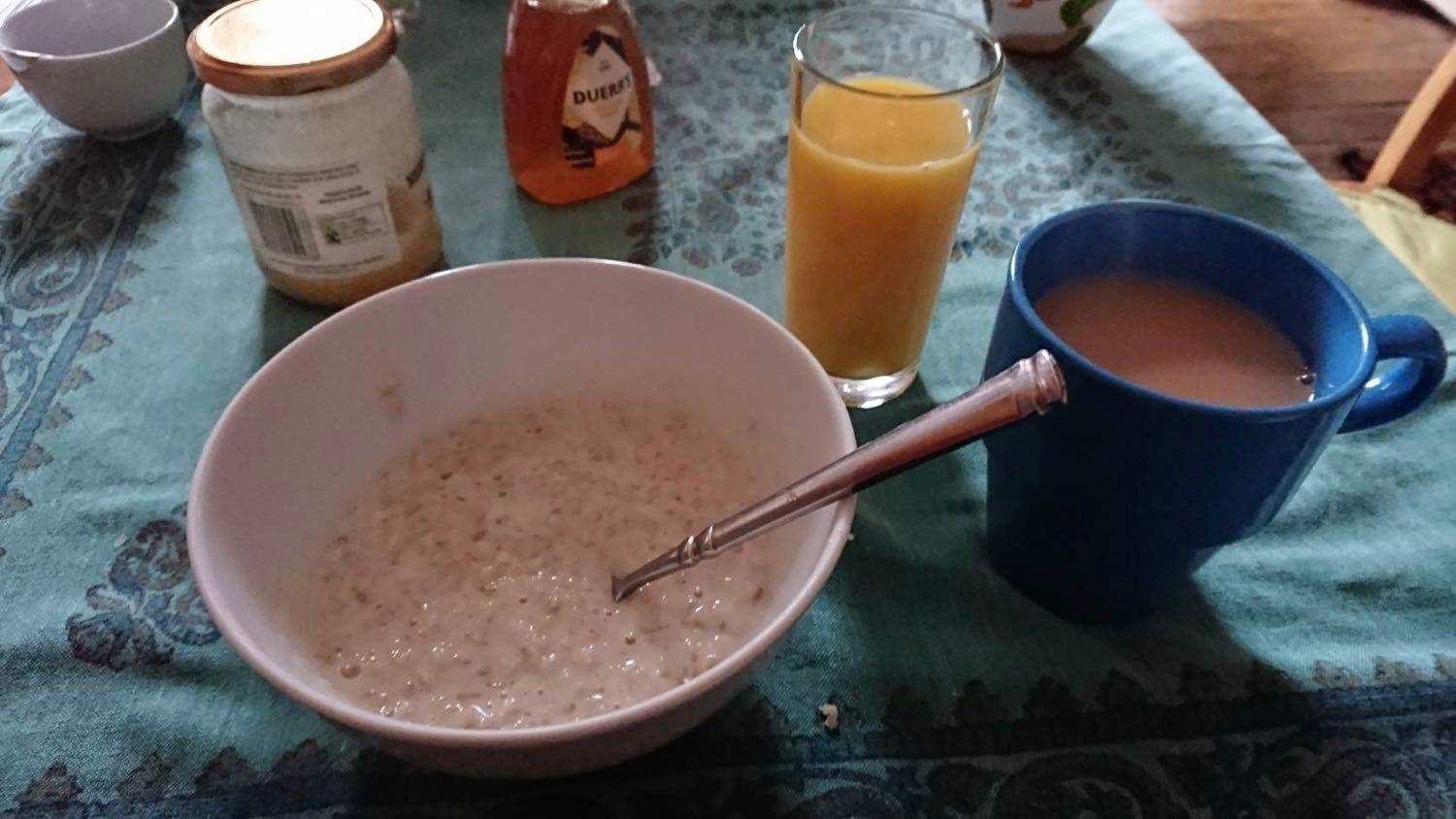 One example of British breakfast: Porridge, a glass of orange juice and a cup of tea.
After coming back home, my host mother serves me a cup of tea and we talk about what we've done that day or culture of Japan and that of Britain. For example, British people don't use umbrellas when it rains. On the other hand, Japanese people often use them. One more point is that British people love a cup of tea! (My ELTC teachers even bring tea to class.) I have never seen such a behavior.

Thanks to the kindness of my host family, I have been enjoying my stay in Sheffield.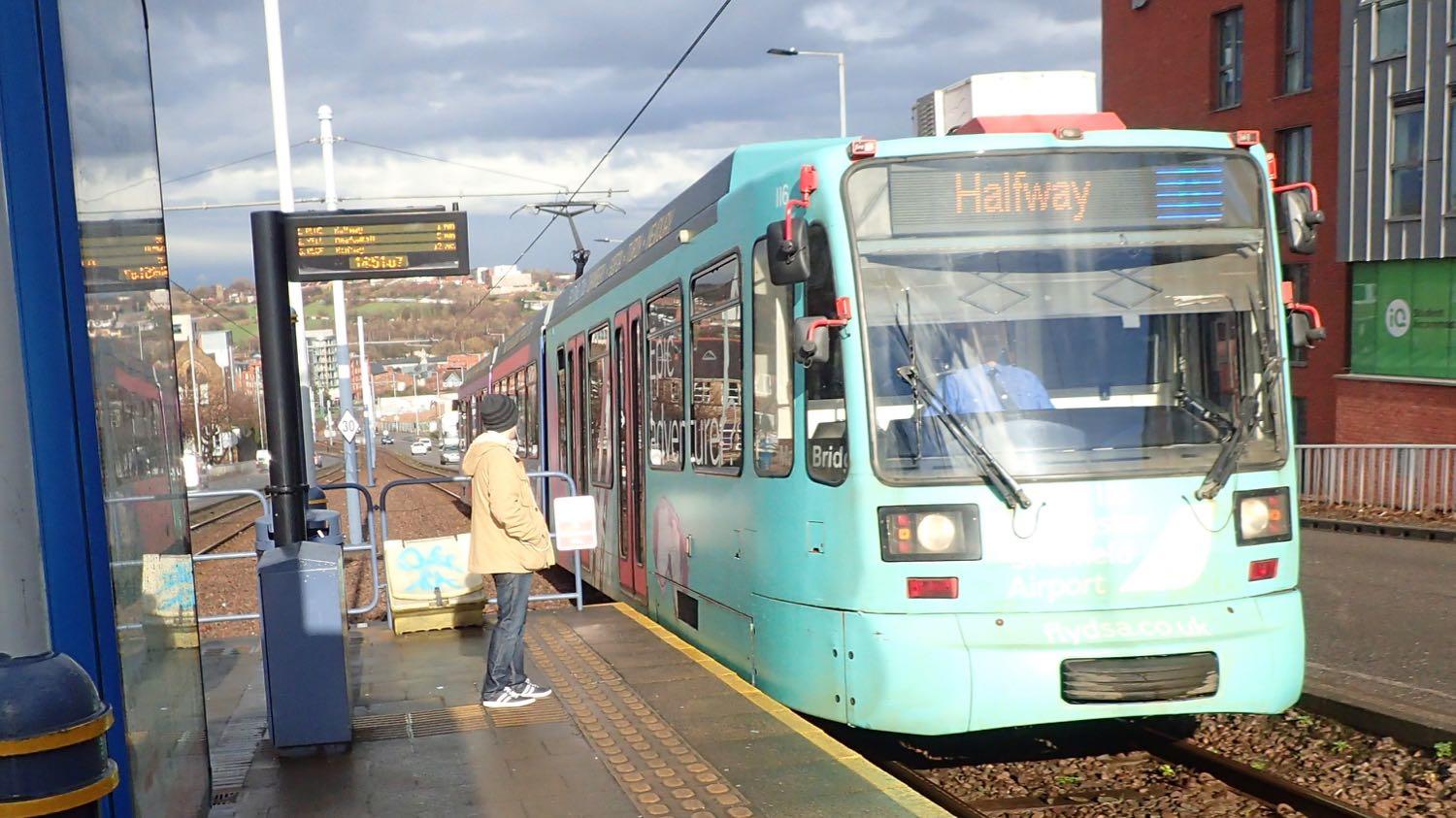 Sheffield is hilly. Some students go to the university by tram.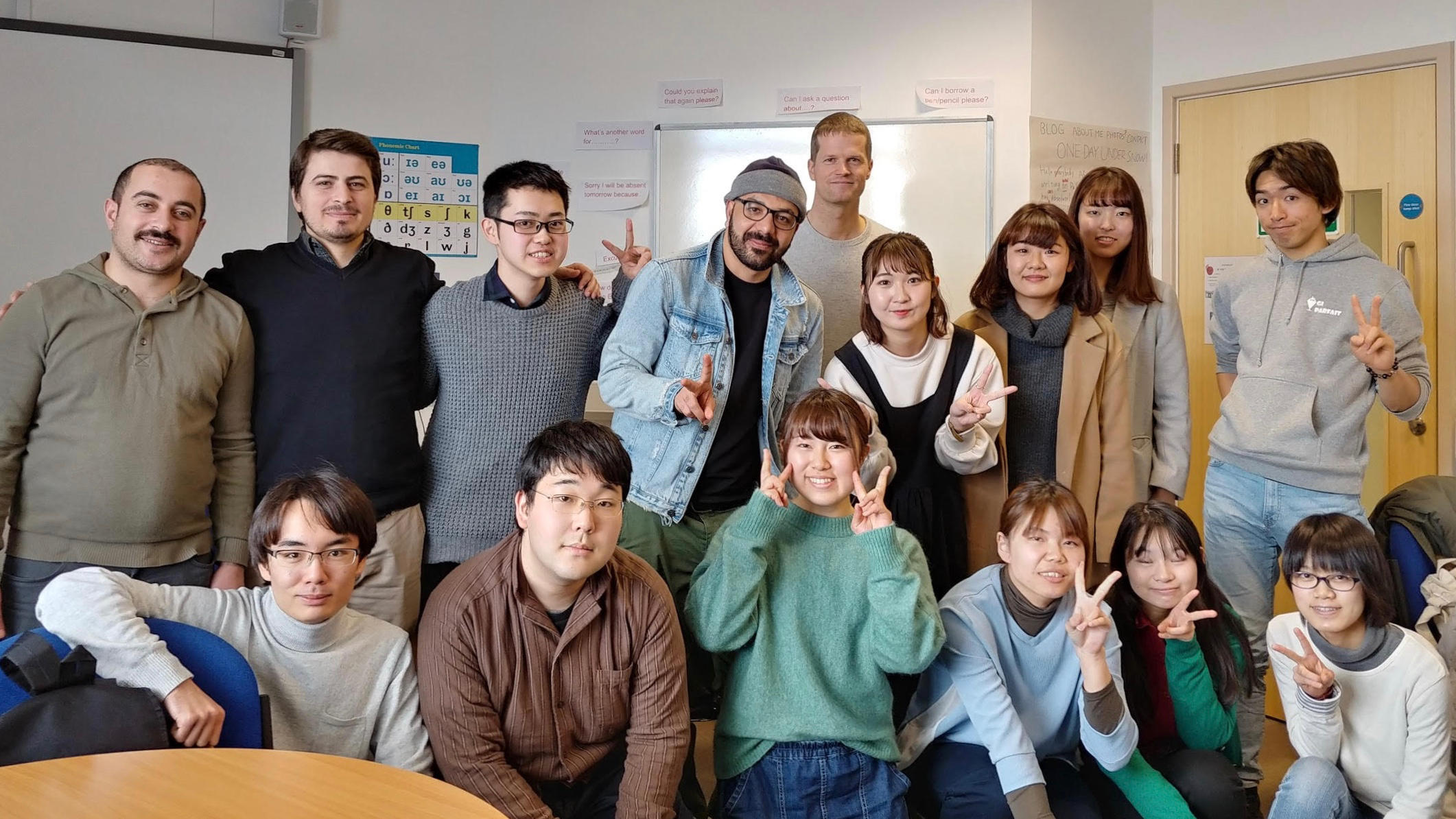 Six countries connect in one classroom.
As you know, we are studying at the English Language Training Centre (ELTC) of the University of Sheffield with students from many other countries. In one classroom, there are Korean, Turkish, Saudi Arabian, and Chinese students, not to mention Japanese. Our teacher is English. We can not only study English, but also understand different cultures by talking with them.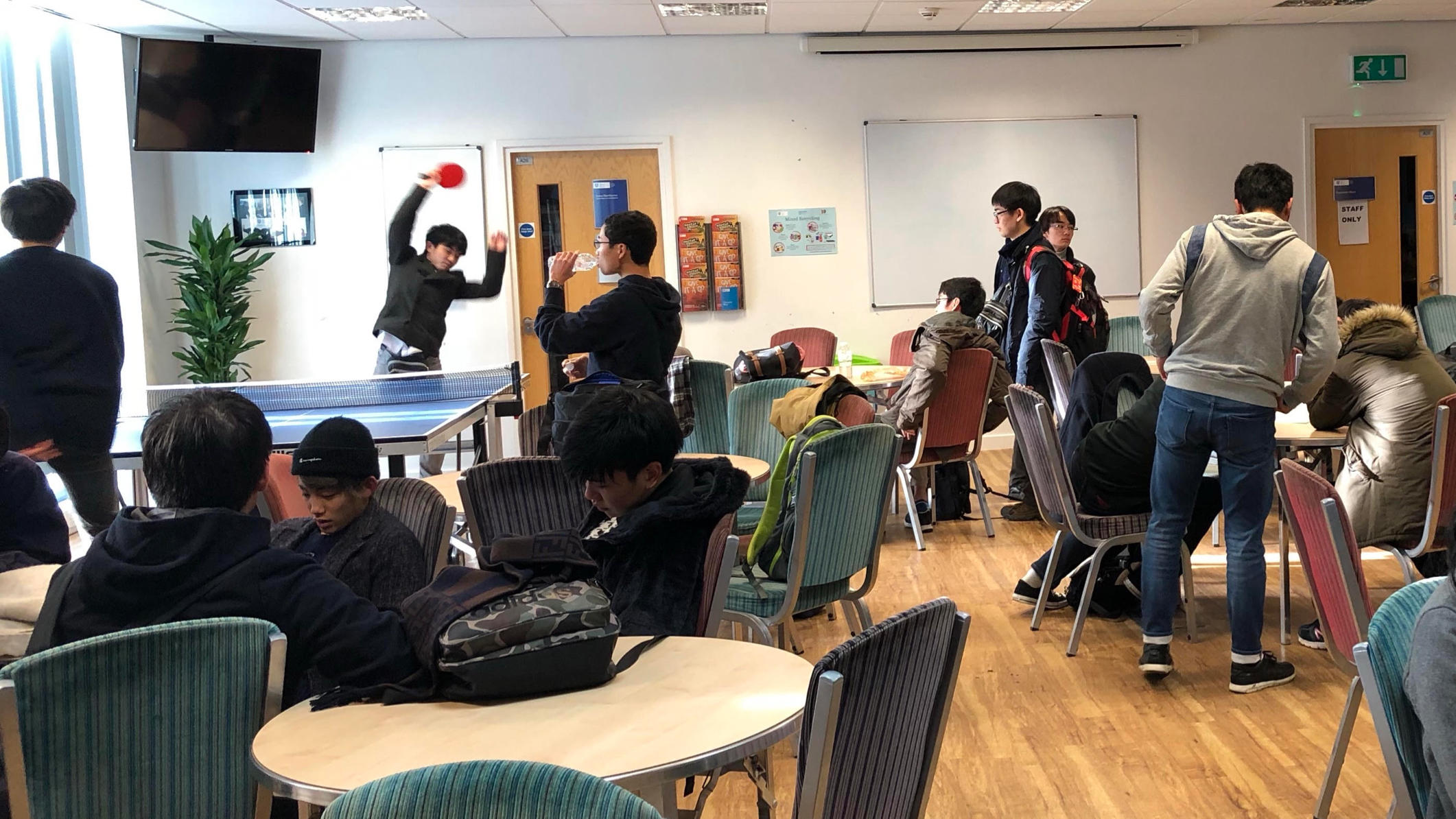 The Oasis between classes
This is the Oasis Café in ELTC. We can buy food and drink, and have them there. We can also play table tennis there. In addition, there are 10 computers in the room, so we can do our homework. The atmosphere is very comfortable. Some people are chatting, others are eating.

Everyone does what they want to do and everyone takes it easy. The Oasis Café is a place where we can relax and enjoy ourselves.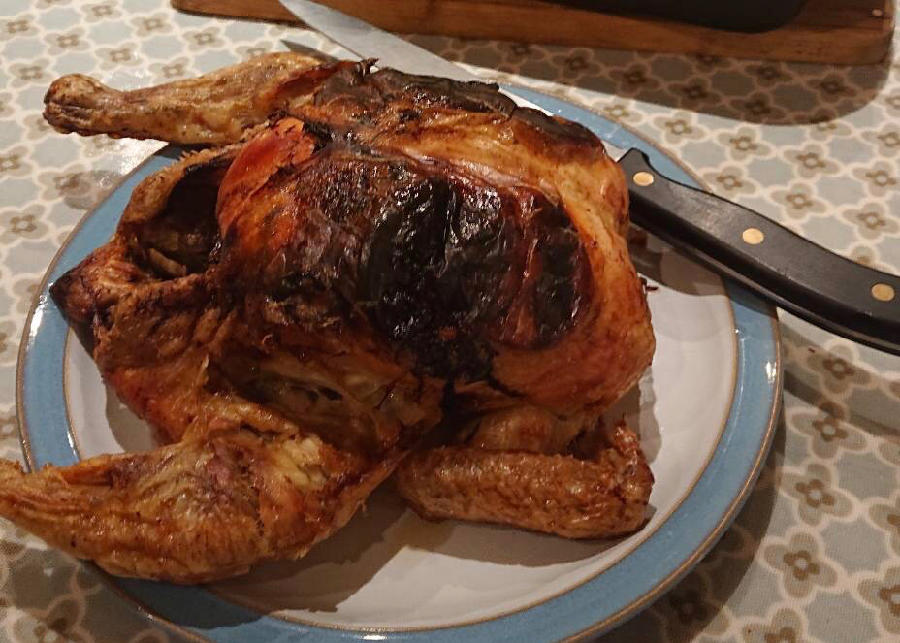 Welcome to the UK!
Hi there. We've made it through our second week in the UK and are now accustomed to life in Sheffield.

The above picture is of British welcome food (roast chicken) for people from far off countries. Most of us had a similar dinner at the home we're staying in.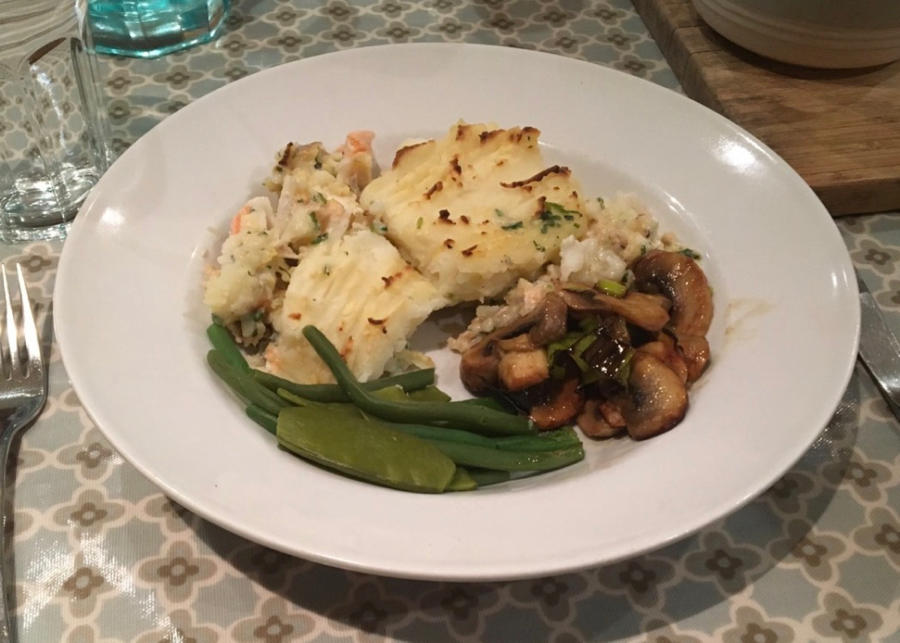 A family favorite
Above is a traditional food in the UK called fish pie. You may have seen pictures of it on the Internet. In my opinion, it tastes good.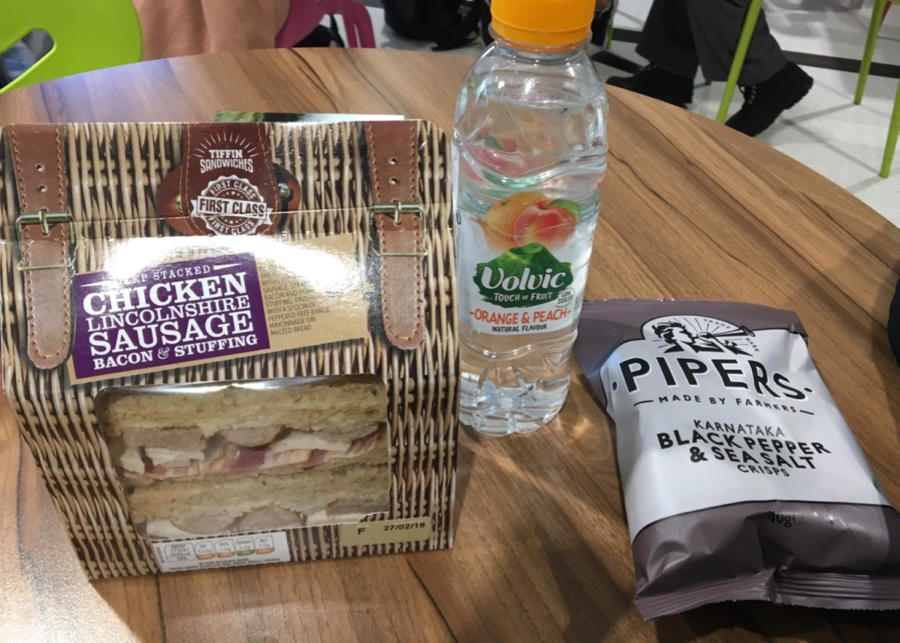 Great value: The Meal Deal
Last week you heard about the Meal Deal which lets you combine your favorite sandwich, snack, and drink. This picture shows our favorite combination. It costs £3.5 (about 500 yen) and is so reasonable for lunchtime in the UK. We can buy it at a shop located in the Student's Union or at the ELTC, where we study.

There are many other traditional foods such as fish and chips, scones with tea, porridge and so on. We're going to share more pictures on this website so please check them out and enjoy the rest of our blog entries!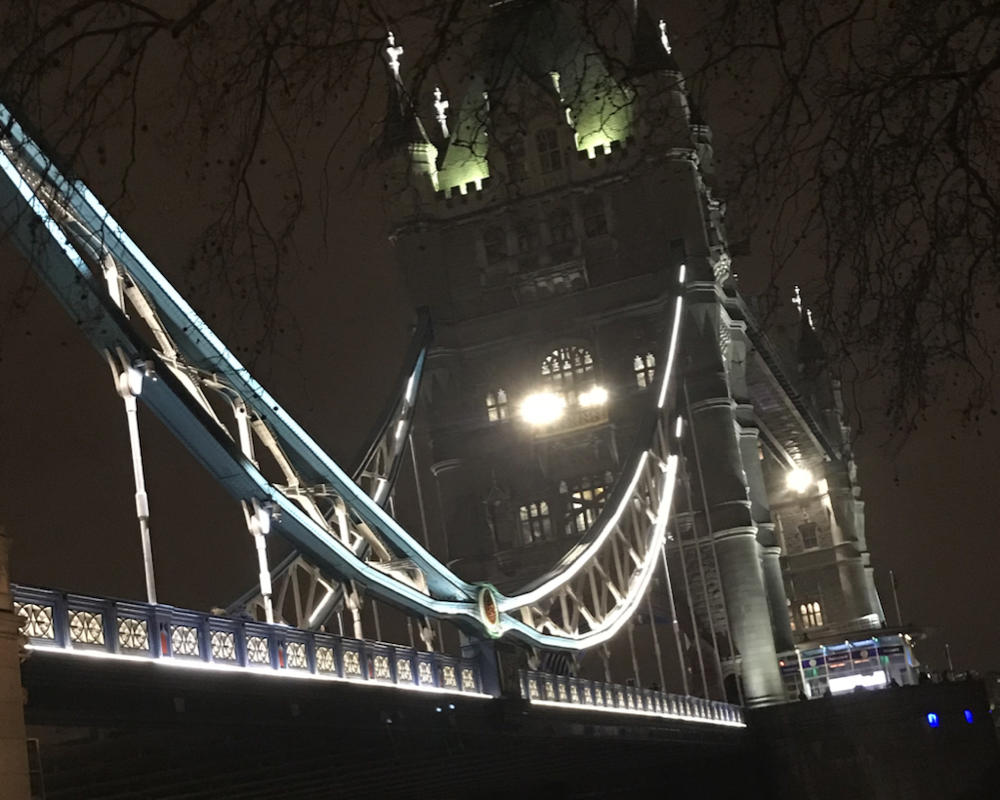 Striking at any time of day
I left Sheffield on Friday afternoon and went to London for the weekend. On Saturday, I visited Buckingham Palace. It was a beautiful building.

After that, I went to the National Gallery and saw a painting of sunflowers which was painted by Van Gogh. At night, I went to see Tower Bridge and the night view was beautiful. I was moved by that.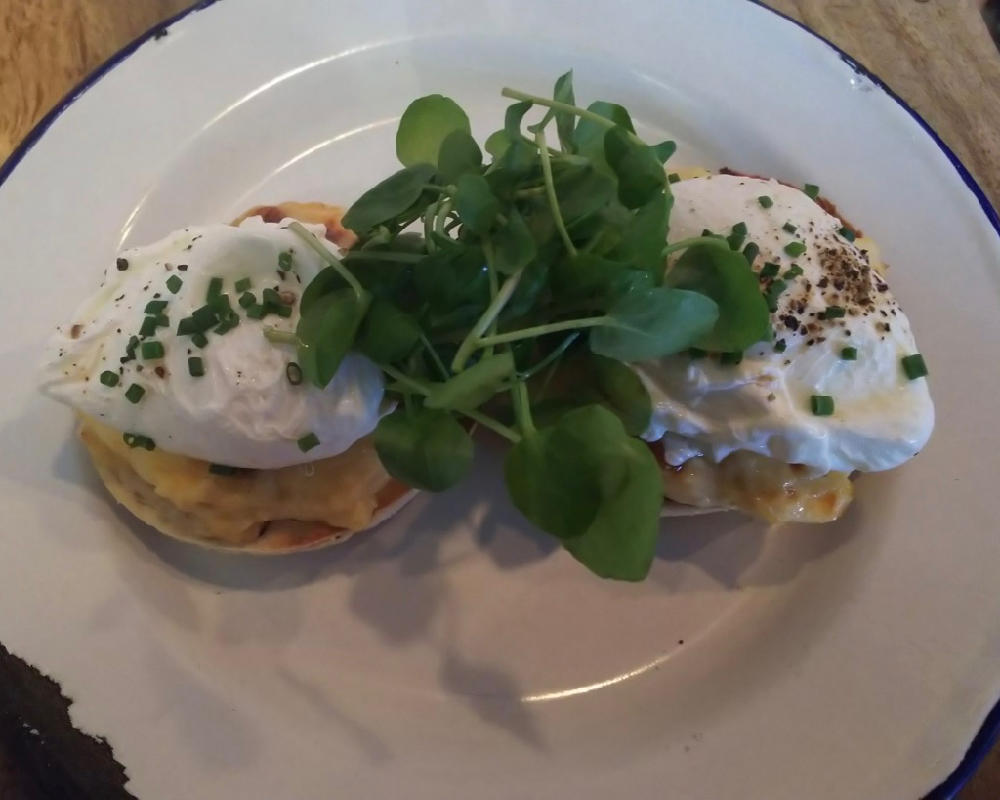 Sunday breakfast
On Sunday, we ate poached eggs at the hotel for breakfast. After that, I went to the British Museum which exhibits a lot of ancient things such as the Venus de Milo. I felt romance by seeing them and understood historical transitions. I spent a great weekend in London.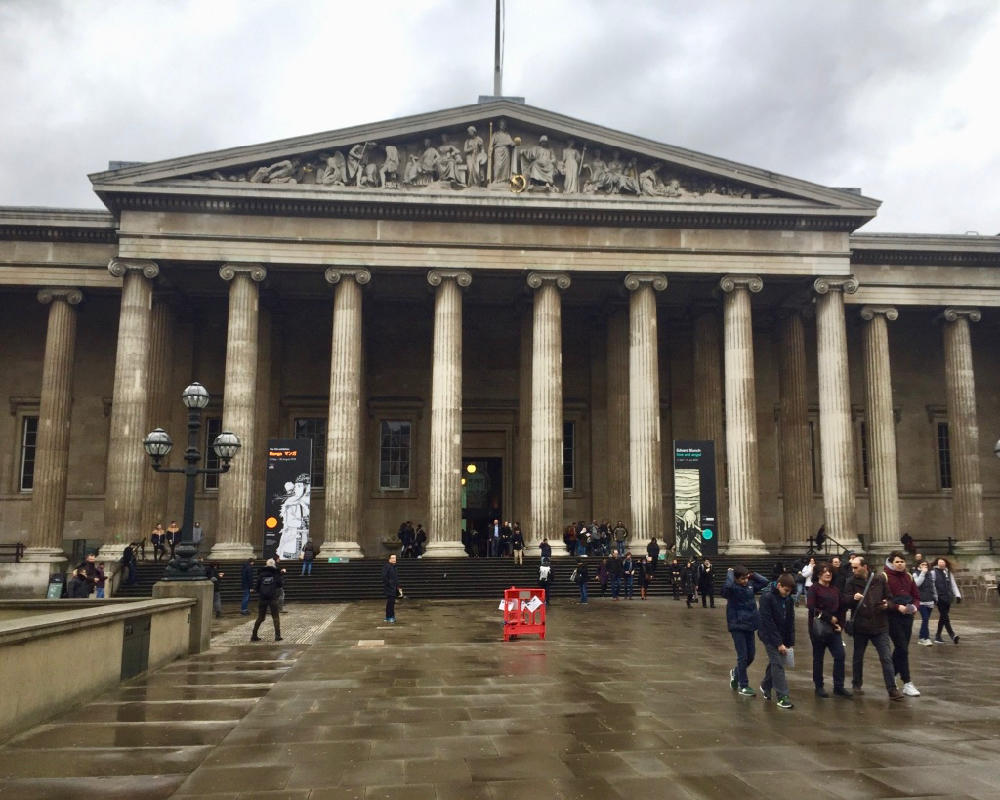 Treasures of the world sit just beyond those walls.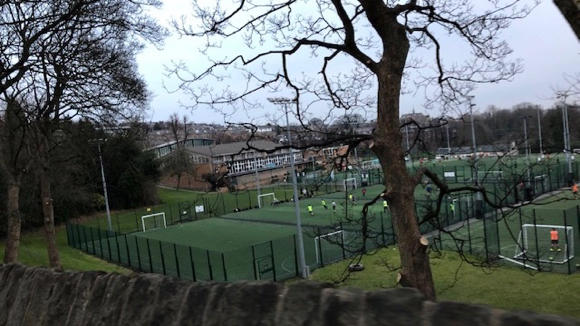 Students can enjoy sports at the sports centre.
It would make us tired if we had nothing to do every day but study. However, we can enjoy many kinds of activity after class! Some of them are things that we cannot do in Mie University. I tried Ultimate Frisbee, which I'd never played before. I enjoyed it so much because some Sheffield University students taught me the rules and tactics. After the game, I was given a Kit Kat as an award! It's probably because I tried hard to play a role in the game.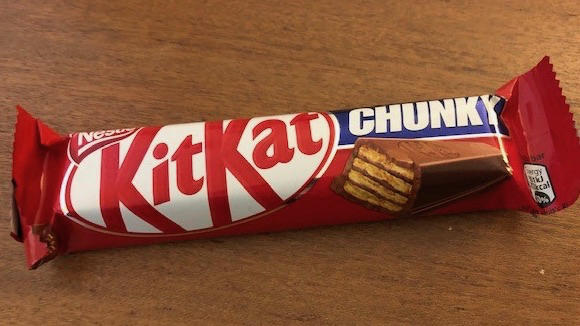 I was the best player?!
Other students have been enjoying playing football or squash. We can join activities like cooking, discussion, as well as sport. I think that joining such activities gives us a precious opportunity to interact with students from other countries. I'd like to try other activities and talk with a lot of students!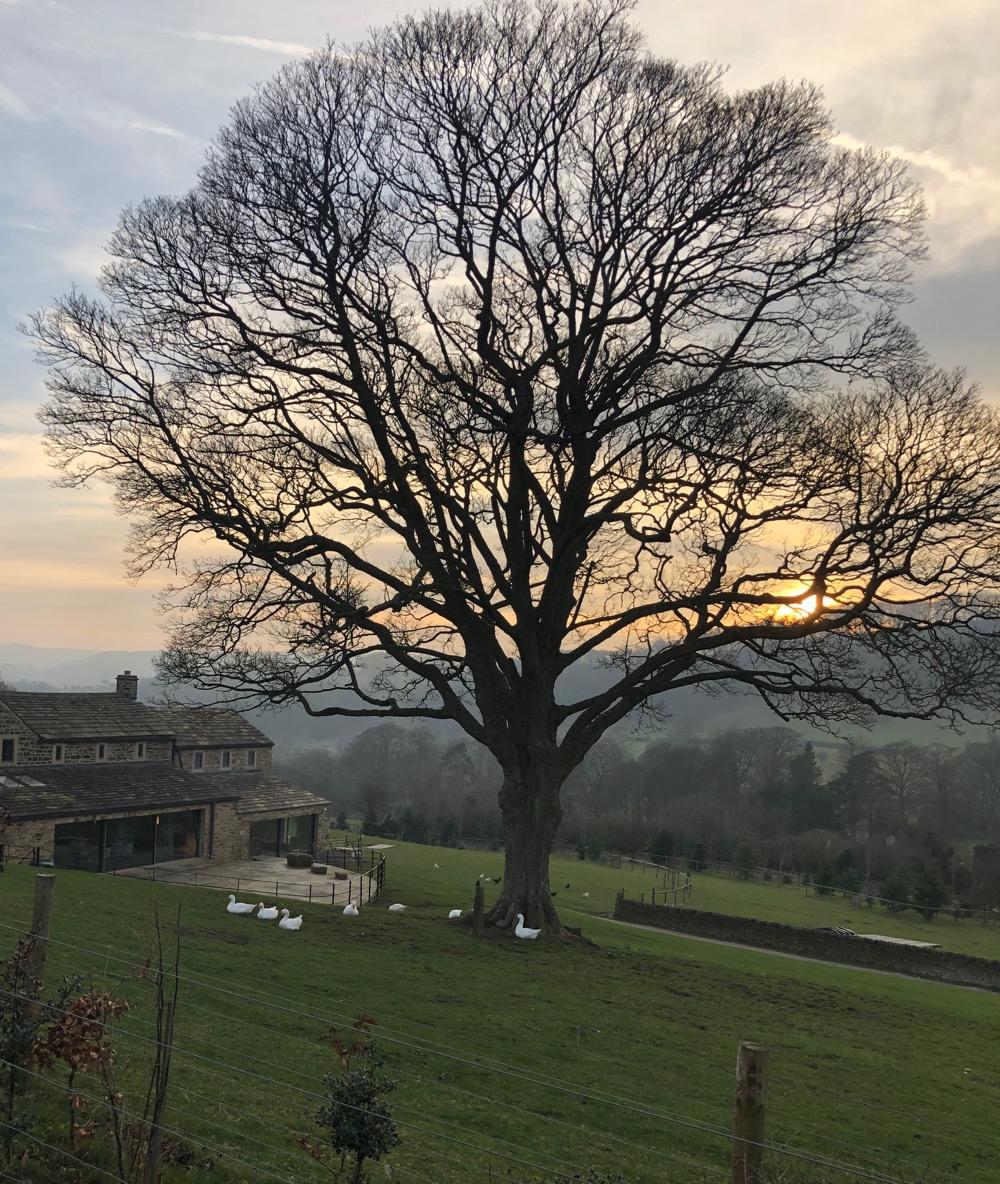 Welcome to the Peak District
There is a lot of greenery in Sheffield. My host family's house is near meadows and parks. I went to the meadow and saw a lot of sheep there.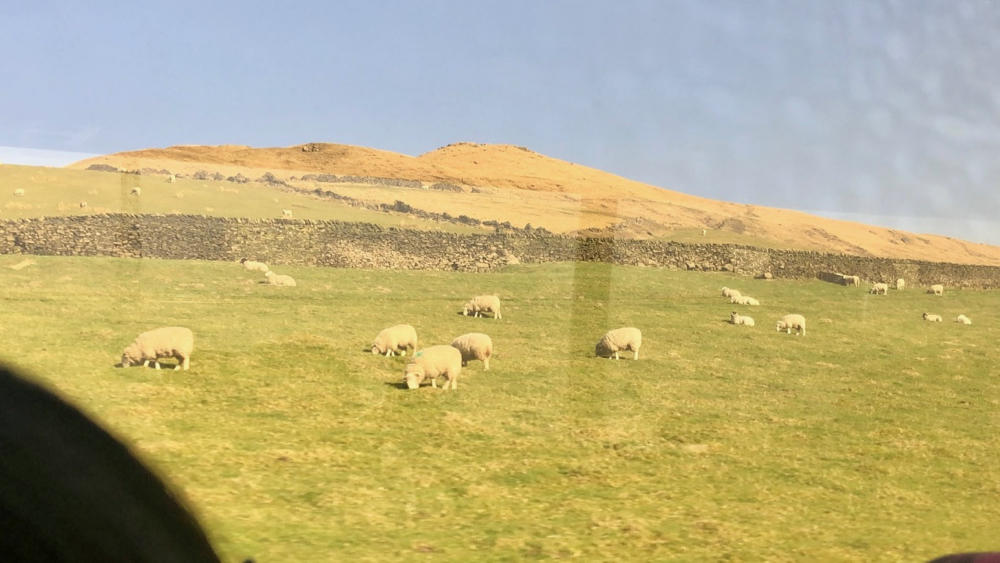 Sheep to the left, sheep to the right,..
To the west of Sheffield there is a big famous national park called Peak District. I took a bus from Manchester to Sheffield and then I saw the park from the window on the way. I walked there and encountered many animals such as sheep, pigs and ducks. I was surprised at how beautiful Sheffield is!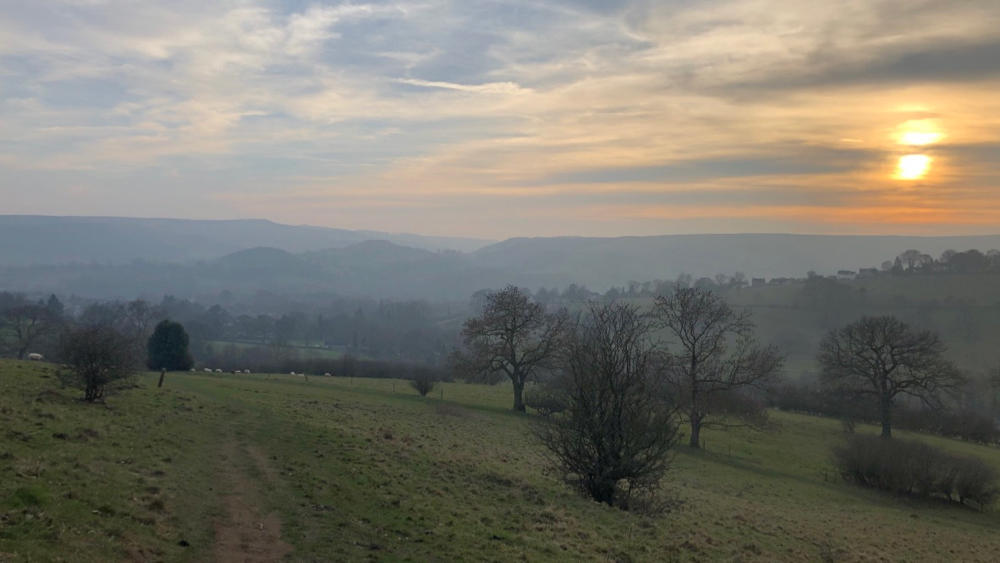 Green to the horizon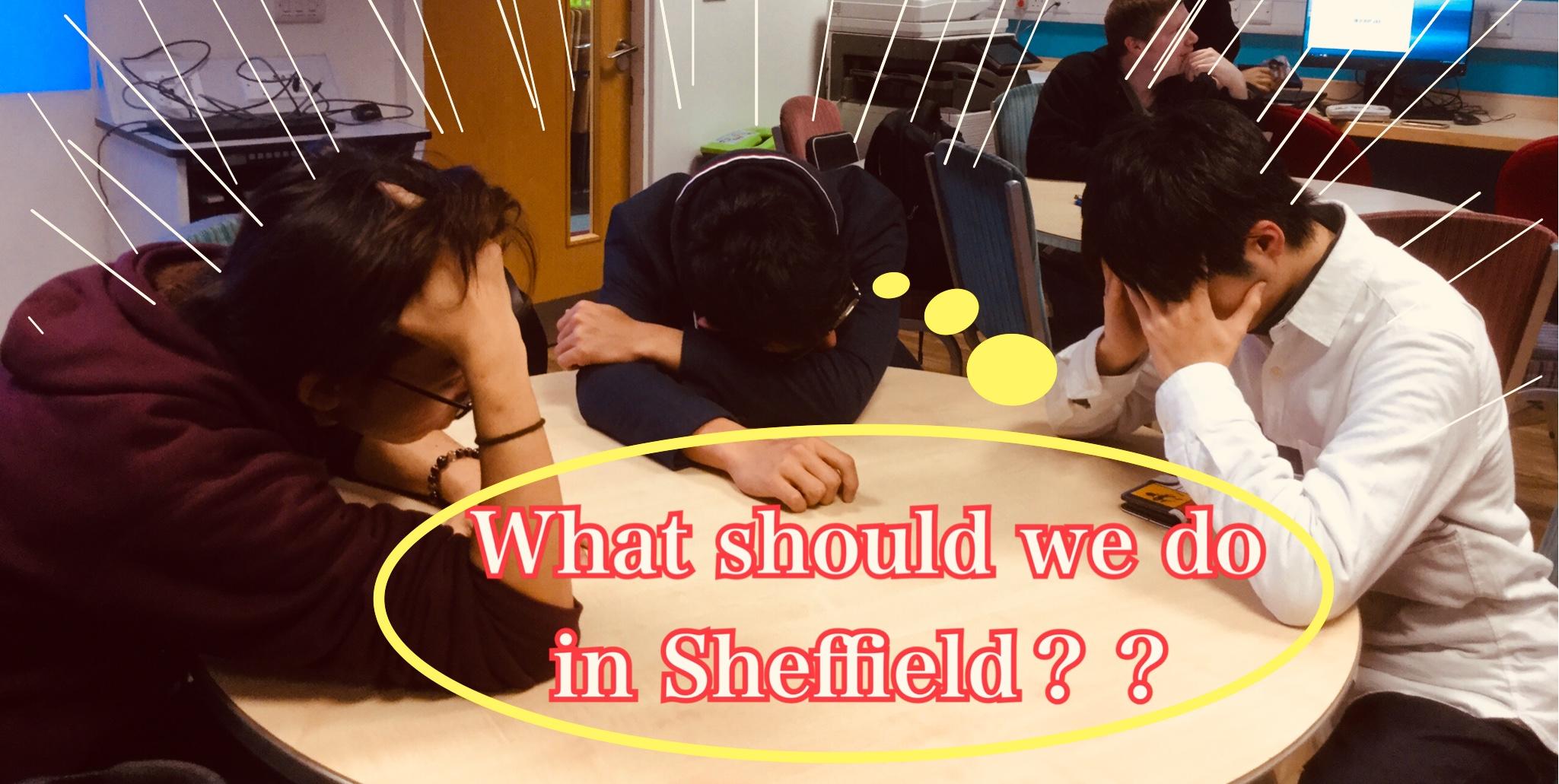 Will we be okay?
10 days have passed since we arrived in Sheffield. I think it's a good idea to look back at the feelings I had before I left Japan.

To tell the truth, I was not so excited to study abroad in this spring vacation. That's because I had already felt fulfilled with Japanese culture, and did not think I should mix foreign culture into mine. In other words, my mind was somewhat closed to new cultural experiences. It must be easy for you to imagine that I was reluctant to prepare for this 3-week trip.

I had already bought my suitcase and made a list of what I needed to take to the UK. Still, I couldn't even bring myself to pack my baggage until 21st Feb. That day, I enjoyed my club activity and sat up late playing video games.

Some friends of mine had totally packed their baggage and started to schedule where to go on their UK weekends, and my father asked me what I thought about the data-roaming or clothes for Sheffield. Considering my feeling, I didn't pay any of my own money for this study program, so I didn't think seriously about the £300 spending money I would need on this trip.

In the airplane I decided that if I have another opportunity to study abroad in the future, I would like to manage to collect money on my own for my housing, food, and other expenses. Thanks to that change in thinking, I was able to make a good start to this journey!

By the way, my feeling now is that I am VERY EXCITED!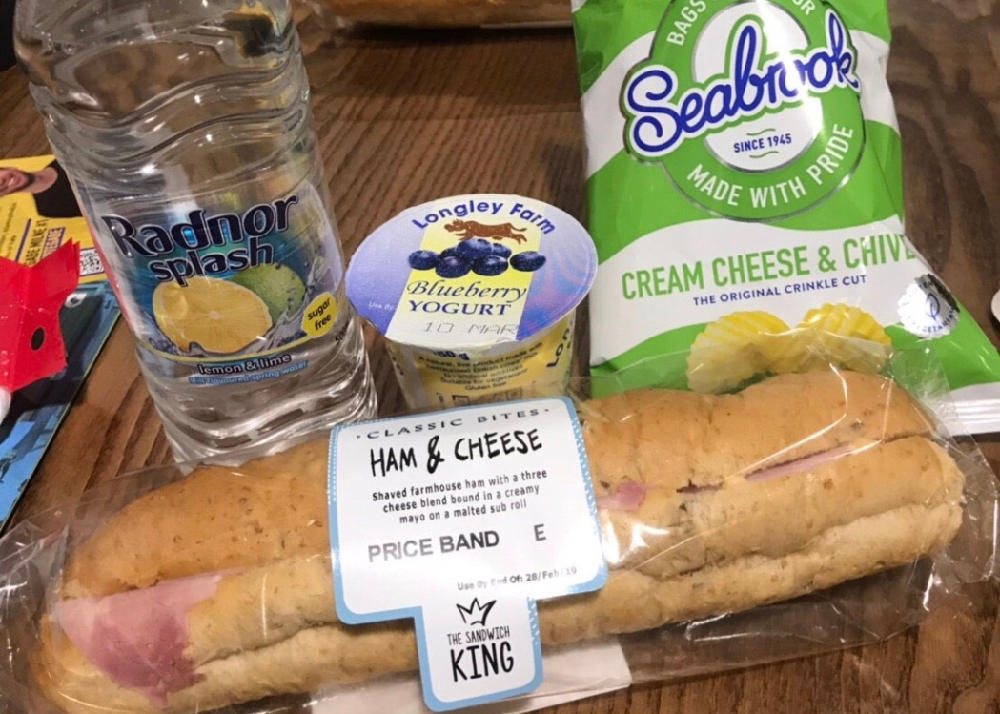 Pick your favorite combination.
Yesterday's blog entry was about living in an English home and the dinner served there. Today I will introduce some of the other foods in Sheffield.

First, the cafeteria at the English Language Teaching Centre (ELTC) offers a set which lets us choose the sandwiches, snack and drink we like. It costs only three pounds. I ate a ham and cheese sandwich and blueberry yoghurt for lunch. It was tasty! This sandwich was bigger than I had expected.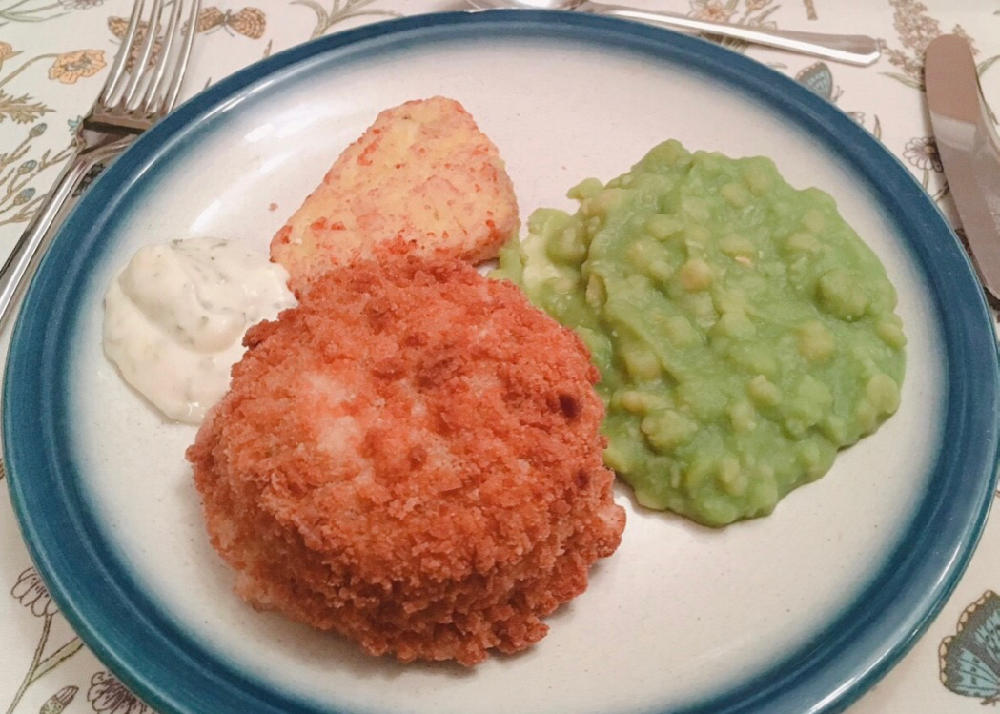 A taste of Sheffield
This is a dinner I ate in my own host family's house. It is a traditional meal in Sheffield. The photo shows a fish cake, mash beans and sauce. It was delicious.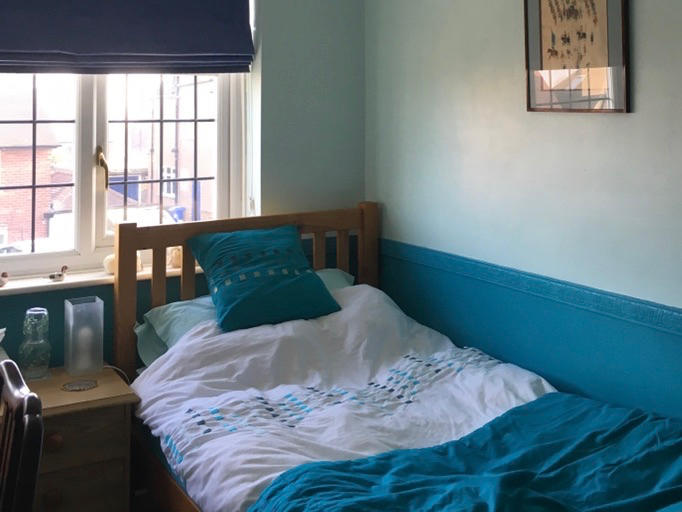 My home away from home
I was nervous coming to England for the first time, but my host family is kind and my life in Sheffield is comfortable. This time I would like to tell you about the time of dinner in the UK. At my home, my family served traditional meat dishes of Sheffield as well as some western foods we are familiar with in Japan. During meals, they were helpful in introducing recommended spots and a tour of York that we will be going on over the weekend.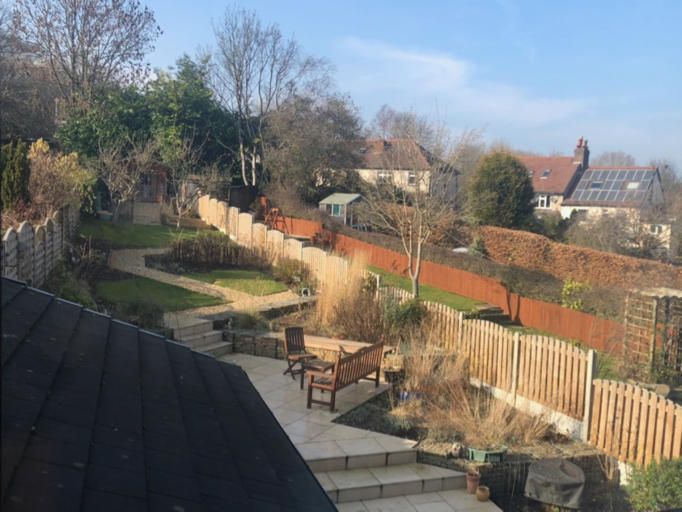 The backyard
After the main meal, a dessert called pudding is served. Pudding is not like the pudding we know. It includes fruits and yoghurt, and eating it seems to be a custom here. As someone who usually lives alone, it is fresh and exciting to eat and dine with my family every day.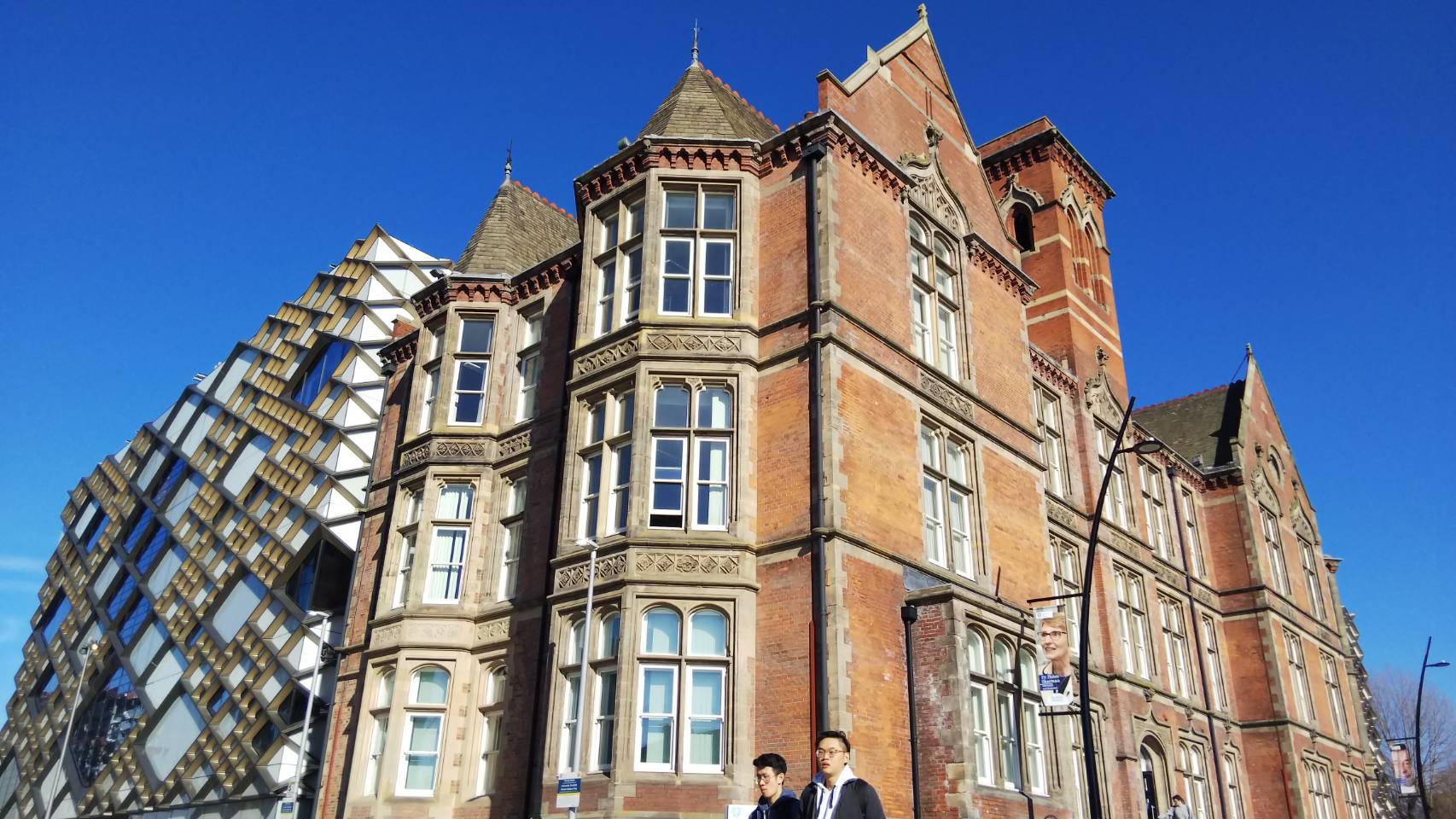 The new and the old
The University of Sheffield is located in the middle of England. There are buildings of the university all around the city, so we sometimes have to walk for more than five minutes to go to a different building. The thing that I am interested in is the buildings. There are new ones and old brick ones scattered throughout the city. Almost all the buildings in Mie University look to be about the same age, so I was surprised to see buildings from various time periods.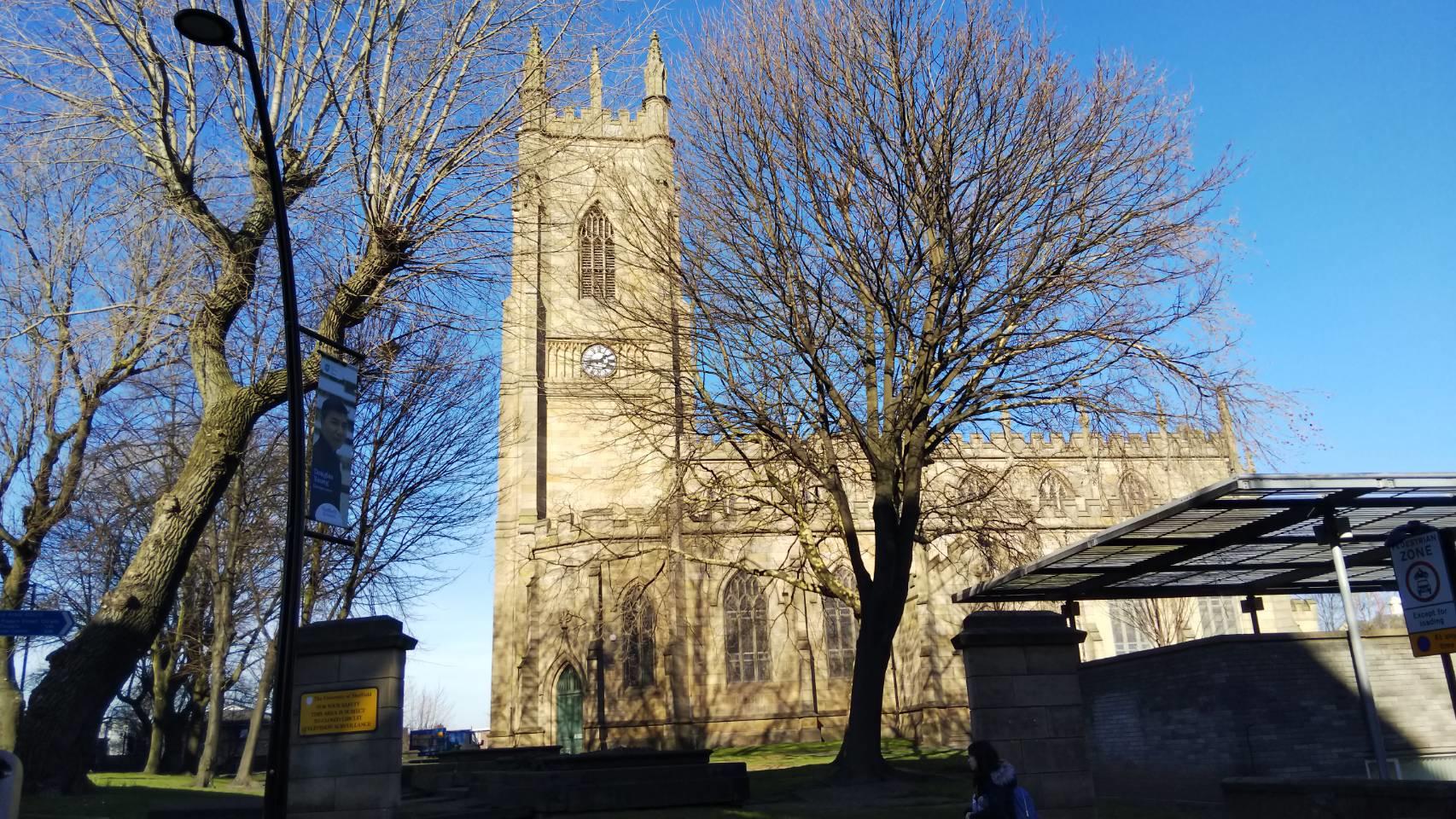 St George's Church is now used for lectures and student accommodation.
I found another thing that is different from Mie University. It is how the students behave. The students in Sheffield eagerly engage in government of the university. They asked us to vote for the candidates to make them officers. Seeing that makes me want to be more active in Mie University when I go back to Japan.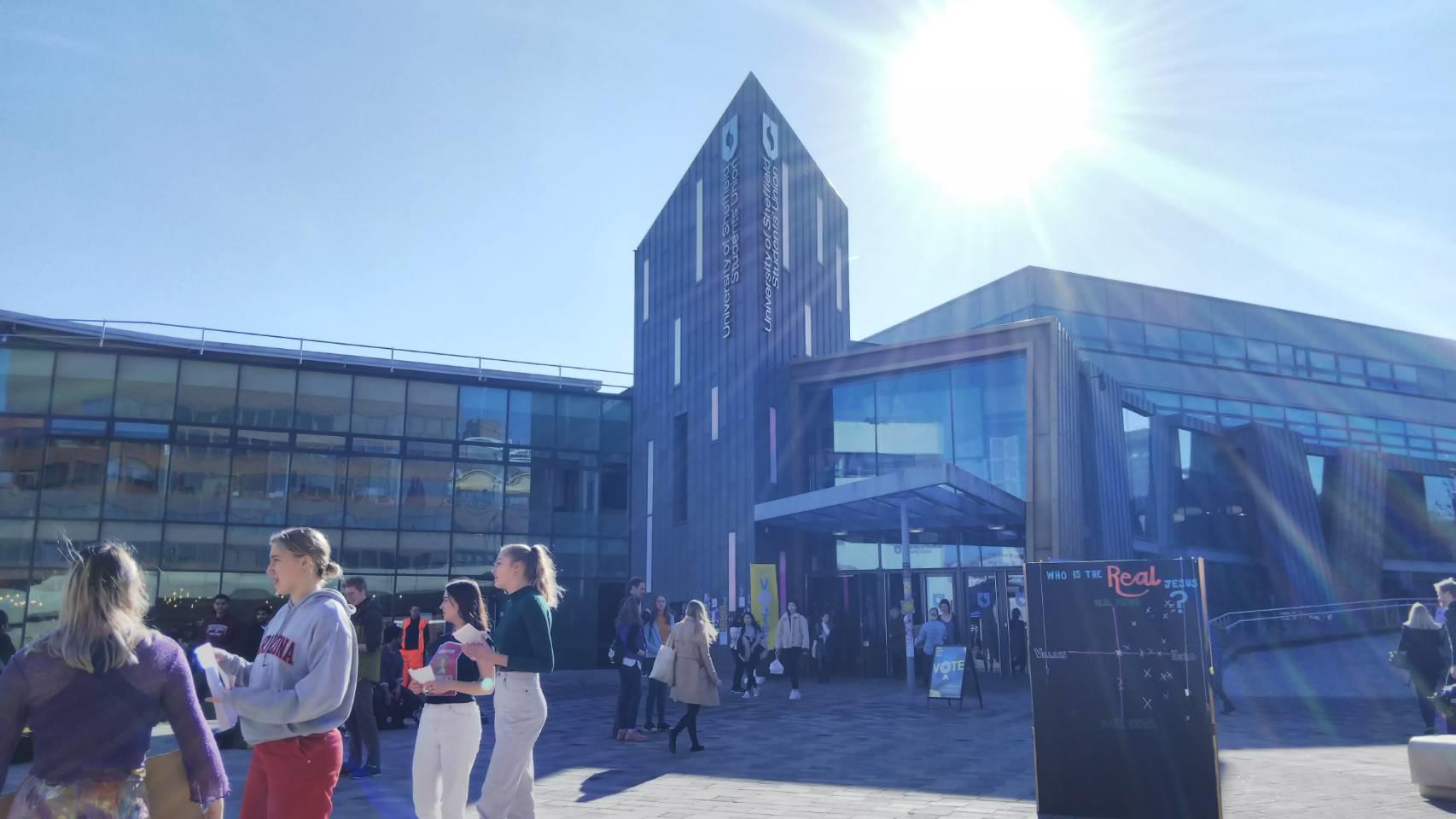 Campaigning outside the Students' Union
What shapes do you see in the clouds?

Two groups described their experiences along the road from Tsu to Sheffield.

The First Group

We left Mie University and stayed overnight at a hotel in Kansai Airport and then flew to England. The first leg was a 12-hour trip from Kansai Airport to Frankfurt. After resting in Frankfurt for 5 hours, we spent another 2 hours going to Manchester.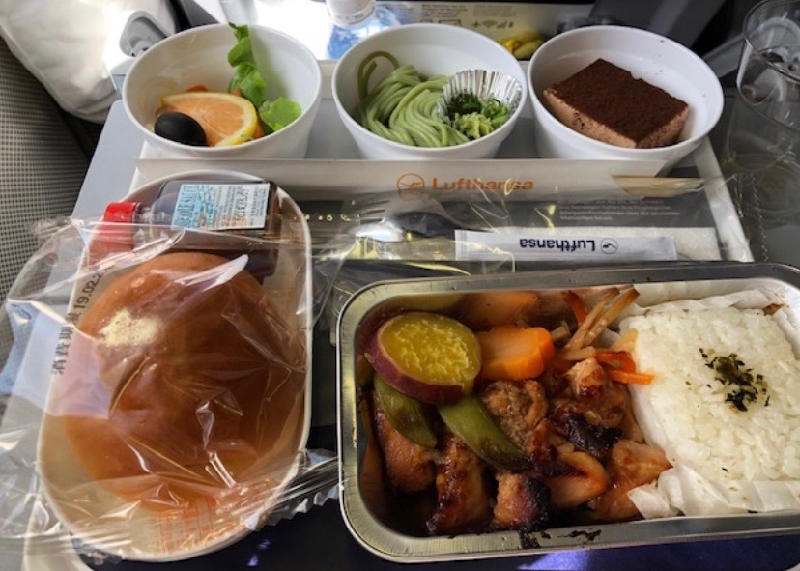 Dinner time!


On the airplane, we spent our time doing things like watching movies, talking with friends, and sleeping. In-flight meals were warm and very delicious. Because the sweets were distributed besides the meal, it was a very fulfilling flight. In Frankfurt, we ate sandwiches and sausages and we shopped at duty-free shops. However, we were tired from the long journey and everyone slept on the plane from Frankfurt to Manchester.

Finally, we arrived in Manchester and the next day each of us met our host family. Our hosts are so kind that we are now even more excited about living in the U.K. We will do our best to make it a fulfilling three weeks.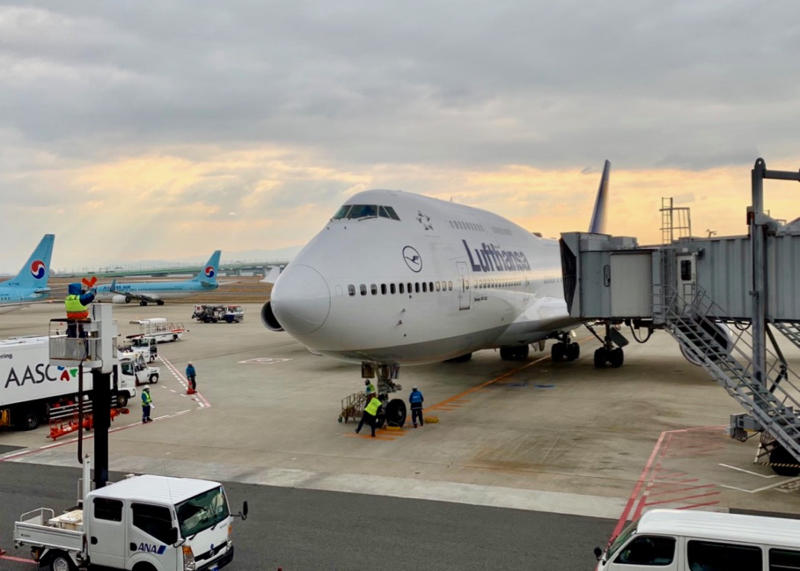 Our next temporary home
The Second Group
On February 22nd, we, 74 students, started our journey to Sheffield, the UK. Firstly, we went to Kansai International Airport from Mie University by bus. It took us 3 hours to get there. We enjoyed the last dinner in Japan at the airport, having dishes such as teppanyaki and tonkatsu. We spent the night at the hotel, which is next to the airport.

On the next day, at 10:40, we flew to Frankfurt for transit to Manchester. It was a 12-hour flight. For such a long flight, we watched a lot of movies and played video games on the plane. At Frankfurt Airport, we had to wait for 6 hours! Some students enjoyed shopping and others were just sleeping.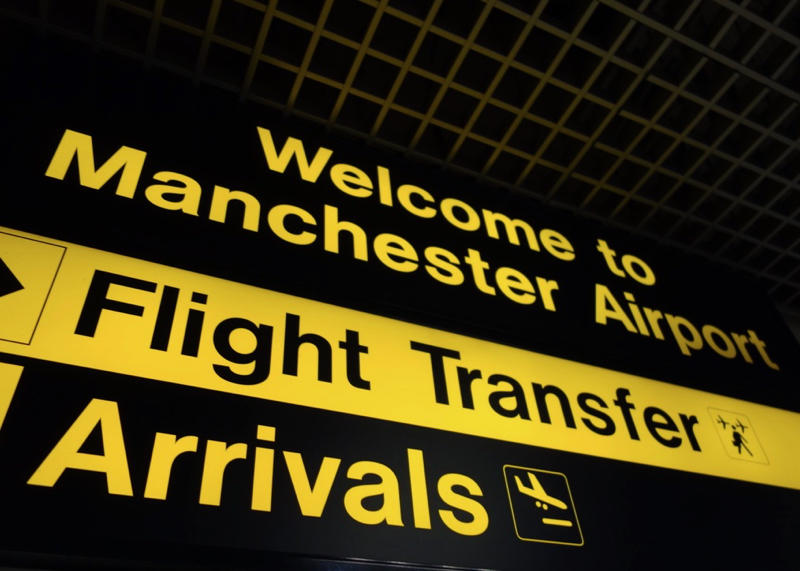 So close, yet so far

Having a 1-hour flight, we arrived at Manchester Airport at midnight, so we stayed at the hotel again. Then on the morning of the 24th, we went to Sheffield by bus. After 1.5 hours, we could finally meet our hosts. We felt nervous, but at the same time, we were excited to experience living in the UK.
三重大学英語特別プログラム参加者のうち74名が、プログラムの総仕上げとしてイギリスのシェフィールド大学英語教育センター(English Language Teaching Centre)での短期海外研修に参加します。
2月22日(金)は三重大学生協第1食堂に集合し、引率教員と添乗員から説明を受けた後、バスで三重大学を出発しました。学生たちは関西国際空港近くのホテルに前泊し、2月23日(土)の朝に出国します。
学生は2月24日(日)から3月16日(土)までシェフィールド大学近くの家庭に滞在し、ELTCへ通います。帰国は3月17日(日)です。その間に学生が作成したブログ記事が投稿されますので、お楽しみに!
 As students prepare to study abroad, it's normal to feel apprehensive about leaving one's comfort zone to enter a new world. With our own SEP students headed to Sheffield University next month, we called upon Liverpool-native Ben Backwell to help them prepare for the journey ahead. In addition, we were joined by 2nd-, 3rd-, and 4th-year students, some of whom shared with us their valuable experiences studying abroad.
 Mr Backwell led morning and afternoon workshops in which he discussed British culture, goal-setting, dealing with fears, and a language-practice tool called shadowing. Of note was the use of the KWL Chart, short for Know/Want to know/Learned. The KWL Chart is a simple yet powerful tool which allows us to identify gaps in our knowledge. It then enables us to set clear goals. Moreover, it helps us to isolate fears and to begin addressing them.
 Thank you, Mr Backwell, for preparing us for new adventures!